Let's take a look at how to archive pages in the CMS. An archived page won't be accessible on the site or visible in its navigation unless it's set back to a draft state and published again.
NOTE: Many Higher Logic pages are required for your site to function. Never archive such pages and instead hide them.
What's the difference between hiding, deleting, and archiving?
Archiving - There are two main reasons you'll likely want to archive a page: (1) You want to temporarily take a page offline to make updates; (2) you don't want a page accessible on your site anymore but you want to keep it around for the future.
Hiding - Not all of your pages need to be directly visible in your site navigation to serve a purpose. For example, many pages are created for the express purpose of being linked to from other pages, an email, a blog article, etc. This is achieved by hiding them. A hidden page is indirectly accessible, not directly accessible.
Deleting - If archiving or hiding don't meet your needs, you can permanently remove a page and all its content. You should only ever delete a page if you're absolutely sure it's won't be needed in the future AND it's not one of the Higher Logic pages that came provisioned with your site.
NOTE: See Hide & Delete Pages & Content to learn more.
Archive a page
Click the page's actions menu (...) to the right and select Archive.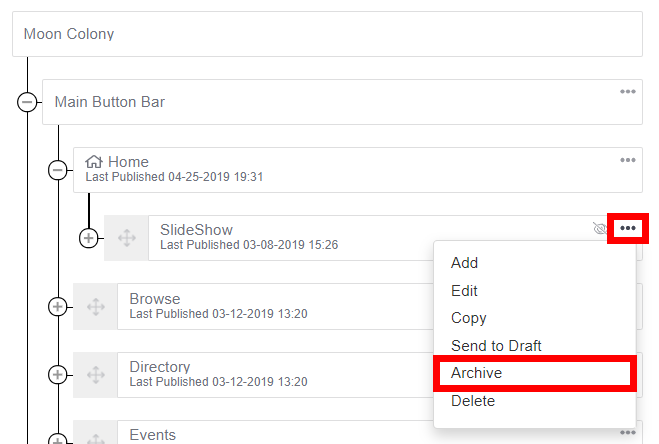 Click Yes in the confirmation pop-up to move the page to the archive.
Manage archived pages
All archived pages are hidden by default in the CMS. To view them, click the filter icon above the list, select the Archived page status, and click Apply.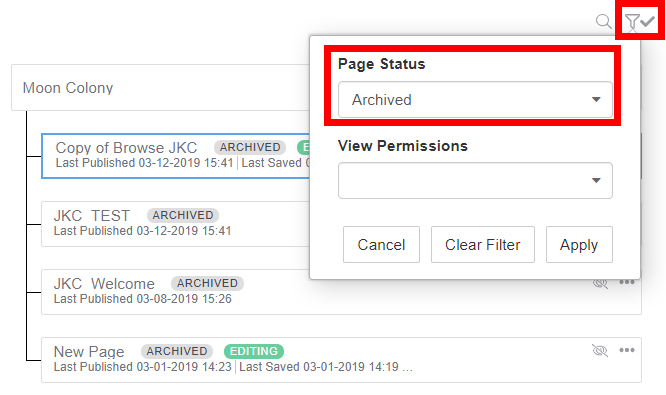 Archived pages can be:
sent back to a draft status, where they can updated and published once again,
or permanently deleted.