NOTE: View the New Admin Experience version of this article.
In this article, you'll learn how to:
Update system-generated email templates
Create new email templates
Use the templates you create
Use and understand variables
Update system-generated email templates
As users perform various actions across your site, the system automatically generates and sends emails to the appropriate people (to their primary email and/or profile inbox). For example, Contact requests, community invitations, and commenting on content all trigger emails.
While the default content in these templates is generally sufficient, you and other Super Admins can modify these system-generated templates at any time, if you want to ensure they contain the precise language and formatting required by your organization. These templates can be formatted in both HTML and plain text (though the plain text version is often not necessary because most modern email clients automatically display HTML content as plain text).
To manage your site's email templates:
Click Admin in the Webmaster Links menu.
Click Admin.
Select Email Templates from the Communities menu.
The system's email templates are grouped by category, so select the desired category from the Category menu.
Click the desired template's Edit button. On the resulting page, you can make changes like toggling the Active option to ON/OFF to enable/disable the template and controlling which Community Admins can use each template. More than likely, though, you'll just want to update text in the HTML and Text versions of the email, so make your desired changes and click Finish to save them.
WARNING: While Super Admins can modify the default community-based email templates sent to community members, we recommend keeping edits to a minimum—specifically, the links should not be altered. These defaults are system wide, and have evolved over time to both provide the information sought by new members and to answer their questions. These links (e.g., the links to accept or reject community invitations) are critical to the function of your communities.
Create new email templates
You can only create new templates if your organization licenses the optional Group Manager module; if you don't, only a single template is available (the Community Bulk Email template, in the Community Messages category). Refer to the Group Manager Overview page to learn more about the baseline functionality and additional Group Manager features.
To create a new template:
Click Admin in the Webmaster Links menu.
Click Admin.
Select Email Templates from the Communities menu.
Select Community Messages from the Category menu.
NOTE: Only templates created under the Community Messages category can be sent to community members using Group Manager.
Click Add a Template at the top-right of the resulting page.
On the resulting page:
Give your template an appropriate name.
Leave the Category set to Community Messages.
In the Community menu, you can limit this template's use to a specific community or make it available to all communities. Alternatively, leave this menu blank to make this template available only to Super Admins.
Use the default Reply To email address or enter a new one.
Enter the default Subject line for the template's messages.
If you use Activity Sync, decide whether to create an activity in your AMS/CRM for everyone who receives these messages.
Lastly, provide the template content for the HTML and/or Text versions of the message.
Click Save at the bottom of the page to create your template.
IMPORTANT: You must include the Community Admin Message variable in ALL new templates you create for them to function properly, as this variable is replaced with the admin's message when the email is sent. In addition, if you've enabled Group Manager's file attachments and/or meeting invitation features, you also need to include the Community Admin Hyperlinks variable for these options to be available. These two variables are not selectable via the variable interface, so the only way to get them in new templates is to copy and paste them from the Community Bulk Email template (or other template containing them), as shown below.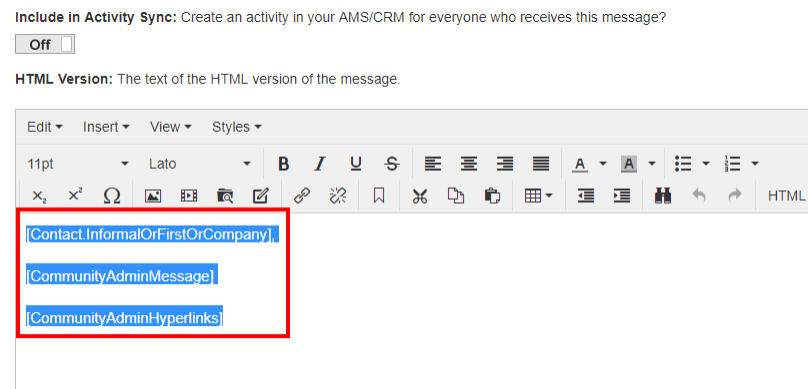 Then, when creating an email, the message entered in the Community Admin Message field is what appears in place of the [CommunityAdminMessage] variable when the email is sent.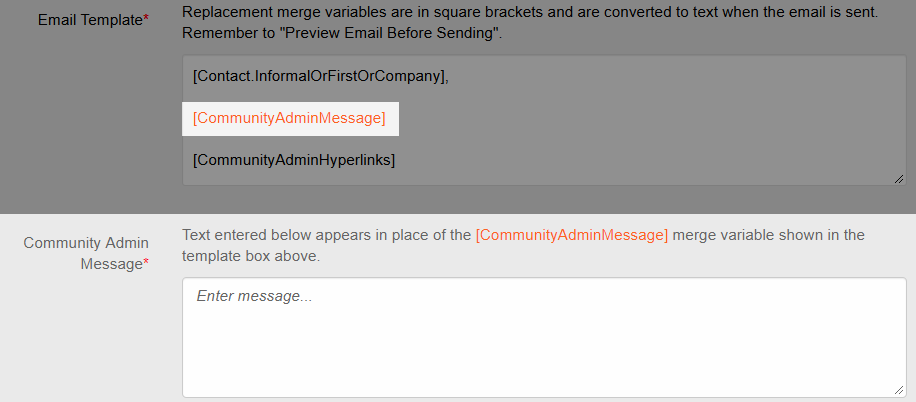 Use the templates you create
Custom templates must be assigned to what's called a Data Source to enable their use. Data Sources are segments of users meeting the criteria you specify, and you can use them to target specific members within a community (e.g., only those members who've joined a community in the past 30 days, etc.). There are dozens and dozens of criterion available, giving you the flexibility to target just about any group of users you want.
These Data Sources are selectable in the To line when creating a community email (see the image at the bottom of this section).
To assign a custom template to a Data Source:
Click Admin in the Webmaster Links menu.
Click Admin.
Select Data Sources from the Tools menu.
Select Community Email Segment from the menu highlighted in the image below. This will list all of the default BP (Best Practice) Data Sources, along with their Community Type, email template, and description. You can update any of these, if desired.
To create a new Data Source, click New Data Source at the top-right.
On the resulting page:
Select the desired Community Type from this menu to allow admins of those communities to:
Send the email template selected here (this can be the default Community Bulk Email template or one of your custom templates):
To those community members meeting the criteria you add from this menu (you can add multiple criterion by repeating this step).
Lastly, give your Data Source a name. Make sure it's descriptive to help admins understand who the To line will target (e.g. "Community Members who joined in the last 30 days").
Click Save when finished to create your Data Source.
For example, you could configure a Data Source like:
"Allow [Chapter] Community Admins to send the [Custom Email Template] email to their community members who [joined the specified community within the last specified number of days]"
Once this Data Source is created, Super Admins and Community Admins of communities associated to the Data Source's Community Type can select the Data Source, "Community Members who joined in the last 30 days," as an option in the To Line: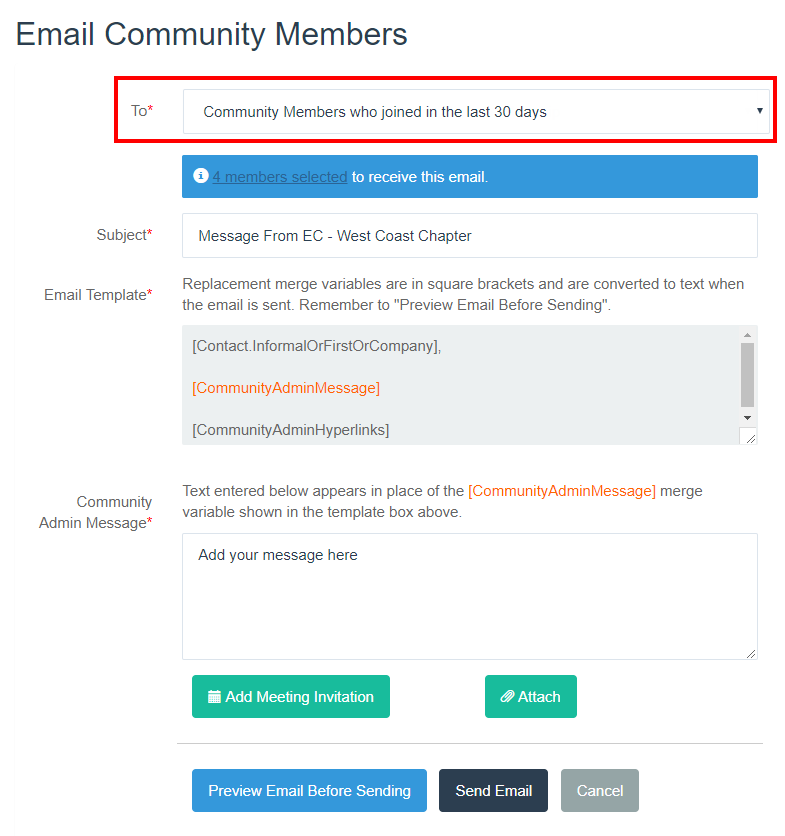 Use and understand variables
When editing or creating a template, you can use variables to provide individualized and community-specific content and links to each recipient. These variables are replaced with the appropriate information when the email is sent, allowing you to easily include information that's automatically personalized for each recipient (e.g., automatically inserting each user's first name, etc.). Variables allow you to easily greet recipients by name and include other member-specific links and text.
The default templates for community invitations and join messages use variables to create community-specific links. By using Variables, these templates are applicable to ALL communities. If you create templates to serve single communities, make sure to use specific links to any applicable community pages and Microsite pages. The addition of variables is most helpful in creating user-specific content, such as "Dear, [FirstName]."
Adding Variables
You can only add variables in the HTML Editor. To do so, place your cursor where you'd like to insert the variable, click the Mail merge variable selector button, and then drill down into the appropriate category. Once you find the variable, select it to add it to your message.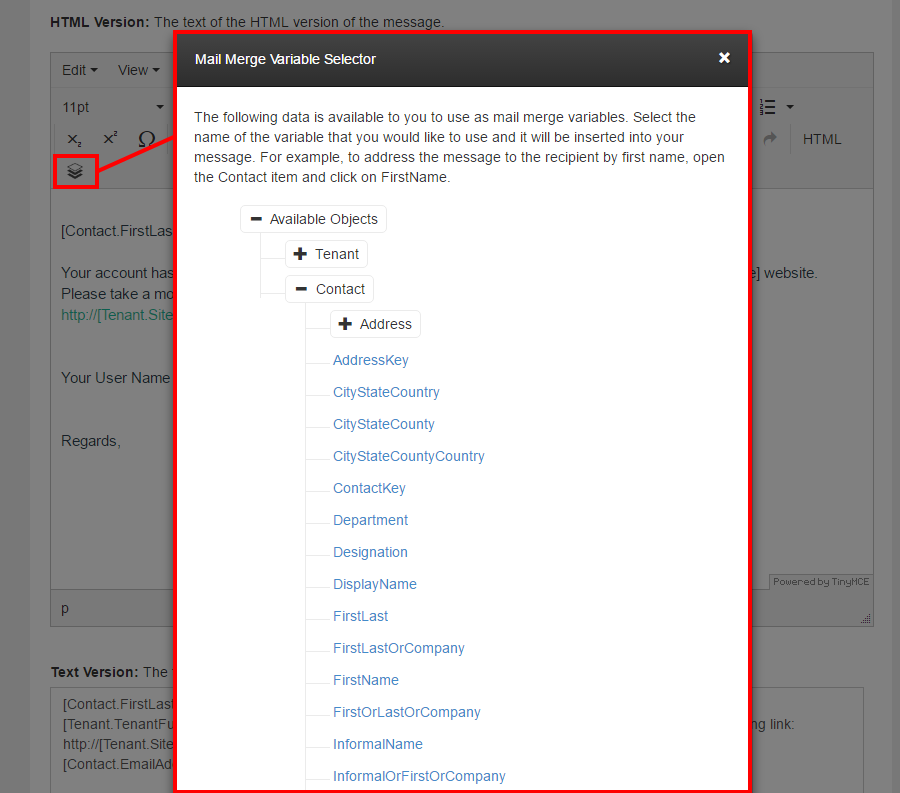 TIP: Variables do function in the Text version, and you can copy/paste them there.
Recommended Variables
There are four categories of variables:
Contact
Tenant
Community
Community Member
The Contact and Community categories offer the best options for admins, and are what we're going to focus on in this article; the other two include numerous variables a Community or Super Admin will likely never need. In addition, only the commonly used and recommended variables are listed below.
Variable
Recommended Use
Contact Variables



(Use these variables to personalize all messages)

CompanyName
Verify their contributions: "We are happy to have representation of Company XYZ through you!"
FirstName
Open the email with a professional greeting: "Dear, David"
InformalName
Open the email with a friendly greeting: "Dear, Dave"
LinkToProfile
Recommend completing their profile and include a link: "Click the following link to complete your profile and help others get to know you better! LINK"
Community Variables



(These variables are especially useful for templates used by multiple communities)

CommunityName

Verify the name of the community:

"Thanks for joining the XYZ Working Group Community!"

Description

Verify the community's purpose using the information provided on the Community Description page:

"Thanks for helping us address the mission of the Nominations community: Recommending new board members…"

LinkToCommunity

Link to the community's landing page:

"Click HERE to view great community content and connect with other members!"

LinkToCommunityCalendar

Promote upcoming events:

"Please plan on attending the upcoming Chapter Meetings – these are listed on our online calendar linked here: [LINK]"

LinkToEgroup

Promote participation in the community's Discussion forum:

"Click HERE to find out what others are saying and express your own thoughts!"

LinkToLibrary

Promote online content:

"Community members have contributed over 75 documents, which you can access via this link: [LINK]"

LinkToWebsite

Link to the community microsite/website:

"Our community website has never had more great content than it does right now. Don't miss out! Click HERE!"