It's not uncommon for users to post a message in a discussion that they think is appropriate but one that you may not. If this happens, you can easily move the thread to another discussion.
NOTE: You can move entire threads (a series of posts/replies), but you cannot move individual posts within a thread.
To move discussion threads:
Access the Admin interface.
Navigate to Community > Discussions > Move Threads.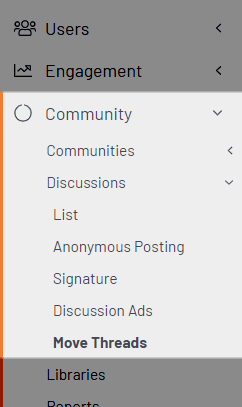 In the Find By area, you have two options:
Select Discussion to make ALL threads for the chosen community available in the Thread(s) field. This is the default option, and is recommended if you don't need to filter the available threads by a date range.
Select Date if you need to move threads that belong within a specific date range. This option is especially useful for filtering the threads in communities that have a lot of content, making it much easier to find the one(s) you're looking for.
In the Choose source area:
If Date is selected above, first select a date range to filter the threads that will be available in the Thread(s) field below. After selecting your range, click Apply.
Select the community in which the threads you want to move reside.
Click the Thread(s) field to view the threads in the chosen community. Click a thread to select it; if you want to move multiple threads, repeat this action.
Select the community to move the thread(s) to.
Click Move to move the thread(s).