It's not uncommon for users to post a message or question in a particular discussion that they think is appropriate but one that you may not. If this happens, you can easily move a discussion or question thread to another community discussion.
NOTE: You can only move entire threads (i.e., a post or question and its subsequent replies); you cannot move individual posts or questions within a thread.
To move a thread:
In the Admin Toolbar, click Admin.

Navigate to Community > Discussions > Move Threads.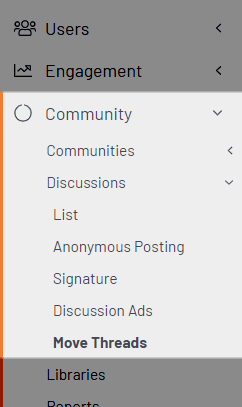 From the first dropdown, select the community containing the discussion or question thread you want to move.
NOTE: You can even move threads to/from hidden communities.
Next, select the thread type: Discussion Threads or Question Threads (depending on the selected community, only one thread type may be available).
(Optional) Check the Filter by Date box to enable a Date Range field. Use this if you want to move threads within a specific date range. This option is especially useful for filtering the threads in communities that have a lot of content, making it much easier to find the one(s) you're looking for.
In the Choose Thread(s) to move dropdown, select one or more threads; as you click threads, they'll be displayed in the field (you can remove one via its X button).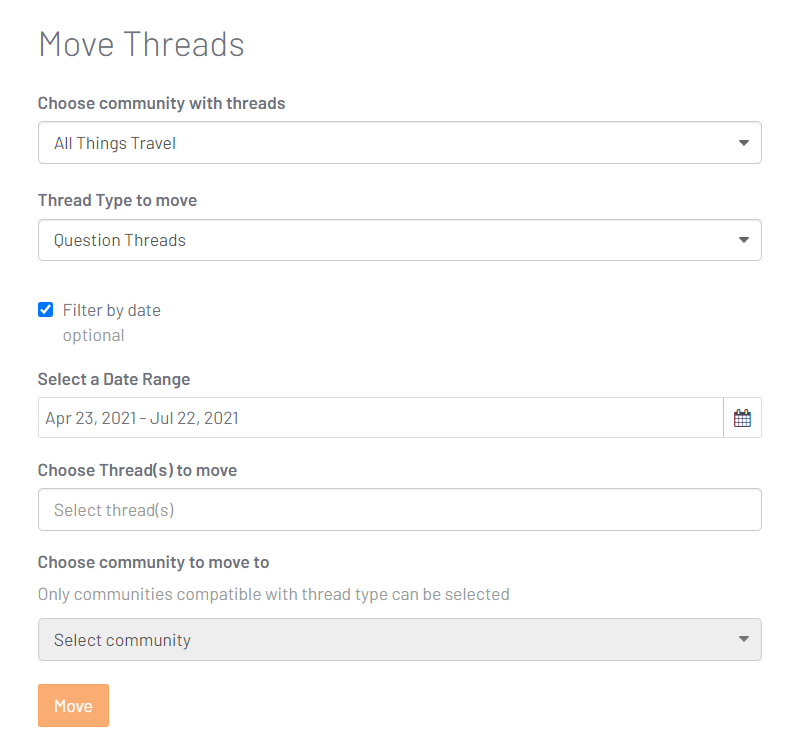 Lastly, select the community discussion to move the thread(s) to.
Click Move to move the thread(s).