Writebacks
A writeback is the way that Informz transfers information back to Association Anywhere. Leveraging writebacks makes it easy to ensure that your subscriber management is kept in optimal condition. By writing back unsubscribes and resubscribes, you'll never need to worry about your subscriber's preferences. With all the data logistics under control, you can move forward and continue to focus on engagement.
Unsubscribe
A subscriber can unsubscribe via a hyperlink in an Informz mailing. This action is logged in Informz and is stored in a queue to be written back to Association Anywhere.
Informz checks this queue regularly looking for new unsubscribes to write back to Association Anywhere.
Once sent to Association Anywhere, the Exclude checkbox is checked, thereby removing the customer record in Association Anywhere from ALL future email communications.
The Exclude Checkbox
To access the Exclude checkbox, open your desired customer record.
Click the Switch View dropdown list and select E-Contact.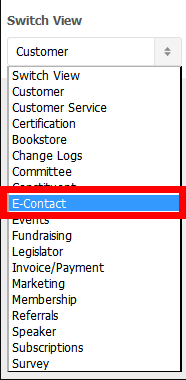 Click the Contact Preferences tab.

Click Edit Customer Preferences.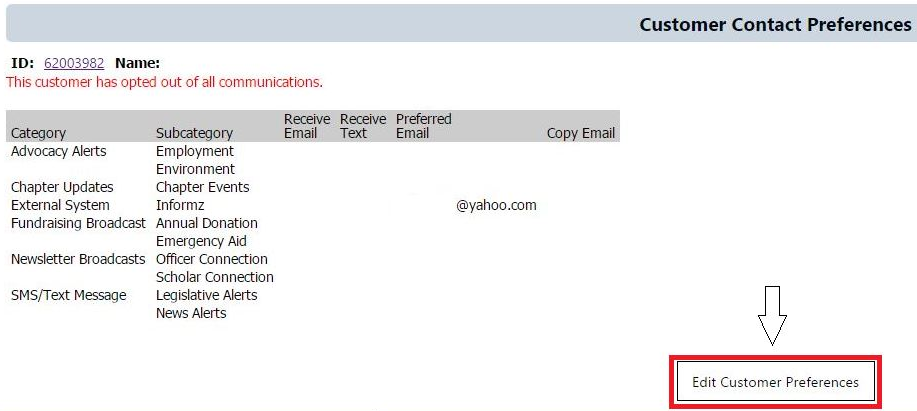 The Update Customer Contact Preferences page opens. If the subscriber has opted-out of mailings, the Exclude checkbox will be checked. This will exclude them from ALL preference categories/subcategories.

Resubscribe
A resubscribe writeback is created any time an Informz admin manually resubscribes a previous subscriber. Like unsubscribes, these writebacks are stored in a queue that is regularly polled.
Resubscribe writebacks include the location of the original unsubscribe and whether the Exclude the recipient from all communications flag needs to be set to True (this occurs if the original unsubscribe occurred in Association Anywhere).
The resubscribe must occur where the unsubscribe occurred. If a customer unsubscribes via a link in an Informz mailing, the resubscribe must occur in Informz.
View Writebacks
Navigate to Admin > Setup > Bridge Configuration.
Click List of Attributes (also leads to edit).
The provided table shows all pending, completed, and failed writebacks. This is useful for diagnosing any problems that have occurred.