It is important to know whether your integration's "remote" target groups in your are static or dynamic, and it's important to understand the difference. Let's look at the differences.
Static Remote Target Groups
All of the Informz Application Programming Interface integrations generate static remote target groups. These groups enter Informz as interests and they remain static until they are manually refreshed. When the underlying data changes, the results stay the same until you re-run the query. This means that the target group represents a "point in time" (like a report) and does not automatically update. You have to manually update the query in the remote system.
If you are integrating via the Informz API, you can make interest groups refresh automatically on the integration side. The YourMembership (YM) integration currently does this on a daily basis.
Dynamic Remote Target Groups
Several Informz integrations allow you to "sync on publish." This means that when you send your mailing, you'll automatically re-run your integration query to retrieve the latest data. This is what makes your remote target group dynamic; when the underlying data changes, the results automatically update. All UPI (Universal Partner) and iMIS integrations have dynamic remote target groups.
Nuances
iMIS
With the Informz for iMIS integration, target group information usually updates in real time. The only exception is when a subscriber is added to or removed from your iMIS database. However, you'll still experience a "sync on publish," making the remote target group dynamic.
netFORUM Pro
There is sometimes a lag in the sync between netFORUM Pro and its queries. For example, if you make changes to a query, and then immediately send to the target group generated from that query, the you may find that your changes have not yet populated in Informz. This is because the netFORUM Pro messaging job sometimes takes a few minutes to propagate in Informz. This lag typically occurs in test environments – it rarely occurs when sending a live mailing.
Refresh a List of Remote Target Groups
Remote target groups come in many shapes and sizes, and depending on your integration and needs, you'll probably create a variety of target groups to achieve your goals. You should regularly refresh via synchronization (the process by which Informz receives information from your integration) your target groups to ensure that they are up-to-date. Refreshing typically occurs through an automated process, but you can also perform a manual sync if you need to sync right away.
Refreshing your target groups is an essential part of maintaining the "health" of your data in Informz.
Refresh Target Groups
Navigate to Subscribers > Target Groups.
Click the Folder dropdown list and select your integration folder.
Scroll to the bottom of the screen and click Refresh Target Group List.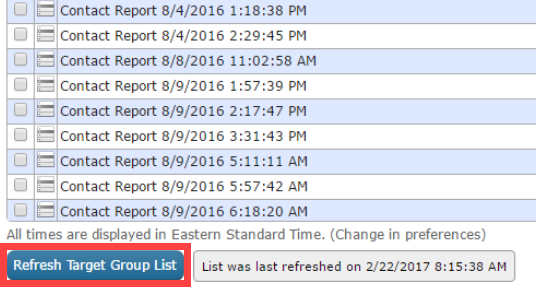 Informz lets you know that the list of remote target groups is refreshing.

When complete, Informz notes the data and time of the last refresh.

Errors
If there is an error with your integration's connection to Informz, you won't be able to refresh your target groups because the data is unavailable. You'll receive a message like the one below:

If you see this message, create a case for assistance.