In Higher Logic Thrive Marketing Professional (Thrive Marketing Professional), target groups are customized subsets of your entire subscriber base. You can define a "commonality" amongst your subscribers and then create target groups and segment your subscribers based on that commonality.
EXAMPLE: The commonality could be based on gender, country of residence, or age range; whatever works for the managing of your account.
Ultimately, target groups let you tailor your mailings, campaigns, and landing pages to these different subsets of subscribers.
Target groups in integrations
If your Thrive Marketing Professional account is associated to and managed by an integration database, you'll be working with remote target groups. This article focuses on:
types of remote target groups,
refreshing a list of remote target groups, and
integration-specific nuances.
Remote target groups types
It is important to know whether your integration's remote target groups are static or dynamic, and it's important to understand the difference.
Static remote target groups
All of the Application Programming Interface (API) integrations generate static remote target groups. These target groups enter Thrive Marketing Professional as interests and remain unchanged until they are manually refreshed; even when the underlying data changes, the interests stay the same until you re-run the query. This means that the target group represents a "point in time" (like a report) and does not automatically update. You have to manually update the query in the integration database.
If you are integrating via the API, you can automatically refresh interests on the integration side. (The YourMembership integration does this daily.)
Dynamic remote target groups
Several Thrive Marketing Professional integrations allow you to "sync on publish." This means that when you send your mailing, you'll automatically re-run your integration query to retrieve the latest data. This is what makes your remote target group dynamic; when the underlying data changes, the data in the target groups automatically update.
All UPI (Universal Partner) and iMIS integrations have dynamic remote target groups.
Refresh a list of remote target groups
You should regularly refresh — via synchronization (the process by which Thrive Marketing Professional receives information from your integration) — your remote target groups to ensure that they are up-to-date. Refreshing typically occurs through an automated process, but you can also perform a manual sync whenever necessary.
NOTE: Refreshing your remote target groups is essential to maintaining the "health" of your integration-managed data in Thrive Marketing Professional.

To learn more about remote target-group synchronizations, see Target Group Syncs in Integrations.
Refresh target groups
Navigate to Subscribers > Target Groups.
Click the Folder dropdown list and select your integration folder.
Scroll to the bottom of the screen and click Refresh Target Group List.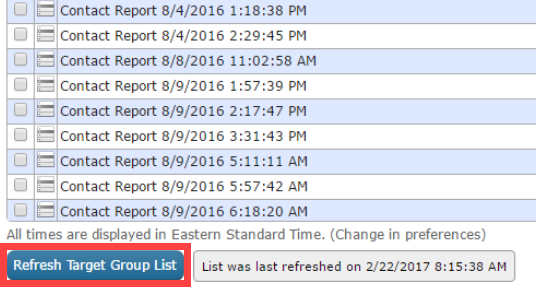 Thrive Marketing Professional lets you know that the list of remote target groups is refreshing.

When the refresh is complete, Thrive Marketing Professional notes the data and time of the last refresh.

Connection issue
If there is an issue with the connection to your integration database, Thrive Marketing Professional will display a message:

Because the connection failed, the refresh also failed and your remote target groups were not updated because the data were inaccessible.
NOTE: If you experience connection issues, create a case for assistance.
Nuances
iMIS - With the iMIS integration, remote target group information usually updates in real time. The exception to this is when a subscriber is added to or removed from the iMIS database. However, this will not impact the "sync on publish," keeping the remote target group dynamic.
netFORUM Pro - There is sometimes a lag in the sync between netFORUM Pro and its queries. For example, if you make changes to a query and then immediately send to the remote target group that was generated from that query, your changes might have not yet populated in Thrive Marketing Professional. This is because the netFORUM Pro messaging job sometimes takes a few minutes to propagate in Thrive Marketing Professional. This lag typically occurs in test environments; it rarely occurs when sending a live mailing.