The iMIS integration has many useful standard features that will help you work better and more effectively.
NOTE: Click Supporting documentation in the in-article menu on the right to access a link to the latest iMIS-Bridge-Setup-Guide, which will walk you through the implementation process.
The iMIS integration is the only integration actively supported by ASI. The integration uses "linked server" technology to enable deep connections between Higher Logic Thrive Marketing Professional (Thrive Marketing Professional) and iMIS data. This is a direct connection between the two databases, so Thrive Marketing Professional can run remote queries against iMIS.
iMIS is the master database for the subscriber profile information.
Thrive Marketing Professional is the master database for the unsubscribe and repeated bouncer data.
Benefits
Integrate with iMIS 10, iMIS 15, and iMIS20–300
Create iMIS Target Groups in Thrive Marketing Professional without having to involve the IT department to retrieve a list
Access SQL views, IQA queries, and ad hoc queries created in iMIS when conducting email campaigns — with data updated in real time
Query Activities Tables and user-defined tables from the Thrive Marketing Professional user interface
Personalize email messages using iMIS data
Subscriber actions (unsubscribes, opt-outs, and clicks) as well as survey and ballot interactions are written back to iMIS and can be viewed in the contact record
iMIS version information
User-Defined Tables
iMIS Version 20 has two desktop applications. The one that launches by default does not show user-defined tables. To access the alternate application, change the URL extension to /CS2 and you'll be able to see the user-defined tables.
Integrated Preference Management (IPM)
The version of iMIS is irrelevant as regards IPM because Thrive Marketing Professional directly connects to the back-end database tables.
iMIS bridge connection
If your bridge connection between iMIS and Thrive Marketing Professional is not working, check your iMIS configuration to see if there were recent changes to any of the following items.
IP address
Database name
Port number
Username
Password
NOTE: If there have been any recent changes, contact Higher Logic and provide the details of the updates to prevent a disruption of service.
Check the bridge connection
To check your bridge connection to iMIS and see the current connection status.
In the legacy Thrive Marketing Professional interface, navigate to Admin > Setup > Webinar Integrations.
In the Thrive Marketing Professional New Admin Experience interface, navigate to Settings > Setup > Check Bridge Status (only iMIS).
Successful

Unsuccessful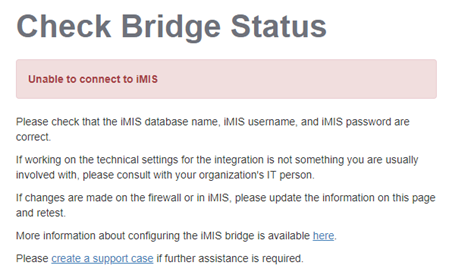 Supporting documentation