When you want to create target groups in Higher Logic Thrive Marketing Professional (Thrive Marketing Professional) from netFORUM Enterprise, use the Query Builder Tool in netFORUM Enterprise. Your Abila support team can assist you with any training you need around Query Builder.
Any queries built in netFORUM Enterprise for use with Thrive Marketing Professional must begin with the text Informz (e.g., Informz Subscribers for Monthly Newsletter). This is how the integration identifies which queries are bound for Thrive Marketing Professional and which are for use only in netFORUM Enterprise.
NOTE: Queries cannot have ask at run time parameters if they're being used by the integration.
Query types
Thrive Marketing Professional supports two types of queries from netFORUM Enterprise 2014 & 2015:
Individual - Individual queries are built around individuals in netFORUM Enterprise. They contain email addresses that allow Thrive Marketing Professional to send mailings to subscribers (individuals).
Audience - Audience queries (netFORUM Enterprise 2014 and forward) allow even greater flexibility when creating target groups in Thrive Marketing Professional. An Audience is a collection of queries that have been bundled together to make querying easier. Audiences ultimately allow you to create different combinations of records (based on target groups). Audiences are normalized – if any of the details of the component queries change, the audience query will automatically update with that change when it is next run.
Send a mailing to a netFORUM Enterprise Target Group
Navigate to the Mailing Designer > Set-Up tab.
Scroll down to the Envelope Heading and click the To field.
Click the Select the Target Group for the entire mailing radio button.
Click the Folder dropdown list and select the folder where the netFORUM Enterprise target group resides.
Click the Target dropdown list and select the desired target group.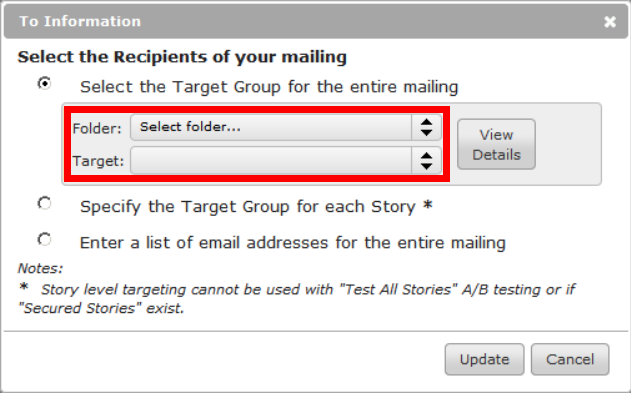 Click Update.
NOTE: Prior to netFORUM Enterprise 2014, queries required different fields beyond Email Address and Email Opt-Out Status (currently, these are the only required fields for netFORUM Enterprise 2014 & 2015).