The messaging job in netFORUM Pro is part of the eMarketing module. The integration between netFORUM Pro and Higher Logic Thrive Marketing Professional (Thrive Marketing Professional) uses this job to create the target groups that are gathered by Thrive Marketing Professional. Contacts from netFORUM Pro flow into Thrive Marketing Professional through user-created queries. Let's take a deeper look.
Queries and Messaging Job
You use the eMarketing Setup Wizard to create queries (which later become target groups in Thrive Marketing Professional). The Abila support team will set up the configuration change that activates this connection with Thrive Marketing Professional. The two required settings to establish the connection are the Email Provider and the Email Provider URL settings. Once these are configured, all queries from the wizard will go to Thrive Marketing Professional.
Every messaging job has an associated opt-out category. This information is passed to Thrive Marketing Professional and is displayed under the target group name.
Step 1 - Recipient Type and Query
There are two types of queries available: "off-the-shelf" queries from Abila and custom queries. These queries group data within Recipient Types. (The queries displayed are dependent on the chosen Recipient Type.)
To create a query:
Navigate to Modules > eMarketing > Messaging Jobs > Messaging Job Setup Wizard.
Click the Recipient Type menu to select the recipient for your mailing.
Click the Query menu to select an additional filter for your mailing.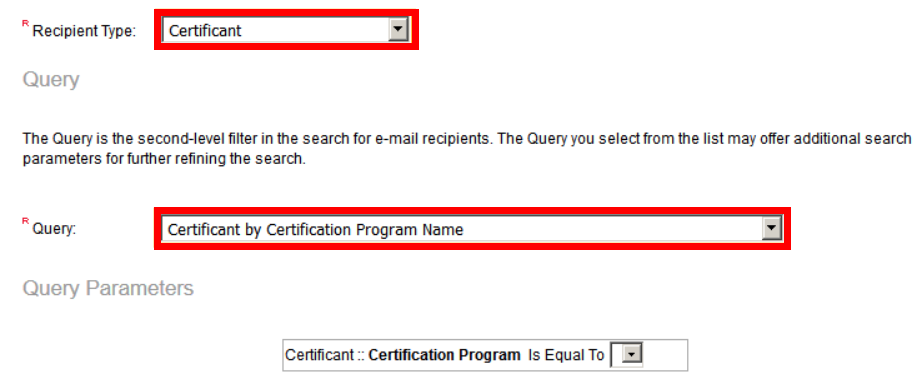 NOTE: Some queries have parameters that will further filter the mailing; these parameters will not become part of the Target Group.
Step 2 - Name the Messaging Job
You can set three parameters for the messaging job:
Category - The message category.
Query ID - A shortened name that both represents the messaging job and provides the Thrive Marketing Professional target group name.
Description - optional text used to provide details about the messaging job.

Step 3 - Confirmation
Click Save to save and confirm your query.
netFORUM Pro displays a confirmation message. Click Click Here to redirect to Thrive Marketing Professional.

NOTE: If a messaging job is created or changed in netFORUM Pro, the target group list must also be refreshed. Click Refresh Target Group List to update the changes.
Target Groups
NOTE: Target Groups cannot be deleted if they're used in a compound target group that is in a scheduled mailing.
As mentioned above, netFORUM Pro eMarketing Wizard queries are used as target groups. These queries display in Thrive Marketing Professional by their respective netFORUM Pro Recipient Type names as a Target Group Type. These names are displayed in alphabetical order in Thrive Marketing Professional alone.
Target Group Types
NOTE: The Target Group Type cannot be edited because it's received from netFORUM Pro.
There are eleven Messaging Job/Target Group types for use with Thrive Marketing Professional:
Certificant
Committee Participant
Customer
Donation Purchase
Event Registrant
Exhibit Contract
Individual
Member
Membership Dues
Organization
Subscriber