If your organization uses mailings to reach out to your subscribers regarding membership renewals and dues or to sell items from your organization, you'll likely want to know how these transactions affect your subscriber base (e.g., you might want to target subscribers who have not renewed their membership.)
The Ecommerce Processing feature in the Informz for YourMembership integration allows you to create target groups based on this type of data; you can use any of the transactions recorded in YourMembership to create target groups. Data is available from two sources:
Dues Processing (membership dues)
Store Processing (purchases or event registration fees)
The Ecommerce tab displays a list of transactions that have been initiated through YourMembership.
Create a Target Group
Navigate to the Ecommerce tab and click either Dues Processing or Store Processing.

Add the desired filters, and click then Search to perform the query.
When complete, hover over the Email Invoices menu and select Bulk Email All Search Results.

This saves the query and initiates the sync with Informz. The name you assign to the query becomes the Informz target group name.
After saving the target group name, a new window opens that shows that your data sync is in progress. You can close this window or login to your Informz account by clicking Continue (this will open the Mailing Designer in a new tab).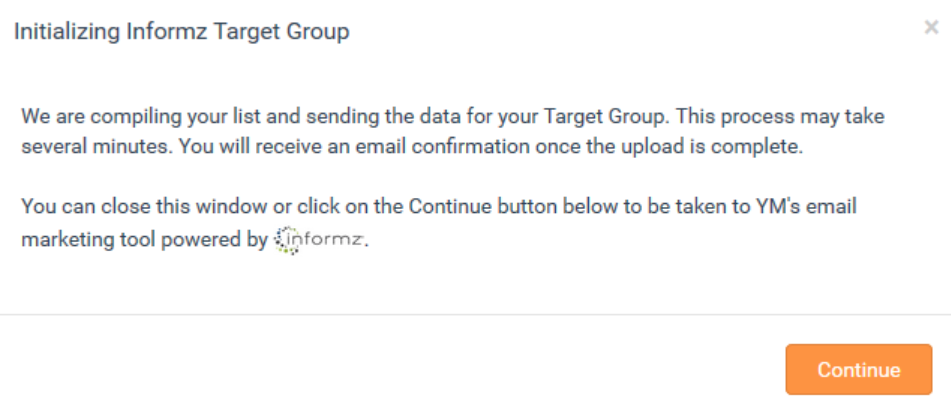 NOTE: Remember, this process is identical for both the Dues Processing and Store Processing tabs. Simply hover over the Email Invoices menu and select Bulk Email All Search Results.