The Higher Logic Informz for YourMembership integration provides an effective way to employ the strengths of Informz and YourMembership to create engaging and efficient eMarketing campaigns by leveraging custom directory searches and queries in YourMembership to create targeted lists for your mailings.
The Informz for YourMembership integration provides the following benefits:
Easy creation of Informz

target groups in YourMembership
Automated and on-demand syncing of target groups with YourMembership
Effortless personalization using YourMembership fields in Informz

mailings
Seamless login to Informz

through YourMembership's Single Sign-On (SSO) capability
Frequently asked questions
Question
Answer
Are macros available with the Informz

for YourMembership integration?
Yes. You can access the same macros (e.g., username) that are in the YourMembership Bulk email feature.
Will I be able to send a bulk mailing through YourMembership?
The Informz

integration handles all mailings through the Informz

platform. YourMembership's internal email capabilities are deactivated so that you can send all mailings through Informz.
Will mailings be sent from the Informz email servers or the YourMembership servers?
Emails are only sent from Informz

servers as part of the integration.
Will Admins have the ability to use the "Alternate Email Address" field for their mailings?
No. This functions the same as it does without integration.
When specifying the name of a target group through the YourMembership integration, will I receive an error message when the name matches an existing target group? If so, is there a way to tell that the target group name needs to be unique?
You will see an error message if the target group name is not unique. You will have the ability to continue to create the group, but this will override the existing group. Alternatively, you can rename the new target group with a unique name.
Can I use a Custom Field in my Personalization macros for my bulk emails? If so, how would this be setup?
Currently, you cannot use a Custom Field in a Personalization macro.
If a subscriber email address is updated in YourMembership will that address be updated in Informz? Or will a new record be created?
If an email address is updated, the corresponding subscriber record in Informz

for that email address/record number combination will be updated in Informz.
Administrator permissions
Administrators for the integration must have the Manage Admin Accounts and/or the Manage Bulk Email permissions in YourMembership to access the integrated Informz features.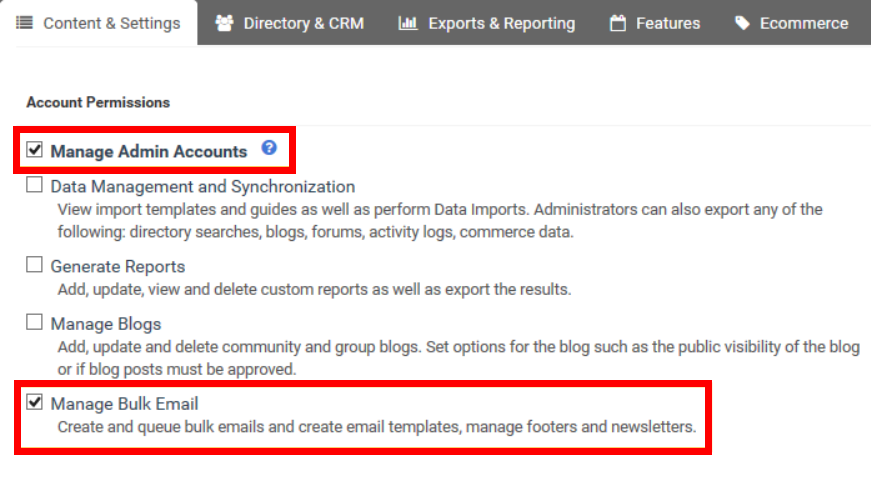 Manage unsubscribers
When subscribers unsubscribe from your mailings, Informz stores this information and prevents them from being included in target groups. This information is visible in Informz only.
Access Informz
from YourMembership

The Informz for YourMembership integration uses SSO, so users can log into Informz right from within YourMembership without needing to enter any additional credentials.
Launch Informz
There are several ways to launch Informz from YourMembership:
Navigate to the Directory & CRM tab > Email & Newsletters > Informz Homepage.
Navigate to the Directory & CRM tab > Community Directory > Directory Search.
Navigate to the Ecommerce tab > Dues Processing or Store Processing.
Navigate to the Features tab > click Active # of events > click Manage Restrictions > create filters > click Bulk Email Results Below.
Navigate to Exports & Report > click Build a Query or Report > create filters > Save.
NOTE: The first method launches the Informz homepage. All other paths navigate to the Informz Mailing Designer where you can create a new mailing.
Writebacks
The Informz for YourMembership integration does not support writebacks.
Product support
If you have questions about your Informz for YourMembership integration, create a case with our Customer Support team.