Available on the Zones tab of the Message Editor (Email Designer view only), Zones are the main building blocks you'll use to build the structure and content of your messages. Think in terms of building a message out of Lego blocks: Each zone can be dragged-and-dropped onto the Canvas to create a new object block for message layout, text, images, social sharing icons, dynamic content, and more.
You can add Custom Zones as well (available in the Custom Zones section). These zones contain content that is custom or unique to your organization and used on a recurring basis. Good examples of Custom Zone uses are for adding a physical address and/or links to your social sites.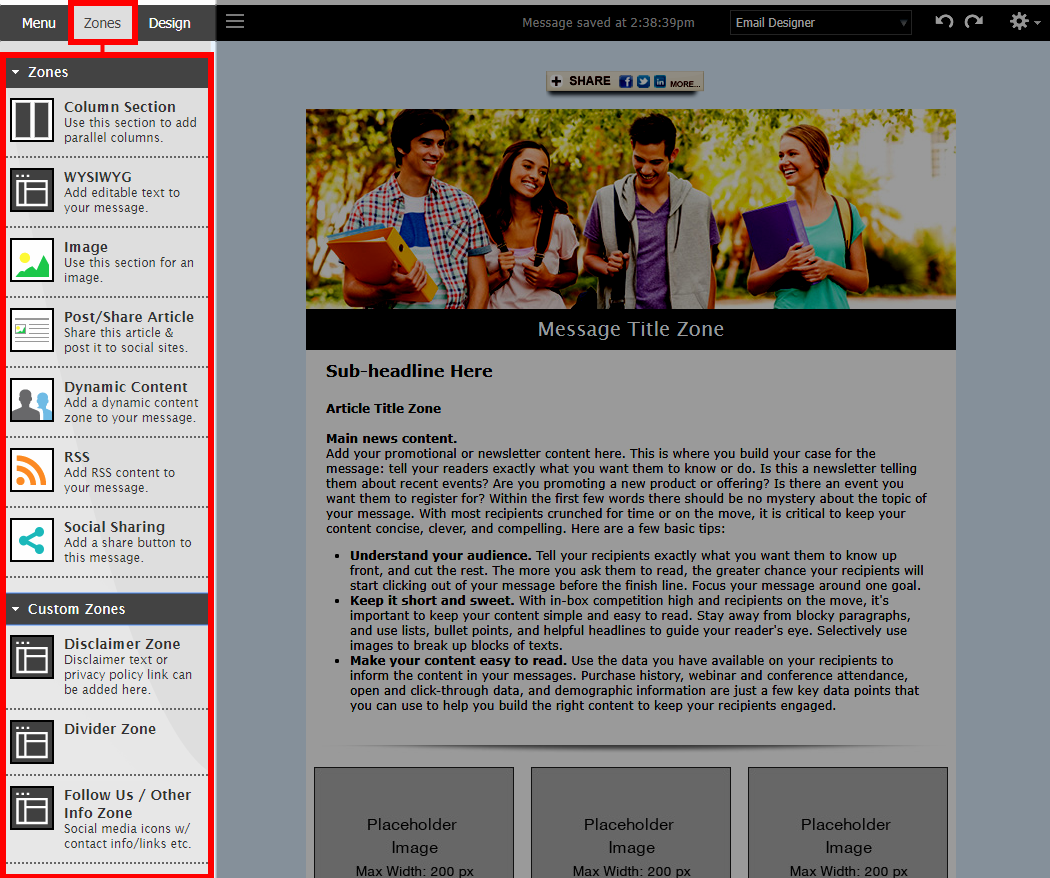 Let's take a look at each of the available Zone types.
Column Sections
Drag-and-drop the Column Section zone to the area in the message where you'd like to insert one or more parallel columns to your layout (once you've placed it in the message, you can choose how many columns to add). This is an easy way to separate your content into chunks, adding visual interest to your message and making it easier for recipients to read.
Columns can contain additional borders, padding, and background colors, as well as a variety of content including, text, images, dynamic content blocks, RSS, and more.
WYSIWYG
Drag-and-drop the WYSIWYG zone to add a text block to any section of your message. Once placed, you'll be able to use the WYSIWYG Editor to format your text in a variety of ways, insert images, tables, attachments, and more. See WYSIWYG Editor for a complete breakdown of each option.
You can use this zone to create a standalone text block, or use it within a column for extra control of borders, padding, and background colors.
Image
Use this zone to insert images, add hyperlinks and alt tags to images, and position images within a column. After inserting an image, use one of the image editors to customize it — without leaving the editor or the message.
Use the Basic Editor to perform rudimentary edits, such as cropping and re-sizing.
Use the Advanced Editor to add text, adjust the colors, add overlays and frames, and do lots of other customizations.
See Manage Images to learn more about how to customize your images.
NOTE: If the image you've added is too large for the zone you've placed it into, you'll automatically be warned at the bottom of the message. This gives you the opportunity to re-size the image to ensure it looks great before sending your message.
Post/Share Article
NOTE: You must be using the new Message Editor to access this zone.
Content added via this zone is posted not only in your message but also simultaneously to your Facebook and/or Twitter accounts. You can also configure it to include a share button so your recipients can share the content within their social circles with the click of a button.
While share functionality has been around for a long time, this feature gives you the ability to schedule and publish individual email articles to your social sites. For example, let's say your email newsletter has 10 articles. Each article can be scheduled to be published at different times, effectively creating a mini-marketing campaign across both your email and social channels. Not only are you publishing Twitter and Facebook posts, you're creating content for those channels that's automatically optimized. Both the Facebook and Twitter versions will include an associated summary and image. And because we're leveraging Twitter's Twitter Card technology, we can accommodate 380 characters instead of the customary 140.
How it works
After adding this zone, you'll be prompted to configure a number of parameters:
Email Layout - If including an image, you can position on the left, right, or top of the article. Select No Image if you don't want to include one. NOTE: Because the content is optimized for both Facebook and Twitter, the image should not exceed 120x120 pixels for the left and right images.
Article Title - Enter a title for your article.
Article URL - Enter a URL here to create a hyperlink for your title. When a message recipient clicks the article title, they'll be taken to this URL.
Add SWYN zone - Check this box to give your recipients the option of sharing the article within their social networks.
Add button link - Check this box to include a button recipients can click to view the full article.
Social Publishing - Here, you can control whether you want to tweet the article and/or post the article on Facebook. NOTE: These options are only available if you've connected your Facebook and/or Twitter accounts on the Social tab.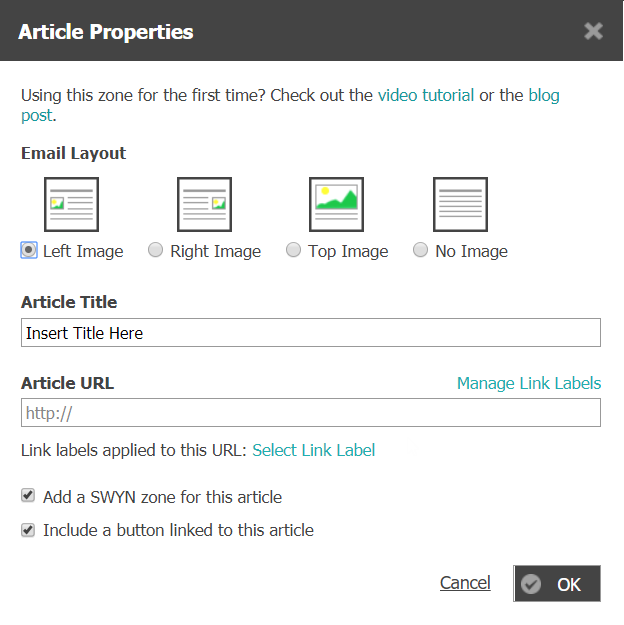 Sending the email and posting its articles
After creating your message, you'll be prompted to send the email and post its articles, towards the bottom of the Send To Groups page. You have several options for scheduling the Twitter and Facebook content:
Do not post
Post them at the same time as your email message
Post them at an interval (5, 10, 15, or 20 minutes between each post/tweet)
Schedule them individually
After your email and social posts are scheduled, click Send and you're done. You've created a mini-marketing campaign across email and social media.
As shown in the example below, the Post/Share Article content from our message is now also posted as a fully optimized Twitter Card.

Dynamic Content
Dynamic Content blocks allow you to have customized sections of your message for different recipients. Recipients will see the view which applies to them. For example, you might have a part of your message that you want to show differently to recipients depending on their home city. You would choose the City field for the Dynamic Content block. Then, you would create a view for each city (or combination of cities) that you would like to have customized content. If a recipient's city field doesn't match one of the customized views, you can choose either to hide the block or show a default message.
See Dynamic Content for more information.
RSS
Drag-and-drop the RSS zone to add an RSS feed to any section of your message.
NOTE: There is a limitation with feeds that have the .cfm extension. Feeds with this extension will not load in the Image Editor.
Once placed, you'll be able to enter the RSS feed's URL. The URL can be your own website content, blog, or any other RSS content available. After entering the URL, click Load Feed to view the feed's available articles. The most recent articles from the feed are shown, and you can click More... to view additional content from the site.
Check the boxes to add one or more articles to your message. Then, use the configuration options at the bottom to determine whether to show article titles, excerpts, publication dates, and a Read more… recipients can click to view the full article. After you've made your selections, click Insert to add your chosen article(s) to your message.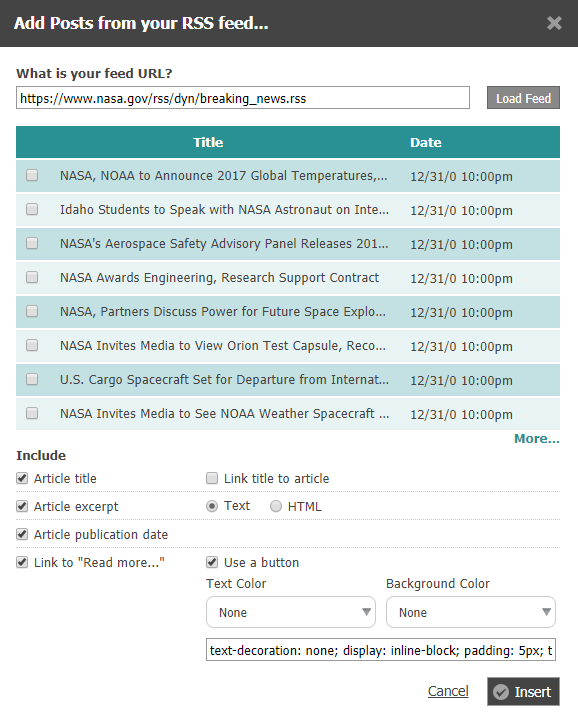 Like all message content, you can format the RSS content using the standard WYSIWYG editing tools. Simply click the RSS zone, followed by Edit on the right. This enables you to standardize the font appearance, spacing, zone padding, etc., to match your message's content.