Profile Fields are where you store attributes about your contacts. These include free-form fields, called personal information, and picklists, called demographics. You can also create flags to indicate if a contact is a member of an interest group or an opt-out group.
Field types
You can create the following field types:
To manage your Profile Fields:
Access the Admin interface.
Navigate to Contacts > Profile Fields.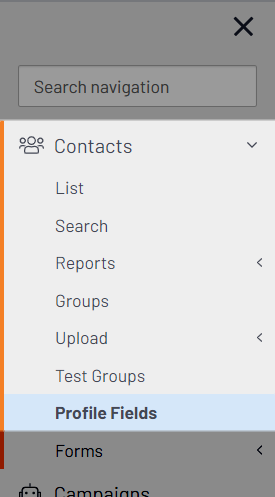 TIP: On list pages, click a column header to sort on that column. Click the columns count below the list to add and remove columns in the current view.
Edit a field
Select a Profile Field and click Edit.
Make your updates. The options available to update depend on the Profile Field type. Refer to the Field types section above for links to articles discussing each Profile Field type in more detail.
Click Save.

Delete a field
Select a Profile Field and click Delete.
In the dialog, click Yes to confirm the deletion.
WARNING: This action is irreversible.

NOTE: You shouldn't delete Personal Information fields. Why? Because if a field is used in data formats or target groups, that information will become incomplete and Communications Professional won't be able to read it. If you do try to delete the information, Communications Professional will display an error message.
NOTE: Give careful consideration before deleting a Demographics field. If it's used in a Data Format or Compound, you'll want to be aware of this. An error message will display if you try to delete a Demographics field that's used elsewhere in your Communications Professional account.
Filter fields
All of your Profile Fields are organized in the list by type. To filter which field types are displayed:
Click the filter icon.
In the dialog, select a type from the menu.
Click Apply.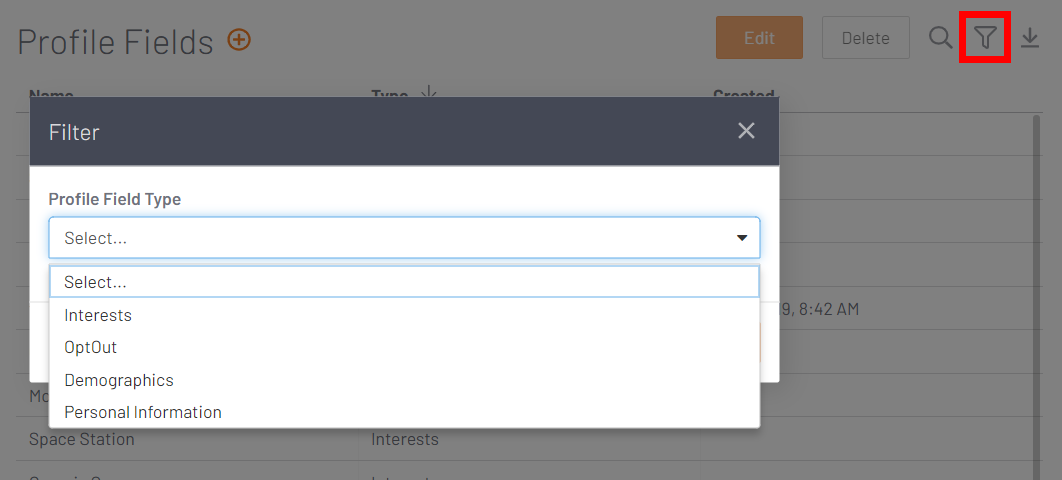 TIP: To remove the filter and restore the original list, click the filter icon again, click Clear Filter, and click Apply.
Search for fields
If you have a lot of Profile Fields, you can use the search field to quickly find a specific one.
Click the magnifying glass icon to expand the search field.
Enter your alpha and/or numeric query; you can search on the Name and Type columns. Results display automatically as you type.

TIP: To restore the original list, click the X in the search field.