QuickMail is an older mailing system. Originally designed as an alternative to newsletters, quick mailings are meant to contain one story or announcement, and are designed to be sent quickly and easily.
NOTE: There is currently no development work to support QuickMail emails.
Create QuickMails
Navigate to Mailings > Create > Quick Mail.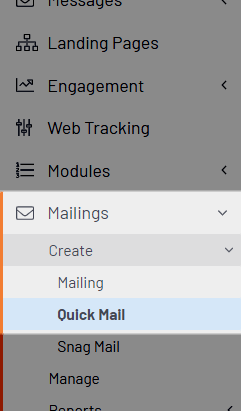 Click the Content Entry Method menu and select either HTML Editor or Paste Existing HTML Code.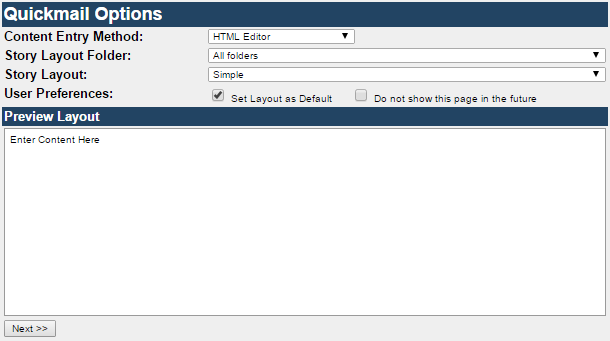 Click the Story Layout Folder and Story Layout menus to locate a story layout for your quick mail.
NOTE: The User Preferences checkboxes are non-functioning and have no impact on the design.
Click Next to continue.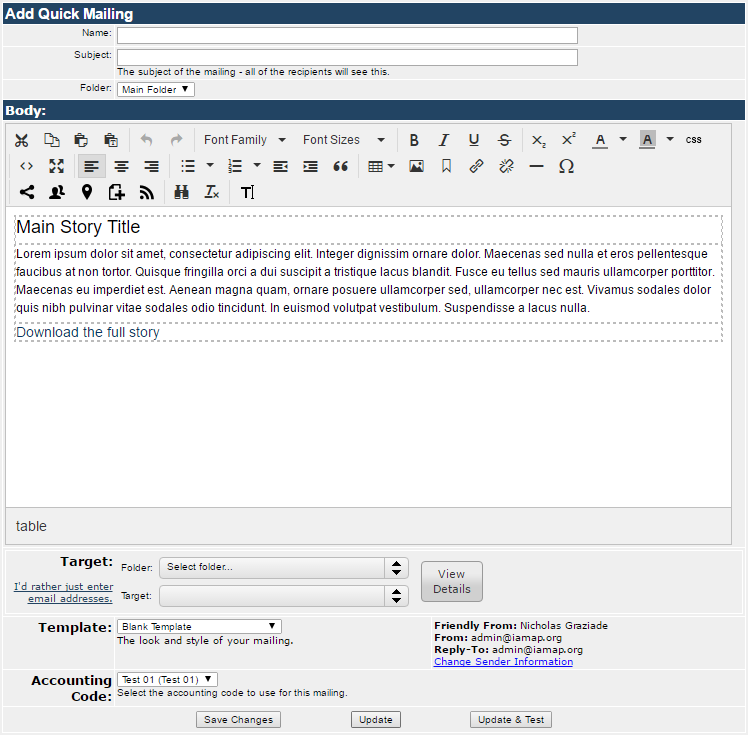 Enter a name for your mailing (this is for organizational purposes only, and contacts do not see this name). Additionally, enter a subject line. This appears in the contact's inbox.
Click the Folder menu to select a folder for the quick mail to reside in.
Use the HTML Editor to edit your quick mail's content. Once you are ready, scroll down to the additional options for your mailing.

Under the Target heading, click the Folder and menus to locate a target group for your quick mail. Alternatively, click I'd rather just enter email addresses to enter individual email addresses.
Click the Template menu to select a template for your mailing. The Friendly From, From, and Reply-To information update based on your selection. If you need to modify this information, click Change Sender Information.
Click the Accounting Code menu to select an accounting code to use for the mailing.
When ready, you have three options:
Click Save Changes to save and continue working.
Click Update to save and return to the main mailings page (Mailings > View).
Click Update & Test to save and view a preview of the mailing.
Send QuickMails
QuickMails display in the Messages List (along with all the other mailing types).
To send a quick mail, select it in the list, and then select Schedule from the More menu.

The Mailing Scheduling/Publishing Options page opens.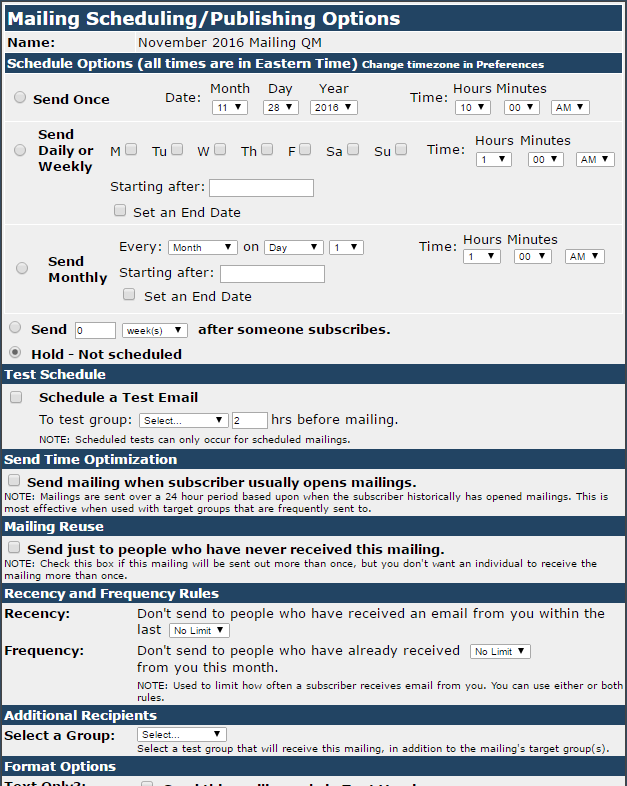 Use the following headings to set your send options.
Schedule Options - Select to schedule once, daily, monthly, or based on a trigger (e.g., "10 days after someone subscribes").
Test Schedule - Schedule a test mailing
Send Time Optimization - Send the mailing when contacts historically open their mailings.
Mailing Reuse - Send to contacts who have never received the mailing. This prevents a contact from receiving the mailing multiple times.
Recency and Frequency Rules - Apply recency and frequency rules to the mailing.
Additional Recipients - Add a test group to receive the mailing.
Text Only? - Opt to send the mailing as a text-only mailing.
Click Update to complete.