In this article, you'll learn about two features you should take advantage of when preparing to send your mailings: Personalization testing and Send to Winner.
Test Personalizations
Using personalization fields in your mailings is a great way to increase engagement. If you want to look at the personalization values that your subscribers will see when viewing your mailing, you can use the personalization test.
To test personalizations:
Create or open a mailing in MD2. Make sure that you have set a target group on the Options tab before you begin (Marketing Automation Professional [MA Professional] uses the data from the target group subscribers in the personalization test).
Click the Review & Send tab.
Scroll down to the Personalization Test area and click Run Test.
After the test is complete, you'll see a list of subscribers and their corresponding personalization values. Note that MA Professional only displays personalization values that you've added to the mailing.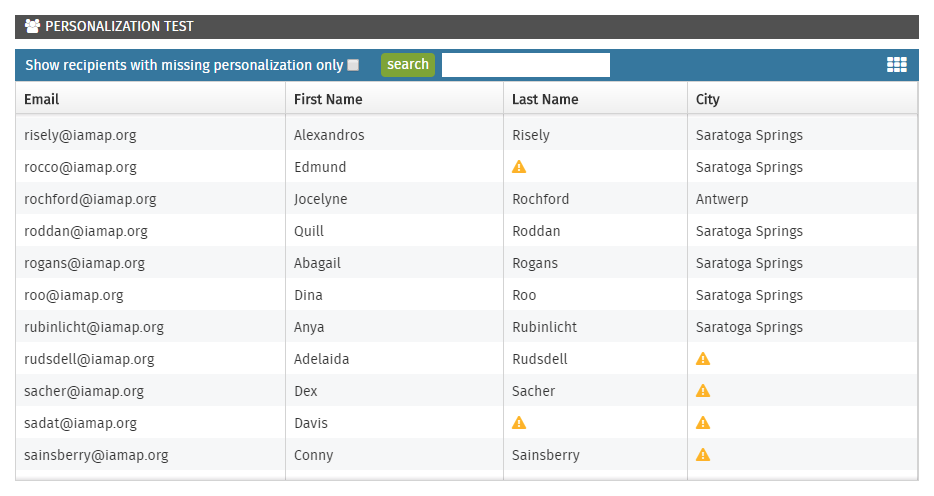 NOTE: Any fields that contain blank values display a warning icon. These fields are replaced with the personalization's default value when you send the mailing.
Check the Show recipients with missing personalization only box to view all subscribers with at least one blank value.
To search your subscribers, enter a term in the search field and click search. MA Professional displays the term in the header row and locates all fields that contain your search term.
To remove the search term, click the X icon next to that term in the header row.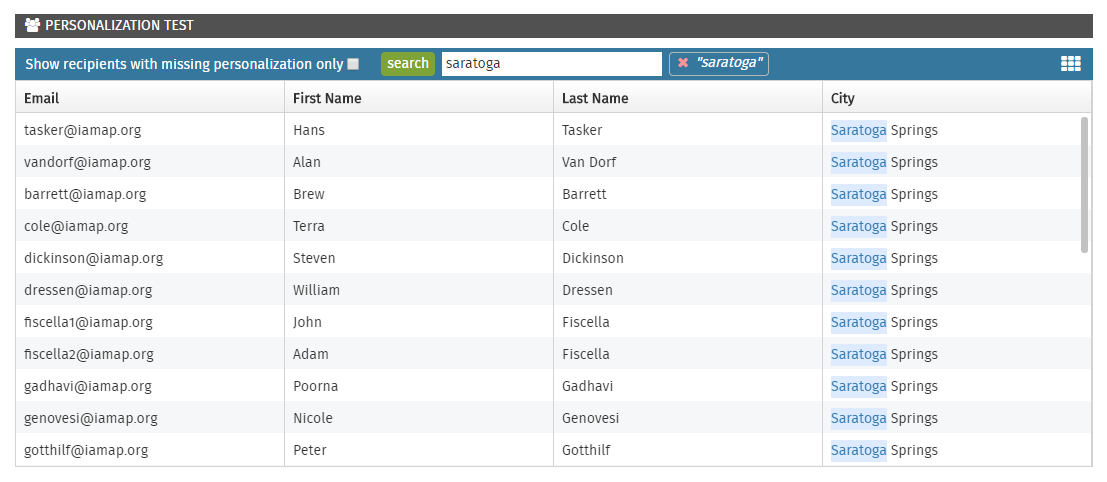 Integration Personalizations
If you're using an integration, MA Professional uses the personalization cache to test integrated personalization values. Learn more about Personalization Cache.
Send to Winner
MD2 features a Send to Winner option when you've enabled A/B testing in a mailing (MD2 > Options tab > Envelope tab).
Being able to easily conduct A/B tests is key for any organization, and it ensures that more successful subject lines and friendly from names reach your subscribers' inboxes. Once you've met your A/B "threshold," only the version that has statistically generated the best results (based on your criterion) continues to send.
NOTE: Subject Lines are required for all messages. If you enable A/B Testing, Subject Line A and Subject Line B are required.
The A and B versions are sent to a percentage of the subscribers and, after a period of time, the remainder of the subscribers receive the better performing version. If the versions perform equally well, the remaining subscribers will be sent the A version.
You'll find the Send to Winner options on the MD2 Review & Send tab. You can use Send to Winner with the following schedule options (the Send to Winner features are slightly different for each option).
Schedule One-Time
When you select Schedule One-Time, the Send to Winner delivery method includes the following three fields: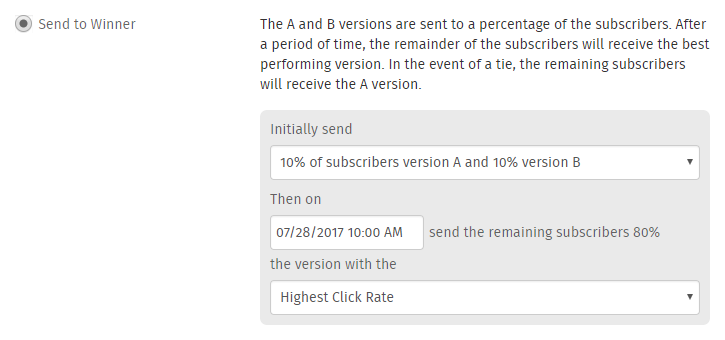 Initially Send - Select a percentage of your subscribers to receive the A version and the B version. For example, if you select 10% in the dropdown list, a subset of 10% receives the A version and a subset of 10% receives the B version (there is no overlap).
Date Picker - Click the "Then On…" Date Picker to set a date and time to send to the remaining subscribers. For example, if you selected 10% A version/10% B version in the Initially Send dropdown list, the remaining 80% receive the winning version. MA Professional automatically displays the remaining percentage.
Winning Version - Click the dropdown list to select the criterion used to determine the winner:
Highest Delivery Rate
Highest Open Rate
Highest Click Rate
Lowest Unsubscribe Rate
Daily, Weekly, Monthly
When you select Daily, Weekly, or Monthly, the Send to Winner delivery method includes the following three fields: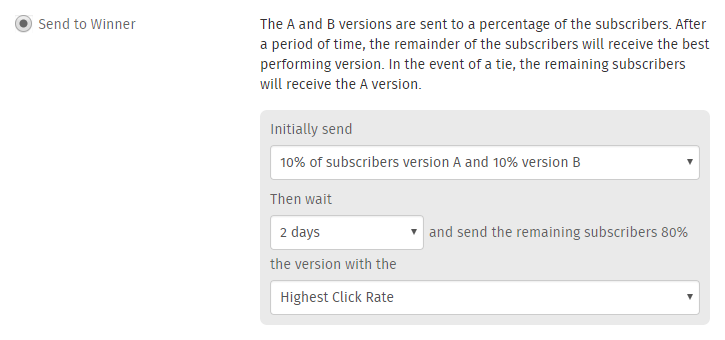 Initially Send - Select a percentage of your subscribers to receive the A version and the B version. For example, if you select 10% from the dropdown list, a subset of that 10% receives the A version and a subset of 10% receives the B version (there is no overlap).
Duration - Click the Then wait… dropdown to set a duration after which the mailing sends to the remaining subscribers. You can select between one and seven days.
Winning Version - Click the dropdown to select the criterion used to determine the winner:
Highest Delivery Rate
Highest Open Rate
Highest Click Rate
Lowest Unsubscribe Rate