In this article, you'll learn about targeting in MD2.
Set Target Groups
Because your subscribers are organized into target groups, you must set a targeting option for your messages. The Targeting tab displays all target groups in a list/tree structure that is sorted alphabetically.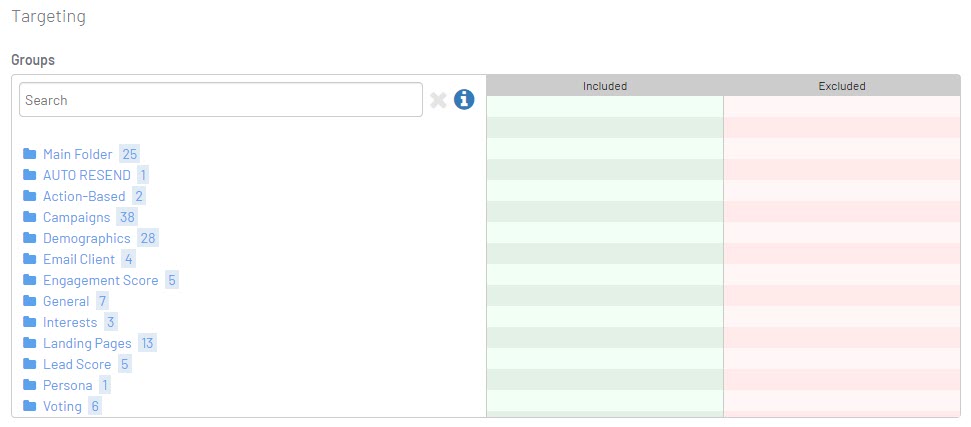 Let's look at how to set your message's targeting.
Open message and navigate to the Properties > Targeting.
On the page's left side, you'll see a list of folders. The number next to each folder is the number of active (non-deleted) target groups in that folder. (Folders with no target groups and deleted folders are not displayed.)
Click a folder to view the target groups it contains.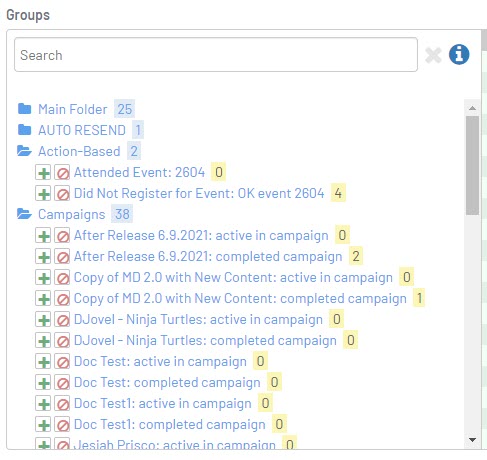 The number next to the target group shows the total number of subscribers within that target group. Each target group also has two associated buttons (Plus sign and No sign):
Click the Plus sign to add the target group to the Included target groups (you can add multiple target groups).
Click the No sign to add the target group to the Excluded target groups. These target groups are excluded from the message. You can select multiple target groups to exclude from the message.

Enter a search term in the Search field to locate specific target groups. The search is not case sensitive and does not support wild cards.
There are two other targeting options. You can choose to add up to 15 specific email addresses to receive the message and you can click the provided dropdown list to send to a test group.

Advanced targeting
Click Show Advanced Targeting to expand the page and reveal the advanced targeting options.

There are three options that allow you to fine-tune your targeting:
Exclude those who have been sent this mailing before
Exclude those in the following Opt-Out Lists - This option expands the page and lets you select any opt-out lists to use as exclusion criteria.
Exclude the following Email Addresses - Enter any specific email addresses to exclude from your message (up to 100).
Story-level Targeting
When you add a story in Mailing Designer, you can use Story-Level Targeting (i.e., Dynamic Segmentation) to send stories to a subset of your target group.
Story-level target groups function like a dynamic compound target groups (using "and" logic). Any recipients in a story-level target group would also have to be in the main target group (target group assigned to the message on the Properties tab). This approach reduces the risk of targeting errors (e.g., recipients in the subset target group only receiving the story-level story).
After adding a story in the Design tab, click the Text Properties Targeting tab.
Check the Send this story to a subset of Opt-Ins box to expand the menu and show the targeting options.
NOTE: You must first select an initial target group from the Targeting tab.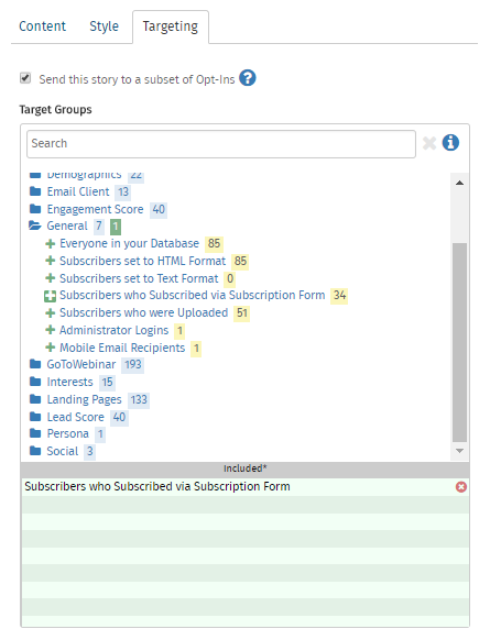 You can select one subset target group for the chosen story.
Click the plus symbol (+) to select a target group.
Click the delete (x) icon next to a selected target group to remove it.
Targeted subject lines
Targeted subject lines allow you to set alternative subject lines that display to subscribers in specified target groups. Only subscribers in these groups will see these subject lines, making this a useful tool to help increase your open rate by making customized subject lines that are relevant to each type of recipient.
To add a Targeted Subject Line:
In Mailing Designer 2 (MD2), navigate to Properties > Envelope.
Check the Use Targeted Subjects box.
This expands the page to reveal the Targeted Subject Lines heading.

Click Edit to add a target group for your targeted subject line. Click the plus symbol (+) to include the corresponding target group.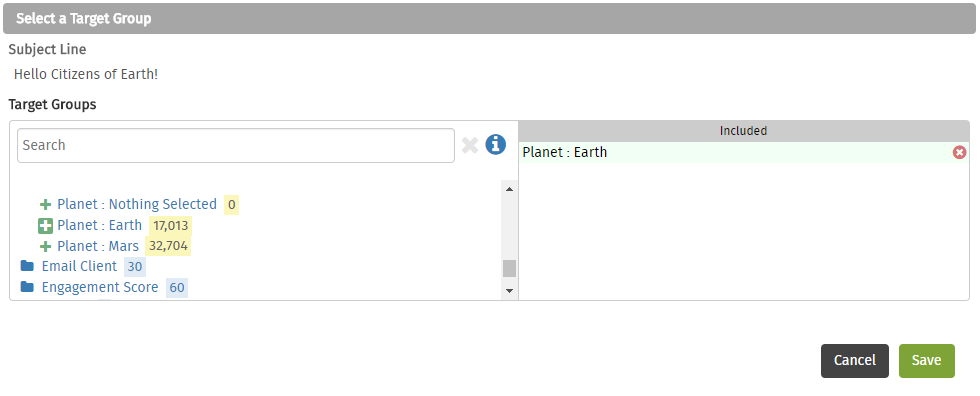 NOTE: You can include only one target group at a time. Recipients must be in an included target group and the designated target group.
Enter the targeted subject line in the Subject Line field. Click the Personalization icon to add personalizations to the subject line.
NOTE: Even though MD2 adds the personalization to the targeted subject line, it will not appear in the Personalization Test.

Click Add Targeted Subject.
NOTE: To delete a targeted subject line, click the trash can icon.
Use the Up and Down arrows to rearrange your subject lines. This is important because any recipient that matches multiple targeted subject lines will receive the first match that appears in the list.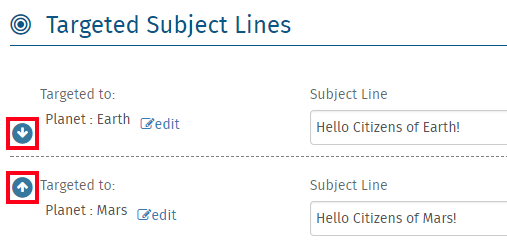 NOTE: If recipients don't match any of the targeted subject line criteria, they will receive the default subject line.
Additional details
NOTE: You cannot use targeted subject lines in MD2 messages used in a Campaign or with Landing Pages because messages from these features are automated (and essentially already targeted), so targeted subject lines would not add any engagement value.
NOTE: Don't panic! You need a target group assigned to each subject line before you can save or send your message. Similarly, each subject line field must contain text. Using targeted subject lines disables A/B testing for subject lines.