You can manage your ballots in several to ensure a smooth voting process. Hover over a ballot's corresponding Menu to access the following options: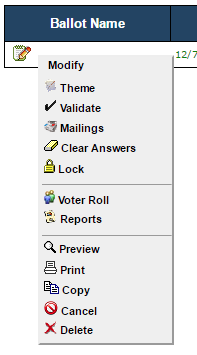 Modify - Change the polling window, preferences, ballot message, or questions.
Theme - Add a theme/style to your ballot page.
Validate - Prior to sending your ballot invitation, you need to make sure that it was set up correctly. Click here to validate the setup. The ballot's status changes to "Validated" when this step is complete.
Mailings - Click to create the two required mailings, invitation and confirmation. You'll have additional mailings options to select as well.
Clear Answers - Use this option to clear any test answers that have been submitted before you send to your voter list.
Lock - Locks your ballot, preventing further edits. You cannot lock a ballot with validation errors.
NOTE: You cannot unlock a ballot. This steps assures that nothing can interfere with the ballot results once it has been published to voters, so make sure you've done all your testing ahead of time.
Voter Roll - Click to view anyone who has voted in the ballot. You can view this information by data format.
Reports - View your ballot report. This includes information about voters and the ballot results.
Preview - Preview your ballot.
Print - Print a hard copy of your ballot.
Copy - Copy your ballot.
Cancel - Cancel your ballot. This action cannot be undone (you'll receive a message to confirm that you wish to proceed).
Delete - Permanently delete the ballot (you'll receive a message to confirm that you wish to proceed).