If there is only one report to be familiar with in Higher Logic Informz, it's the Mailing Activity Report (MAR). Every time a mailing is sent, a corresponding report is created with the metrics that are unique to that mailing.
TIP: To get a really good idea of how the message was received and interacted with, wait at least 24 hours before reviewing a MAR so that subscribers have had a chance to interact with the mailing.
Mailing actions (such as opens and clicks) are tracked in Informz. Reviewing this data will give you key insights into the reaction to this mailing by your audiences.
NOTE: MailTo hyperlinks are not tracked.
Key Metrics tab options
The Mailing Activity Report is accessible for each mailing on the Sent tab of the Mailings > View page.
Hover on the menu icon to the left of a mailing and select Report.
Click the Key Metrics tab.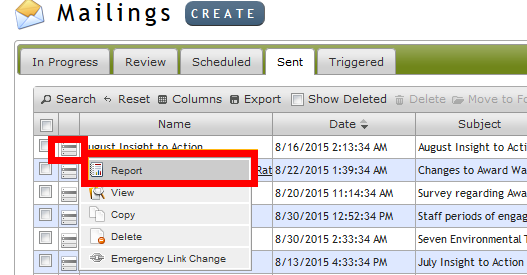 Sent - Displays a complete list of all the subscribers that were sent the mailing. Click the hyperlinked number to display the subscribers that make up this number.
Delivered - This is the list of subscribers who received the mailing. A delivery benchmark to strive for is 92%. Informz has an overall delivery rate of 96% because our users practice permission-based email marketing.

Unsubscribed - This is the total number of subscribers that clicked the unsubscribe link in the mailing. This action means that they will no longer receive any mailing from this account. Click the hyperlinked number to display all subscribers that are now unsubscribed. View the comments that were provided by these subscribers to gain insight into what you should consider changing to have increased engagement.
Complaints - These are typically AOL subscribers who have clicked the Report Spam button in AOL after receiving your mailing. These subscribers are automatically unsubscribed in Informz. Click this link to display these subscribers that complained. The Informz ISP relations team will handle these complaints.
Mailing formats
Informz uses "content-type alternative" to create HTML mailings. This approach determines if a recipient subscriber can view the HTML version of the mailing. If not, a text version is also provided allowing the mail client to switch to display a plain-text version of the mailing.
NOTE: Subscribers can select an option in their profile to receive the text version of mailings.
Keep in mind that the tracking of a text mailing is extremely limited. Only HTML versions of mailings will provide the full suite of metrics most marketers wish to see.

HTML Version - The total number of HTML mailings delivered.
Text Version - The total number of plain-text mailings delivered. The subscriber must have "text version" selected in their profile in order for Informz to flag a mailing for text by default.
Non-Delivered
There can be many reasons for a mailing to not be delivered. This section of the MAR delves into these details.

Soft Bounces - A soft bounce is an email that was undeliverable because of any of the following:
Subscriber's email server is down
Subscriber's email server is not accepting email at the time
Subscriber's inbox is full
The Informz system attempts to redeliver soft bounces for up to 12 hours after the mailing is published. If some of the soft bounces were delivered properly to the subscriber's inbox after the re-send, then the Soft Bounces number will be less than the Soft Bounces Resent number. After 12 hours, it is up to the user to resend by clicking Resend to Soft Bounces. After seven consecutive soft bounces, an email is a considered a hard bounce. By clicking on the Soft Bounces link, you can view a list of the individuals that bounced.
Click Export to generate and save a Microsoft Excel version.
Hard Bounces - A hard bounce is an email that was undeliverable because of any of the following:
The domain does not exist
The domain does not have a mail server
The email address does not exist on the domain
A hard bounce will always bounce unless the email address is changed. If a subscriber hard bounces 4 consecutive times, the email will be considered a "repeated bouncer" and Informz will no longer attempt to send to that email address.
Click Export to generate and save a Microsoft Excel version.
Blocked - These are subscribers who have blocked your emails from reaching their inbox. The email may have been blocked by anti-spam software installed on their ISP's or company's mail server or by anti-spam software installed on the subscriber's computer. Our ISP relations team will investigate all blocks by subscribers try to resolve the issue with the ISP or company.
Repeated Bouncers - A subscriber becomes a "Repeated Bouncers" when:
An email address has hard bounced 4 consecutive times.
An email address has soft bounced 7 consecutive times.
When a subscriber becomes a repeat bouncer, the Informz system will no longer send emails to that email address.
Opens & Clicks
Getting a solid open rate is a great metric to pursue. This section of the MAR provides more details about open rates.

Total Opens - The total times an email was opened and is not a unique number.
Unique Subscribers - This is a true measure of the opens. Whether someone opened an email once or five times, it will record that as one open. The open rate percentage benchmark should be at approximately 40%. The open rate does not include subscribers who are received the text version of your emails; text versions cannot be tracked. If a recipient views the email in their preview pane, it counts as an open.
Unique Opens - Displays email address and the number of times a recipient (of the HTML version) opened the email. The open percentage is calculated by dividing the unique open by the amount of HTML email delivered. Click Export to generate and save a Microsoft Excel version.
Average Opens - This number is based on unique subscribers. If this number is high (above 2), then you can assume that recipients are clicking on the mailing to open it, as opposed to viewing it in the preview pane.
Total Clicks - This number represents the total times a link was clicked and is not a unique number. For example, if one recipient clicks a link five times, all five of those clicks are included in this count.
Unique Clicks - Displays email address and the number of times they clicked on various links in the email. You can drill down by individual to display the links they clicked on and how many times. The click-thru benchmark should be approximately 20%. The click-thru percentage is calculated by dividing the unique subscribers who clicked by unique number of subscribers who opened. Click Export to generate and save a Microsoft Excel version.
Viral: Sharing and Forwarding
This section of the MAR provides insight into whether the mailing is being shared or forwarded. High percentages here indicate that the content resonated with the subscriber such that he wanted to let other people know about it. For more information, see Opens, Clicks, and Forwards.

Total Forwards - This figure indicates how many times the email was forwarded (using the Forward button on the browser). A forward is counted only if it is made to an IP address other than yours. If a subscriber forwarded the email more than once, each forward counts towards the total.
NOTE: Informz cannot determine the recipient of the forwarded email message because it is opened in a separate browser.
Unique Forwards - A true measurement of how many people are using viral marketing, this count is the number of times an email was forwarded, the email address of the forwarder, and a total ratio.
Send to Friend Usage - If you have the Send-a-Friend feature enabled on your template you are able to record the number of times the feature was used, to whom the email was sent, and who sent the email.
NOTE: As of December, 2019, Higher Logic no longer offers or supports this feature that inherently presents a possible GDPR-compliance risk to customers. See our Product Update post for additional details.
Social Posts - This area records such activity when your subscribers share your mailing on their social media sites.
90-Day rule
The drill down data - from a hyperlinked number on the report - that accompanies the Mailing Activity Report is available for 90 days from the date the mailing was sent. If this data is needed for analysis outside of Informz, export the report and store the data on your computer.