The Mailing Summary Report includes numerous mailing-comparison reports that give you a variety of ways to dissect your mailings so that you can determine whether you should change your practices and tactics to have more successful mailing campaigns.
NOTE: References to Message Summary Reports reflect a current rebranding initiative. Message Summary Reports and Mailing Summary Reports refer to the same set of reports with the same options and functionality.
Access the Message Summary Report
Classic admin interface
Navigate to Mailings > Reports > Mailing Summary Report.
New Admin Experience
Navigate to Messages > Reports > Message Summary Reports.
After filtering the messages for which you're interesting in viewing data on the Select Messages tab, click View Reports. The reports discussed in this article can be found in the Compare Mailing Results folder.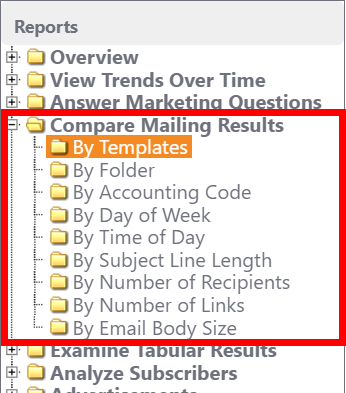 TIP: For all of these reports, you can click the Columns button above the list to control which data columns are displayed. This enables you to fine-tune the precise data you want before exporting.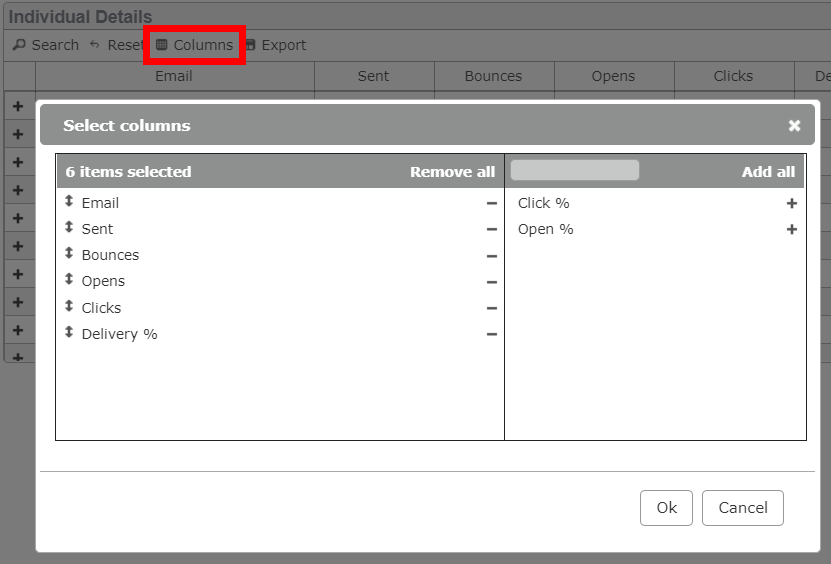 By Templates
To view this report, click By Templates.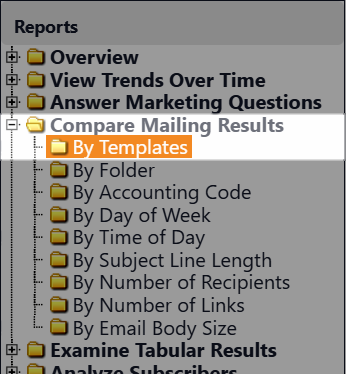 Your templates are an important tool in your email arsenal. Not only do they contain your branding and required information, they also presents your content in a specific layout. How do you check to see if all of your assumptions are correct about what makes for a good template? Specifically for your segments of subscribers?

A great starting point is the By Templates report. By slicing and dicing your data with an eye toward the template, you can zero in on your better performing templates and those that might need some reworking.
TIP: Review your templates annually, and use this report to set some parameters for you to create design approaches that support your performance goals.
Now that you see which template performed best, you'll want to take some time to compare your templates to to identify which characteristics of this template helped it perform better than the others. Does it complement your stories better? Are the colors more welcoming? Are there additional links in the template that give your subscribers direct access to the content they're looking for, in addition to the custom stories you provide? These are all relevant questions.
By Folder
To view this report, click By Folder.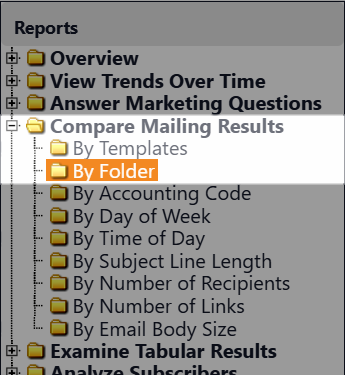 Having your mailings sorted into folders may provide insights down the road, particularly if you've separated them by publication or by some other meaningful reason. Let's think about the publication differentiator. If you've got each publication type in a separate folder, you can use the Mailing Summary Report to determine how each group of publications is resonating with your audience.

If you're separating your mailings into separate folders, or even all your mailings, year by year, in their own folders, you can use the Mailing Summary Report to get mailing performance information based on those factors. Organize your mailings into folders into meaningful ways. That way, you can analyze the results in meaningful ways.
By Accounting Code
To view this report, click By Accounting Code.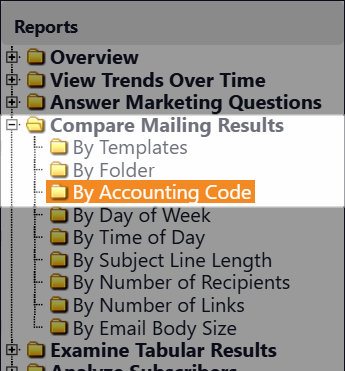 If your organization uses accounting codes to have additional tracking around what groups of users are sending what set of mailings, you can run reports on that activity. This is a great way to get a sense for the effectiveness of a department's aggregate mailings. You would certainly want to do further research to highlight specific successes or problem spots, but this is a great place to start.

NOTE: If you don't have the Accounting Code feature enabled in your account, create a case.
By Day of Week
To view this report, click By Day of Week.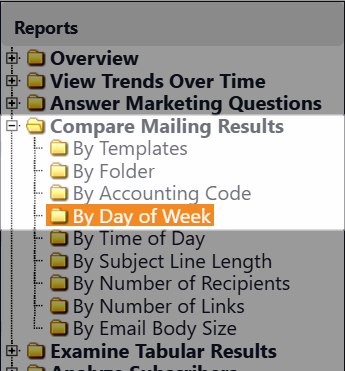 A common marketing question is: does it matter if I send my mailings on a specific day of the week? Use this report to see which day has been giving you the best open and click rates by reviewing your mailing results by day of the week.
Remember, the day of the week may change based upon the Target Group you're sending to. Be prepared to do a few different filters to ensure you're analyzing the right segments of your data.
By Time of Day
To view this report, click By Time of Day.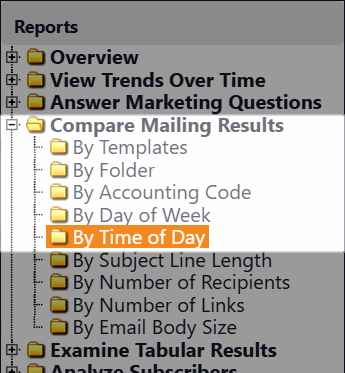 Along with the best day of the week to send is the best time of day to send. Use this report to see which time of the day has been giving you the best open and click rates.

By Subject Line Length
To view this report, click By Subject Line Length.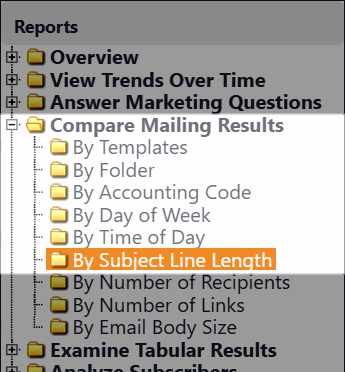 First impressions are important. With emails, one of the primary elements that dictates whether that first impression is a positive one is an email's subject line.

When it comes to subject lines, you can retrieve general stats from the internet about how long they should be, or you could find out for yourself what works best for your organization. Send out a handful of mailings with varying subject line lengths and then head to the Mailing Summary Report to see what your data tells you.
Analyzing the length of the subject lines not only tells you where you should land in your character count, but it also gives you a perspective in your subject line creativity.
By Number of Recipients
To view this report, click By Number of Recipients.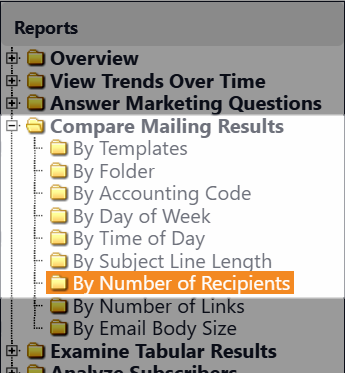 When it comes to return on investment (ROI) for your mailings, it may be good to see click rate and open rate data for large and small audiences. Maybe improving your ROI will result in more mailings that speak to narrower audiences? Or maybe you can rule that out, concluding that your message is "one size fits all"? The answers are secondary, but the primary objective would be to examine the mailing results by the number of recipients.

Analyzing the mailing summary for the number of recipients in relation to click-throughs and open rate performance can be a great tool to answer the question, "Do I need to narrow my focus for the various demographics I am sending to, or are things fine the way they are?" You may even find it appropriate to take an even simpler approach and send the same message to a wider audience. In the end, it will either save you time or get you a better return on your mailing block investment.
By Number of Links
To view this report, click By Number of Links.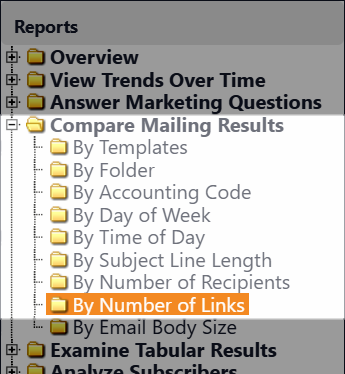 How many links are in your mailings? Do you think your mailings suffering as a result of having too little content with appropriate hyperlinks? Shed some light on the topic by comparing mailing results based on the number of links in your mailings.

By Email Body Size
To view this report, click By Folder.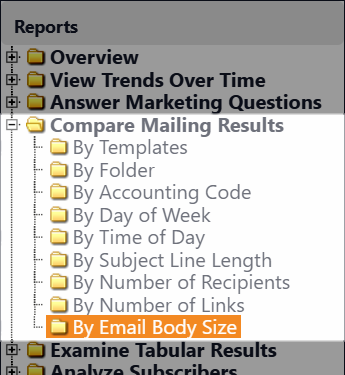 How much content to provide in a mailing is a tough question to answer. Having an approach to the quantity of your stories will help to set the expectations for the reader experience.

Rather than guessing as to what size resonates best with your audiences, why not base it on data? The By Email Body Size report counts the characters in the story and then groups them to make it easy for you to spot what content size works best.
Analyzing the size of your email body copy could reveal that your messages are too long and are negatively impacting click-throughs. It may be time to reduce the amount of content, increase the amount of direct language, and cut back on unnecessary content. If you can evolve your mailing-creation tactics based on what the reports reveal, you can turn any poor results into a positive learning experience.
Share these reports
In all of these reports, you can click the Export button above the list to share the report with colleagues. Then, click Download Excel File in the resulting pop-up.