The Message Summary Reports (MSR) are a great resource when you want to assess the performance of your messages. Your assessment can help guide you to reconsider your message practices and possibly illuminate aspects of your message that could benefit from changing your current practices.
NOTE: References to Message Summary Reports reflect a current rebranding initiative. Message Summary Reports and Mailing Summary Reports refer to the same set of reports with the same options and functionality.
To use the information in the MSR more efficiently, you can apply any of the filters described in Message Summary Reports filters.
Access the Message Summary Reports
Classic admin interface
Navigate to Mailings > Reports > Mailing Summary Reports.
New Admin Experience
Navigate to Messages > Reports > Message Summary Reports.
Select filters
The Select Messages tab is where you apply filters to the reports.
In the Filter Messages area, expand the categories to select the filters you want to apply. Refer to Message Summary Reports filters, below.
You can choose any combination of filters to customize the report.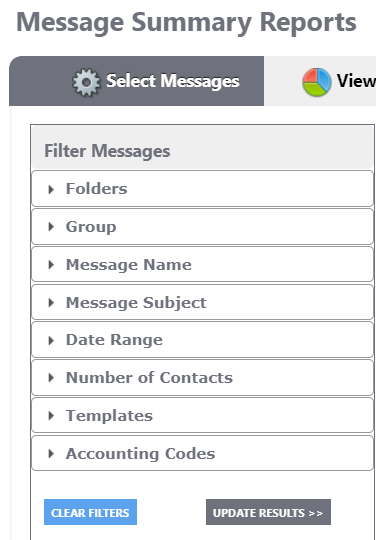 Click UPDATE RESULTS below the filters. A list of messages meeting this criteria is displayed to the right.
TIP: Even after applying the filters, there may be still messages you want to remove so that your data set is as appropriate as possible. Check the boxes to the left of any messages you want to exclude, and then click Exclude Messages.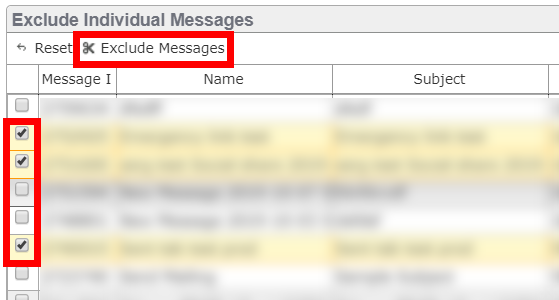 NOTE: Use the links in the navigation panel on the left of this article to access articles that are specific to each report (e.g., Overview, Domains, Advertisements).
Message Summary Reports filters
Let's learn about each of the filters available to you.
NOTE: The filters available to you are based on your Higher Logic Thrive Marketing Professional (Thrive Marketing Professional) account. For example, if you're not using folders to organize your messages, the Folders filter will not display.
| | |
| --- | --- |
| | Accounts - If you use Child Accounts, you can filter your messages by the various accounts that fall under your Parent Account. For example, an organization uses a Parent Account and two Child Accounts to send messages to their members in Europe and in Canada. This organization can use these to filter based on their accounts, which correspond to members in these geographical locations. |
| | Folders - Do you organize your contact communications into separate message folders? If so, filtering based on these folders makes it easy to pinpoint specific message types or groups. |
| | Target Group - You can take advantage of your Target Groups by filtering on them here, by Folder and name. |
| | Message Name - If you use naming conventions for your messages, then filtering on a message name will help pinpoint appropriate messages. Note that when you are filtering by message name, the characters you enter in the field are NOT case sensitive, but they must appear in the exact order of the message name. |
| | Message Subject - Similarly, if you use naming conventions for your message subjects, then filtering on these will help pinpoint appropriate messages. Note that when you are filtering by message subject, the characters you enter in the field are NOT case sensitive, but they must appear in the exact order of the message subject. |
| | Date Range - Use the calendars (or manually enter) to specify a date range on which to filter. This is a good supplemental setting for other filters so that you can further refine your results. |
| | Number of Recipients - You can filter out messages based on how many you sent by specifying a range using the two range sliders under this option. If you're sending to small and large audiences, this will help you get summary reports of each type of send volume, to determine if either needs special attention. |
| | Templates - Maybe you want to compare the performance of Template A to Template B, and you have sent messages to gauge those performances. What better way to compare them than to get message summaries of both templates? You do this by specifying messages with your custom templates. |
| | Accounting Codes - Accounting codes allow you to specify, on a message-to-message basis, what type of message you are sending. Typically, this is a useful way to filter out items for your message summary reports. |