You can insert Date Content Codes in the Template Designer and Mailing Designer text properties editor.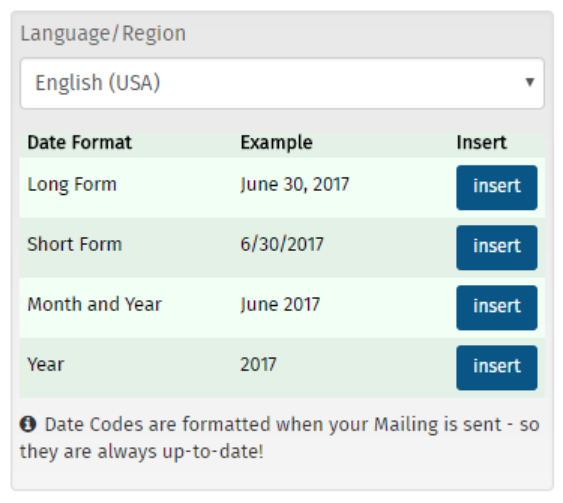 To insert date content codes:
Click the Calendar icon in the text properties editor toolbar.
The Date Content Codes window opens.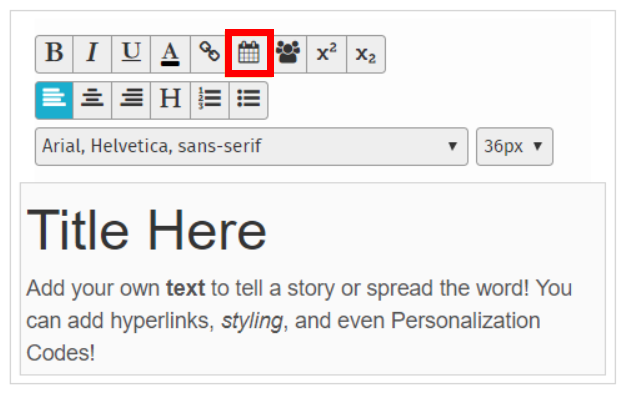 Click the dropdown list to select from the following supported regions:
English (Australia)
English (New Zealand)
English (UK)
English (USA)
French (Canada)
French (France)
Malay
Spanish
Swedish
Ukrainian
After selecting a region, pick from one of the following formats:
Long Form
Short Form
Month and Year
Year
Click Insert to add the content code to your mailing.
How Does it Look in My Design?
The specific formatting of the date depends on the selected region. The Content Code is displayed in the text editor surrounded by two dollar signs, $$DATE_LONG_FORM$$. These codes are automatically updated when your mailing sends. This ensures that your information is always correct.