NOTE: See Manage Your Templates to learn how to manage templates in the New Admin Experience.
In this article, we'll dive into creating and managing templates using Template Designer 2 (TD2). Let's look at two common approaches to using TD2.
First approach
Template Designer 2 uses elements as its fundamental building blocks. One way to begin is to drag and drop these elements, from the Design tab > Build sub-tab > Static Elements area onto your template to get a sense of how it looks.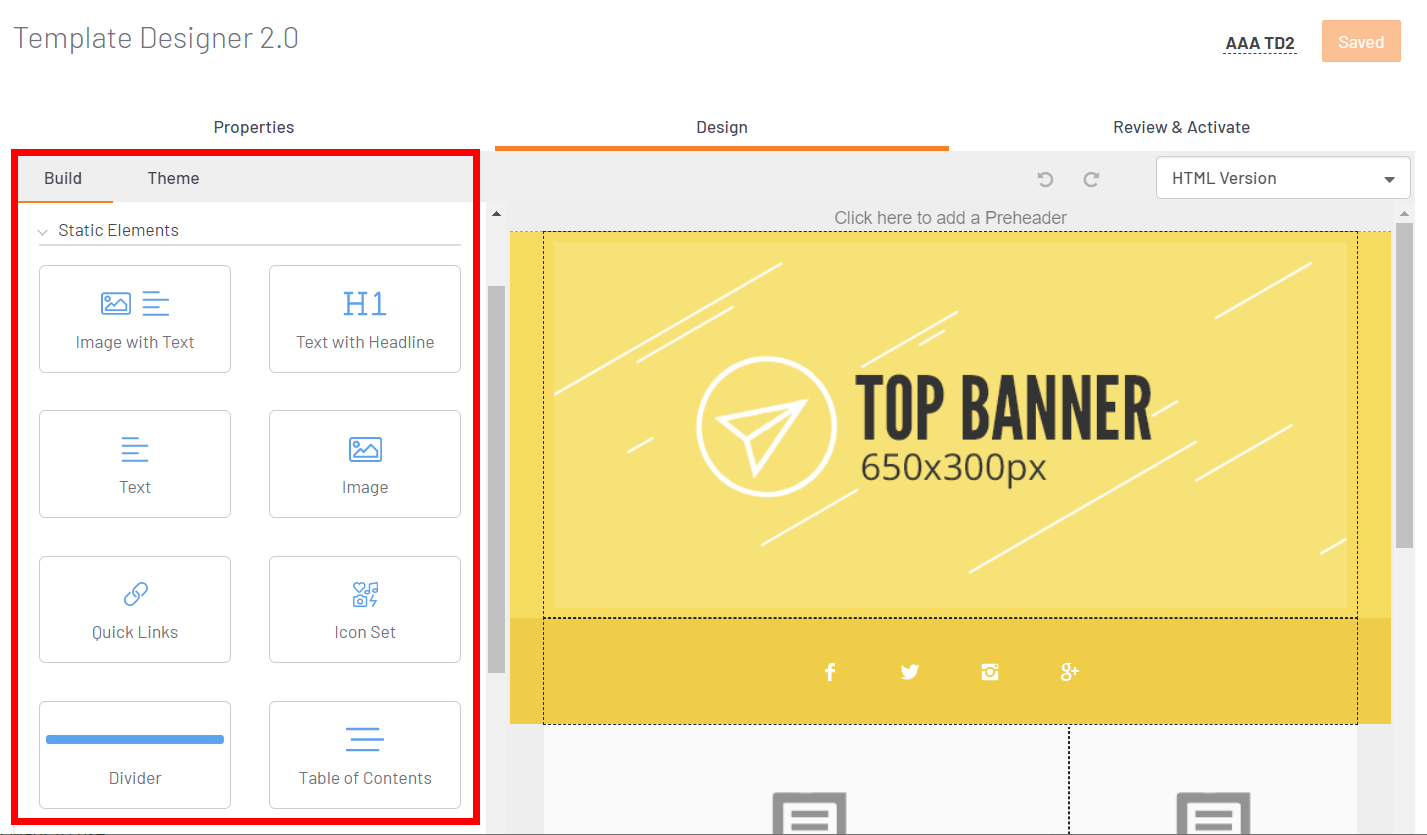 After you've added elements, see what they can do; many elements have several different components that you'll want to use.
Second approach
If you're not certain how you want your template to look, but have a sense for the overall style you'd like to see, click the Design > Theme tab. Here, you can set the high-level properties and default styles that each element uses. Now, you can start adding elements that ultimately "inherit" those styles.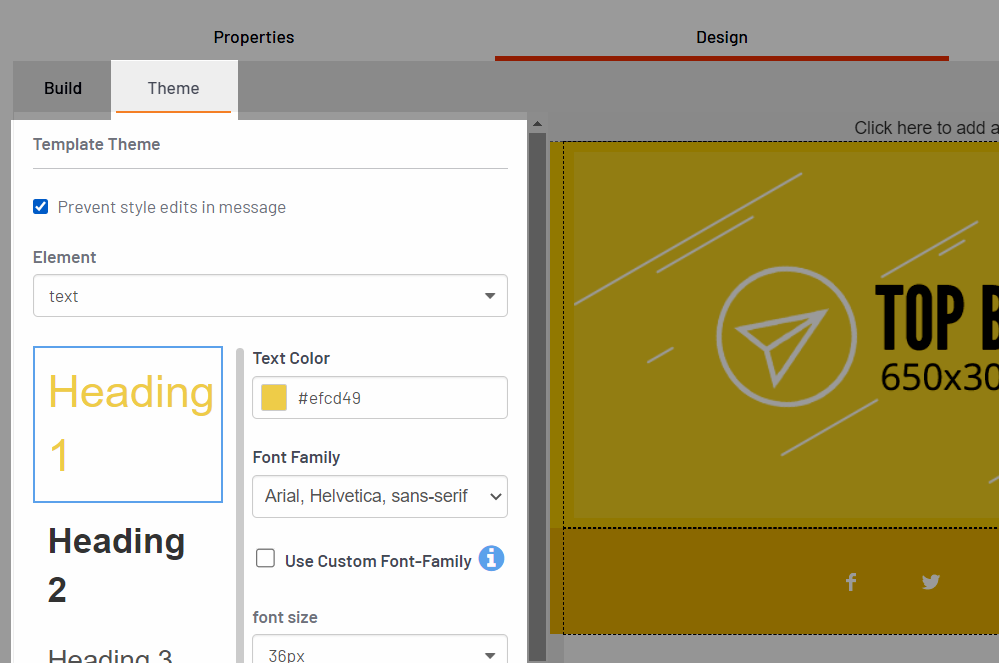 Watch the video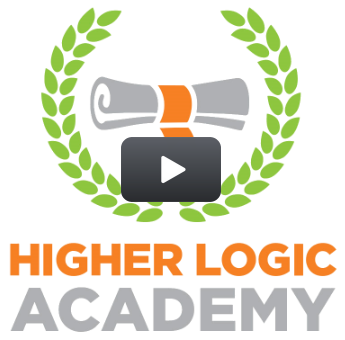 Properties tab
The Properties tab is where you'll set high-level properties for your template.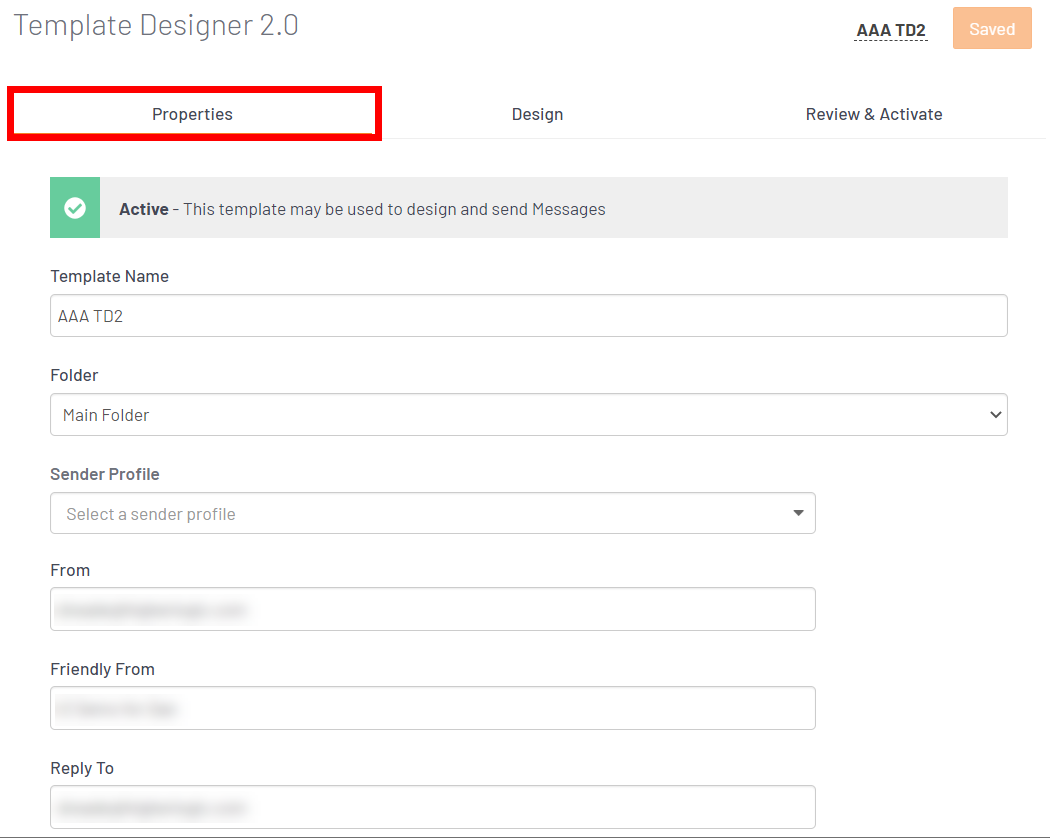 While not explicitly displayed on the page, this tab has two "sections":
Template properties
This section includes high-level properties used to locate and identify your template:
Status - The "status" of your template is indicated above the options: In Progress or Active. Note that only Active templates can be used in messages.
Template Name - Enter a name for your template. Changing this name automatically updates the name located in the top right of the designer.
Folder - Click the dropdown to select a folder where the template can reside.
Envelope
These are the default envelope properties associated with messages:
Sender Profile - Click the dropdown to select a Sender Profile to automatically populated the envelope fields below. This reduces the chance of errors and it saves time having to repeatedly input the same values in message after message. See Sender Profiles (MD2) to learn more.
From - Enter a from address that subscribers see in their inboxes.
Friendly From - Enter a name that subscribers see in their inboxes. This name is associated with the from address.
Reply To - Enter an address that subscribers can reply to.
Review & Activate tab
After you've finalized your template design, you're just a couple steps away from seeing it in your organization's messages. Let's look at the Review & Activate tab, where you'll be able to take a final look at your template before it's ready to go.
The Review & Activate tab is divided into three sections:
At the top, checking your template content;
next, activating (and deactivating) the template;
lastly, performing a virtual inbox test.

Let's look at each of these sections in a little more detail.
Check content
As mentioned above, you'll want to review the look and feel of your template before you activate it. You can review three main versions of your template:
Desktop Version
Mobile Version
Online Version
To see how each version of your template looks, click the corresponding button.
Activate
The Activate your template section shows the status of your template. There are a number of tasks you must complete before activating a template; these are listed in this section. After completing these steps, you will be able to activate your template and use it in a message.
NOTE: For active templates, this button updates to Deactivate; click it to deactivate a template.

This message displays: "Deactivating this template will not affect any in-progress, published, or scheduled messages that are using it. Any current or future versions of messages using this template are preserved in Informz."
Notes
Any template that has been has been used in a message (In Progress, Scheduled, and/or Sent) is considered in-use.

If an in-use template is deleted, any messages that are currently using it are

not

affected; the messages maintain the template's details. Deleted templates are no longer available for new messages, though.
Virtual Inbox Test
Scrolling down the page a little more, you can preview the look and feel of your template in different email clients and browsers using the Virtual Inbox Test.
Click Run Test to run the Virtual Inbox Test.
Edit an activated template
To edit an activated template, simply deactivate it and edit it like you would any other template.
NOTE: Updating a template automatically prompts the people creating messages to let them know that there was a template change. They'll have the option to update their messages accordingly.
Create a template from the Blank Canvas
Depending on the type of message you want to create, it can be helpful to start with an empty canvas. You can do this using a blank template in TD2.
Navigate to Message Designer 2 > Templates.
Click Create.
The Template Designer opens. On the Template Gallery tab, select the Blank Canvas template.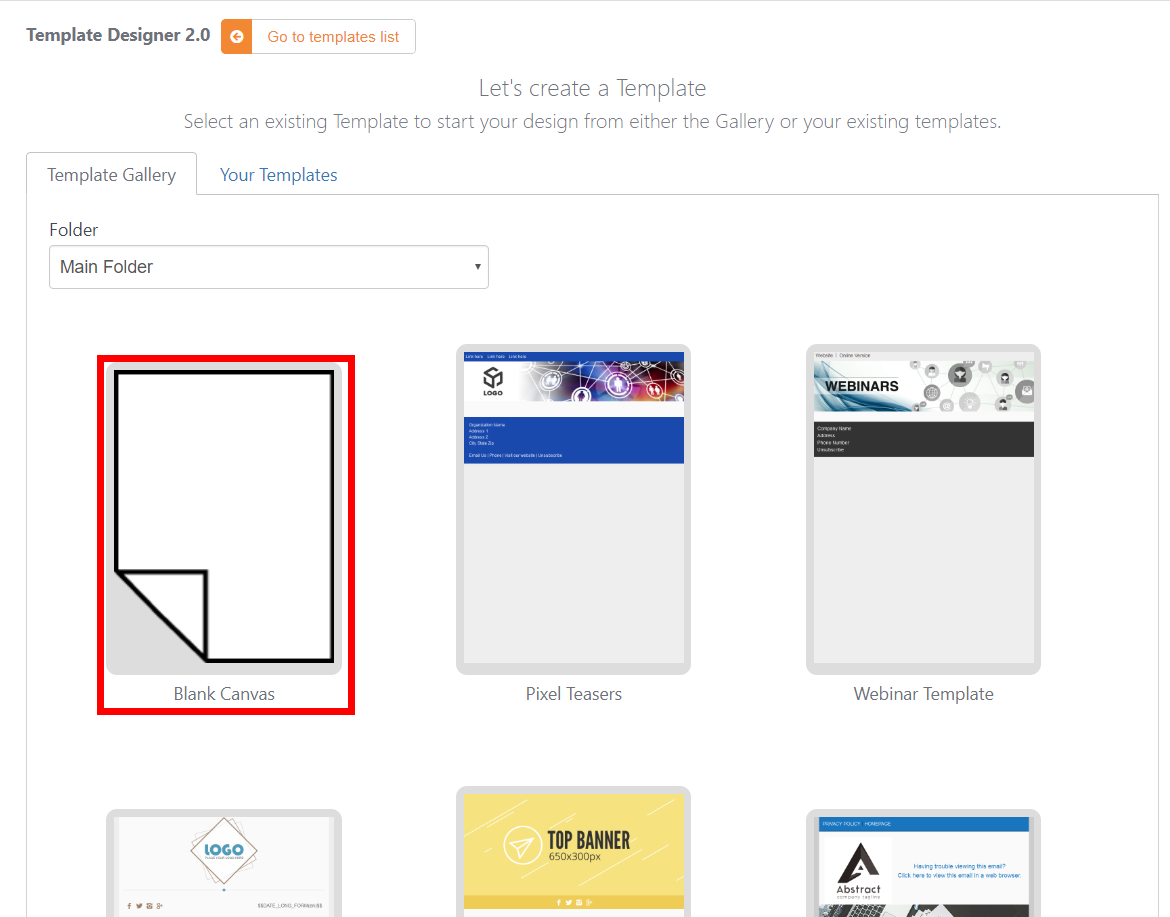 In the resulting Design, window, use the available elements to create the exact template you need.

Open a template
There are two ways to access your templates.
Create
Navigate to Message Designer 2 > Templates.
Click Create.
The Template Designer 2 opens. Here, you can select templates from the Template Gallery or Your Templates tabs.
Click the Folder dropdown list and select the folder where your desired template is located.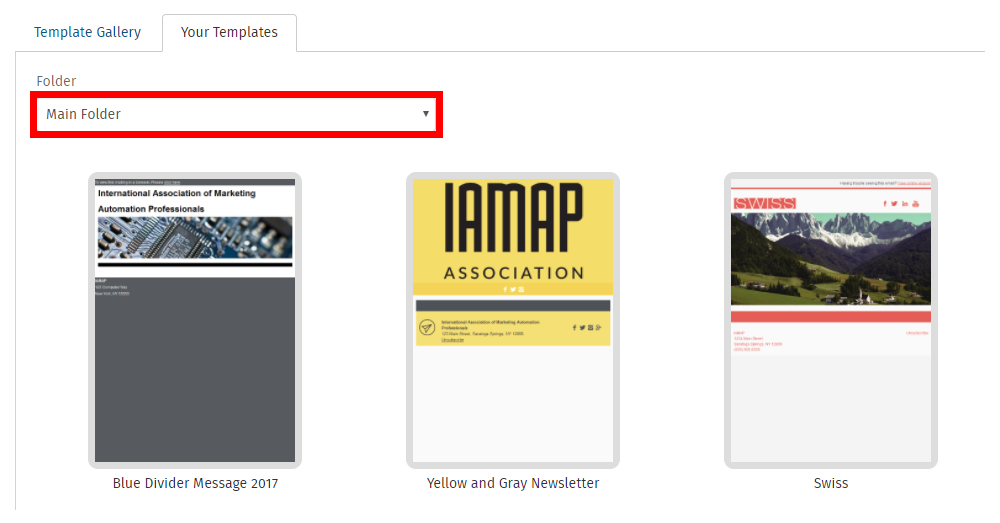 Click the thumbnail icon for your desired template.
The Design window opens. Here, you can begin applying elements to your design.
Templates table
Navigate to Message Designer 2 > Templates.
In the Templates table, identify the template you would like to open.
Hover on the Menu icon and click Edit.