The Communications Professional Image/Logo Properties editor lets you manage your images and logos in your mailings and templates.
There is no functional difference between images and logos. Communications Professional makes this distinction only to help you understand the purpose of each in your mailings and templates.
Your logo could be in your template header so that it is present in all of your mailings; it is "static."
Images tend to be more "dynamic." An image that is suitable for one message (as part of the message body) might not be suitable for or applicable to a different message, so it would have to be removed (or replaced with a more appropriate image).
NOTE: These are usage examples. There are no fixed rules for how logos and images are used or where they are placed in mailings.
The image/logo properties editor contains two tabs: Content and Style.
Content tab
The Content tab contains an image upload tool.
Click Choose Another Image to access the image gallery.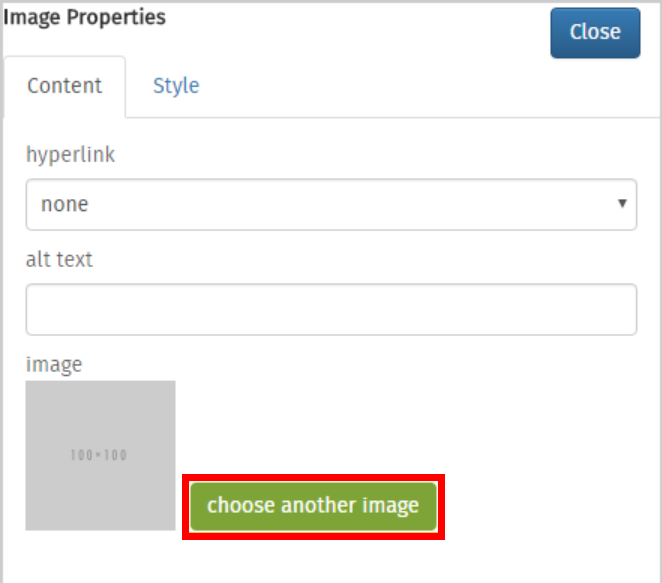 You can upload an image, link to an external image, or choose one from the gallery. Click the dropdown and select Common Images to use a pre-loaded image.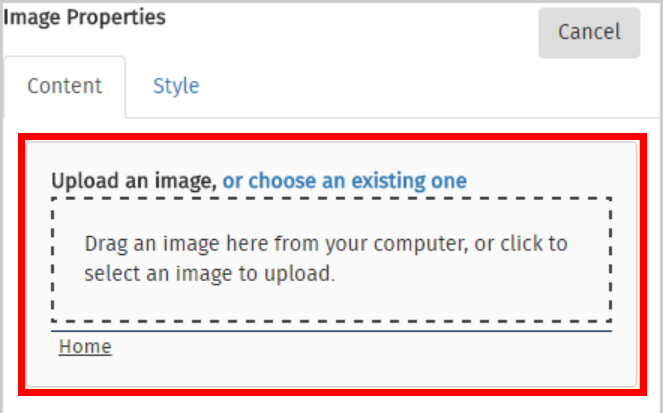 To upload an image, drag and drop an image from your computer into the editor or click to select an image to upload. When you click in the box, Communications Professional automatically opens an explorer window so you can navigate to and select an image.
Double-click the image you wish to add. The image now appears in the gallery.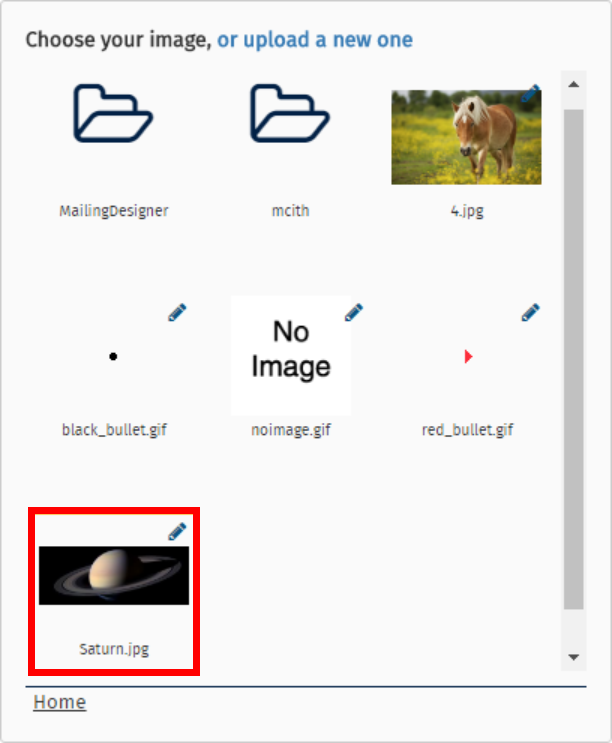 Click the image to add it to your message or template.
After the image has been added to your message or template, use the Image Editor to customize it.
Hyperlinks
First, you can set an image as a hyperlink. Click edit hyperlink to open the Hyperlink window. Then, click the URL dropdown list to select the hyperlink type you would like to add.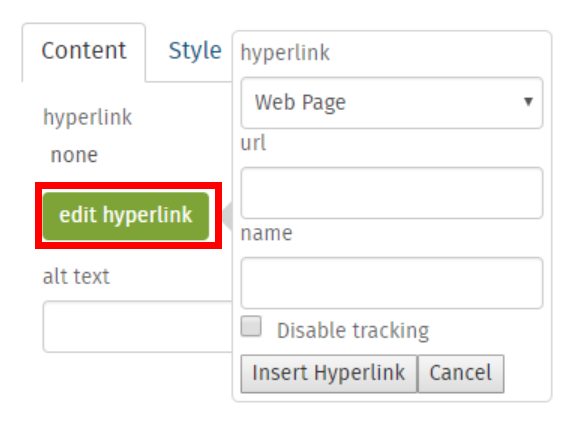 Web Page
Web Version of this Mailing
Form Landing Page
Content-Only Landing Page
Unsubscribe Landing Page
Email Address
Document
Alt Text
The Alt Text field allows you to enter any alternative text for your images. This text displays to recipients if the image fails to load.

Captions
All MD2 images can include captions.
To add a caption:
Click an image and scroll to the bottom of the Content tab.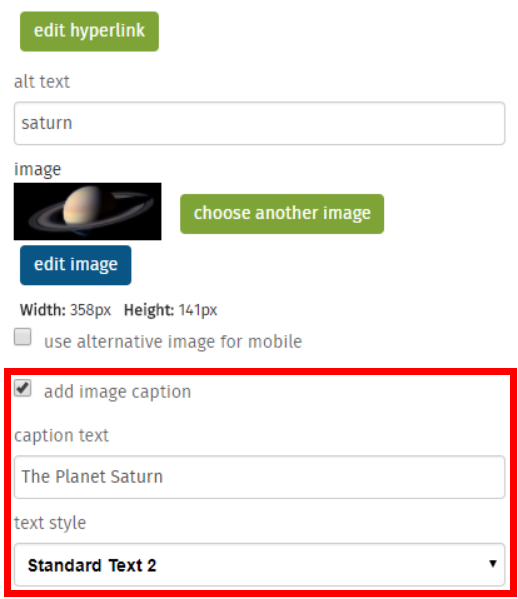 Check the Add Image Caption box and in the two fields that now display:
Enter the image caption text in the Caption Text field.
Choose the text style for your caption from the Text Style dropdown.
Captions text styling
Your image caption can be one of the three Standard Text styles: Standard Text 1, Standard Text 2, or Standard Text 3.
NOTE: These styles cannot be modified here.

If you want to customize one of the Standard Text styles for use with captions, customize it (font, size, weight, and color) and save it in the THEME flyout of the template. To learn how, see the Text section in The Theme Menu.
Keep in mind that captions are always centered and hyphenated (if they are too long to fit within the layout). If you use an alternate mobile image, the caption does not change.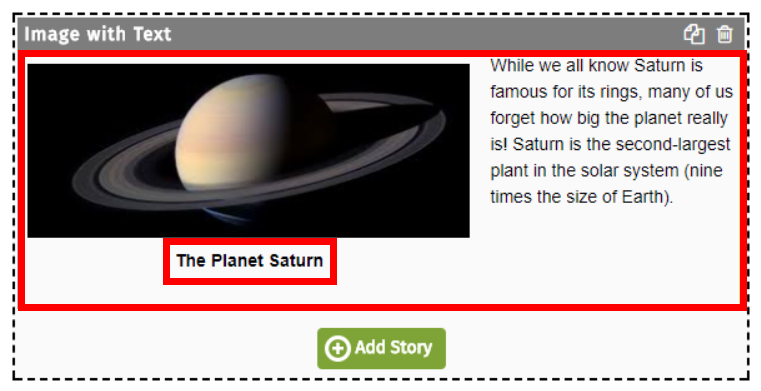 Style tab
The Style tab contains one control that lets you modify the image alignment. Click the Alignment dropdown list to select one of the following options: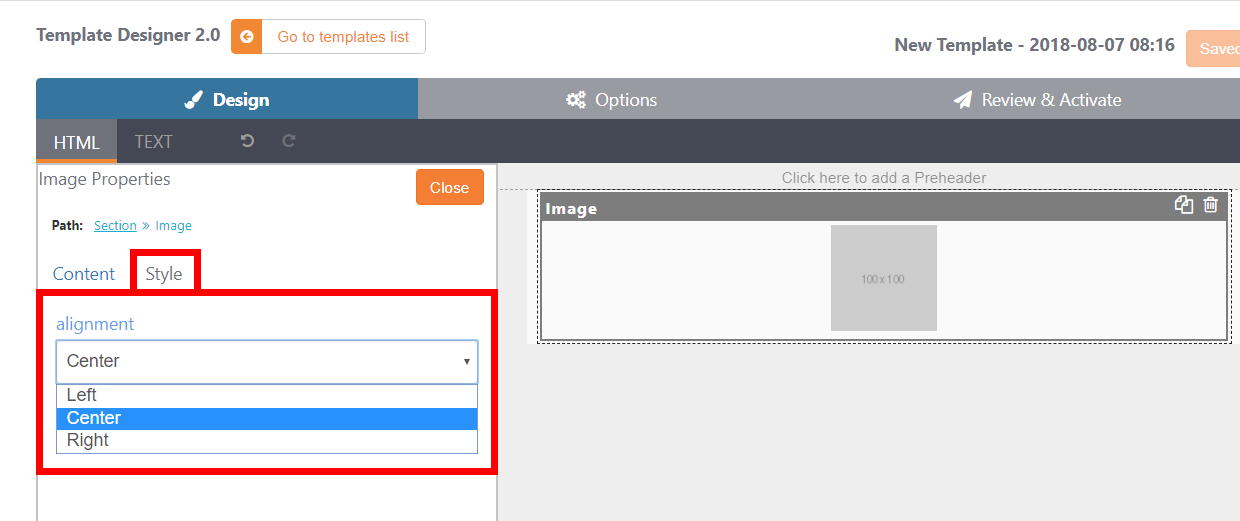 The Image/Logo Properties editor only lets you control the horizontal alignment. If you wish to modify the vertical alignment, you can do so by placing any corresponding image layout within a section.