Many different layouts in Template Designer use text, and Higher Logic Thrive Marketing Professional (Thrive Marketing Professional) provides a rich text editor for each layout that does everything you'll need to create your message. The rich text editor works the same way across all layouts. Additionally, it functions the same way in both Template Designer and Mailing Designer.

Let's look at how you can use the text properties editor to stylize your text.
Text Properties
The content tab contains a text editor where you can add and stylize text.
To enter text, simply type in the editor. To stylize text, highlight your desired text and apply styles from the toolbar.
Toolbar Controls
Use the following toolbar controls to stylize your text (discussed from left to right).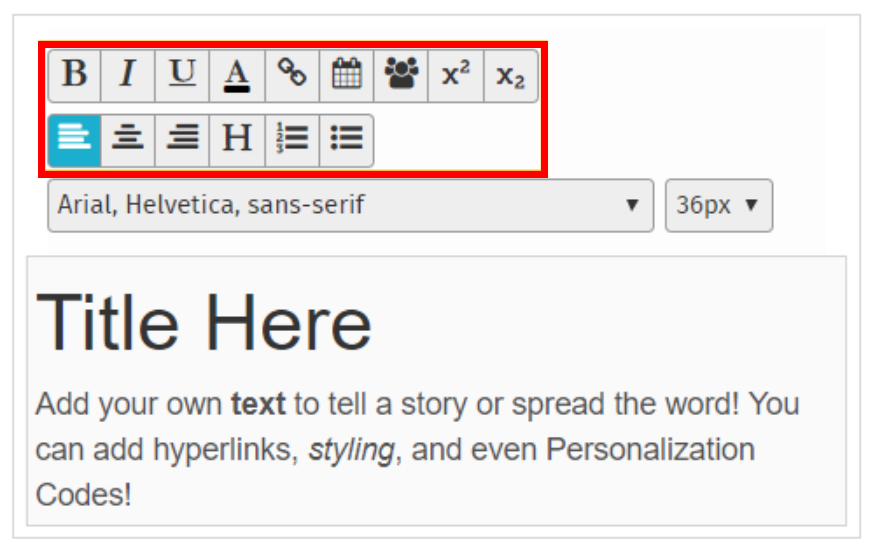 Bold - Bold the highlighted text.
Italic - Italicize the highlighted text.
Underline - Underline the highlighted text.
Color - Change the color of the highlighted text (this button opens a color picker).
Hyperlink - Set the highlighted text as a hyperlink. Use the controls (below) to manage your hyperlink. Click Insert Hyperlink to insert your hyperlink. There are several options available from the corresponding window: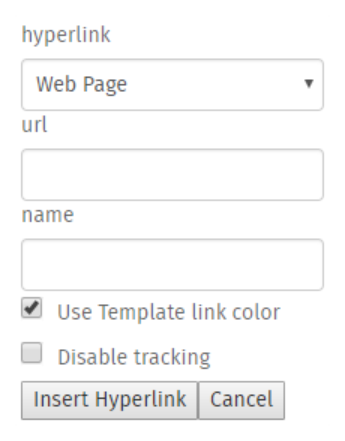 hyperlink - Click the dropdown list and select one of the following hyperlink types: Web Page, Web Version of this Mailing, Form Landing Page, Content-Only Landing Page, Unsubscribe Landing Page, Email Address, Document, Bookmark.
url - Specify the web address of the link.
name - Optionally, name the link.
Use Template Link Color - Check this checkbox to use the template theme's hyperlink styling. Uncheck it to select a unique color.
Disable Tracking - Check this checkbox to disable tracking for this hyperlink (it does not appear in Thrive Marketing Professional reports).
Date Codes - Click to add a date code for your mailing. Click the dropdown list to select your language/region preferences. When ready, click Insert for the corresponding date code.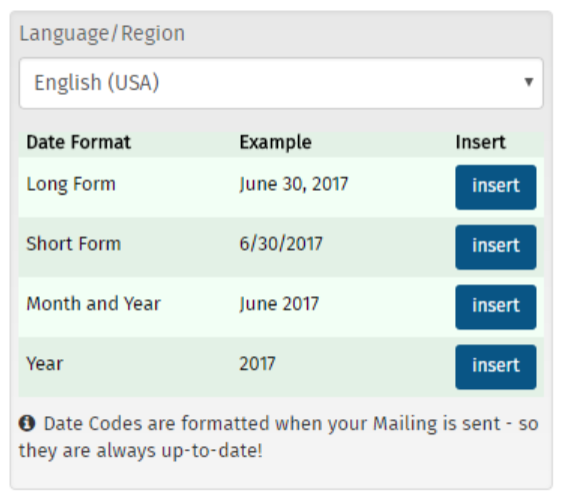 Personalize - Click to add a personalization to your mailing template. You're presented with a dropdown list where you can select personalization type and list of available personalizations. All personalizations are added to the rich text editor with a blue highlight. This highlight does not appear in the template itself!
Personal Info - Add a Personal Info personalization.
Demographic Category - Add a Demographic personalization.
Integrated Personal Info - If you use an integration, add a personalized field from that integration.
Superscript - Click to make the highlighted text appear as superscript.
Subscript - Click to make the highlighted text appear as subscript.
Alignment Options - There are three text alignment options:
Align Left
Align Center
Align Right
Text Type - Click the dropdown list to select the text type (Header 1-3, Sub-Heading 1-3, or Standard Text 1-3).
Numbered List - Click to add a numbered list. You do not need to have text highlighted.
Bulleted List - Click to add a bulleted list. You do not need to have text highlighted.
Font Family - Click this dropdown list to select the font family for your text. Your subscribers' email clients render text based on the font family, defaulting to any of the listed and available fonts (this greatly improves your mailing's readability).
Font Size - Click this dropdown to change the size of the font.
Lists: Bullets & Numbering
The rich text editor supports three levels when using bulleted or numbered lists. Keep in mind that all bullet and number styles are pre-defined as follows -- they cannot be customized:
Bulleted Lists
Level 1 - Black Circle
Level 2 - White Circle
Level 3 - Black Square
Numbered Lists
Level 1 - Number
Level 2 - Letter
Level 3 - Lower-Case Roman Numeral
The example below shows a mailing that uses a numbered list with all three levels: