Template Designer has an Icon Set layout so that your contacts can easily connect with your social media sites.
Adding Icon Sets
On the Design > Build tab, you'll find the Icon Set layout in the Static Elements category.
Drag and drop this layout onto the canvas.

Icon Set properties
Your layout's properties are divided into two tabs: Content and Style.
Content tab
In the Content tab, you can modify the layout's social icons as well as their image and behavior. The layout contains the following social icons by default:
Facebook
Twitter
LinkedIn
YouTube
Instagram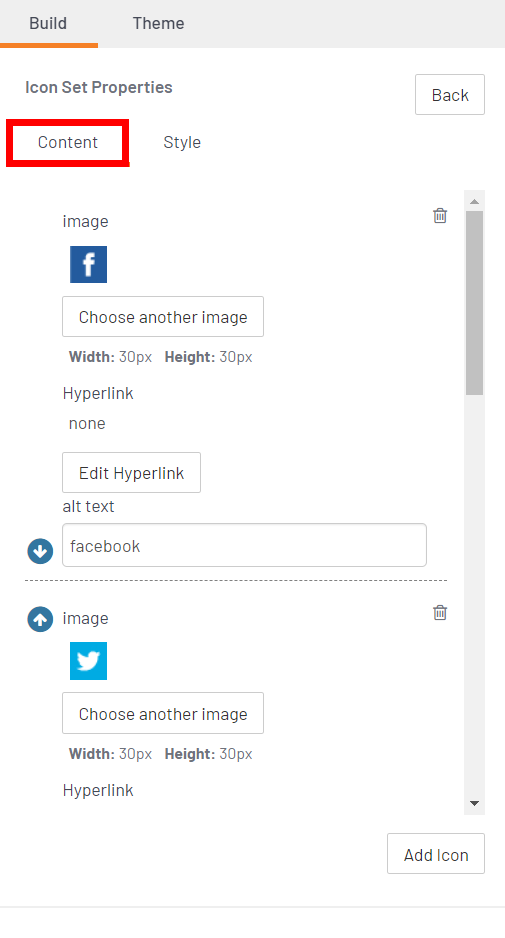 Click the Up or Down arrows to rearrange the social icons.
Image - A preview of the social icon image (that shows image width and height in pixels). Click Choose Another Image to select a new image.
Hyperlink - The image hyperlink. Click Edit Hyperlink to add/modify the hyperlink.
Hyperlink Type - Click the dropdown list to select the hyperlink type.
URL - Enter the URL.
Name - The hyperlink name (used for web tracking).
Disable Tracking - Check to disable web tracking for this hyperlink.
Alt Text - Enter a text name for the social icon (used in the text version of the message).
You can also click the Add Icon button at the bottom right to create an icon.
Style tab
The Style tab lets you modify the look and feel of your social icon layout.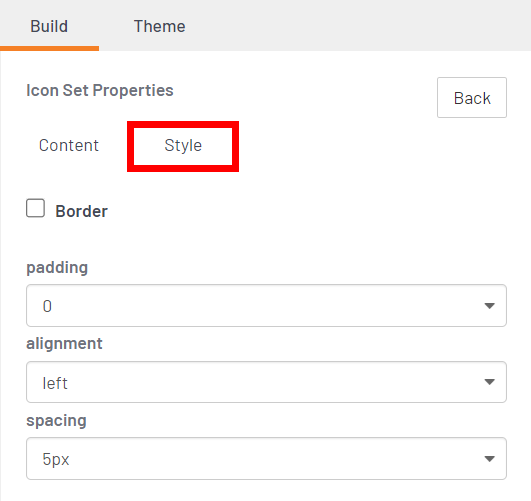 Border - If checked, your layout applies a border with several possible settings.
Border Style - Click the dropdown to select a solid, dashed, or dotted border.
Border Size - Click the dropdown to set the border size in pixels (1-10).
Border Color - Click to use the color picker to select a unique color for the layout's border.
Apply Border To - Check the corresponding checkbox for each side (top, bottom, left, and right) that uses the border.
Padding - Click the dropdown list to set the padding around your layout (0-30 pixels).
Alignment - Click the dropdown list to set the horizontal alignment for your layout (left, center, or right).
Spacing - Click the dropdown list to set the spacing between each social icon (0-30 pixels)