Every time a staff member logs into your Marketing Automation Professional (MA Professional) account, it's logged for tracking purposes.
NOTE: Only the 500 most recent login attempts are tracked on this list.
To view your organization's login history:
Access the Admin interface.
Navigate to Settings > Users > Login History.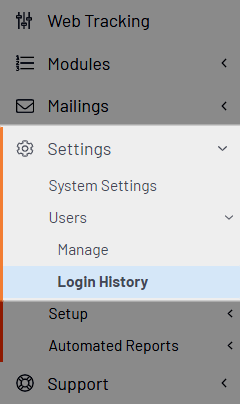 From here, you can see every login to your MA Professional account. You can see user name, email address, and last login date, along with other helpful information such as their IP address, browser, and even whether their login was successful.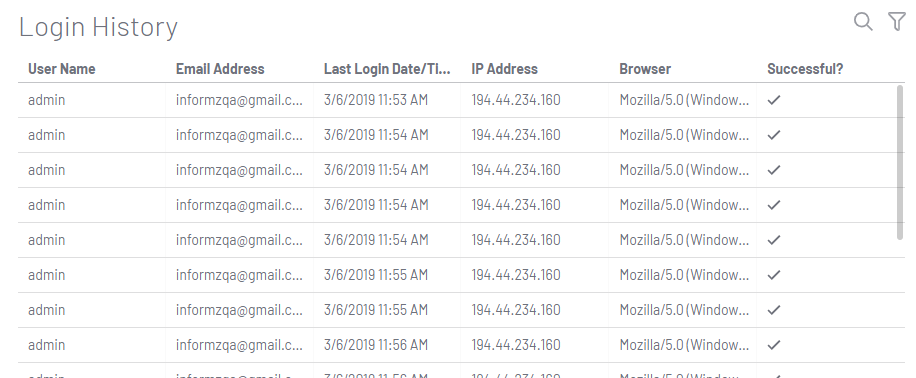 TIP: On list pages, click a column header to sort on that column. Click the columns count below the list to add and remove columns in the current view.
Search and Filter Logins
Here at the top right, you can use the search and filter features to quickly find logins by user name, email address, and IP address. This is particularly useful when hundreds of logins are listed, and will make finding specific logins easier over time.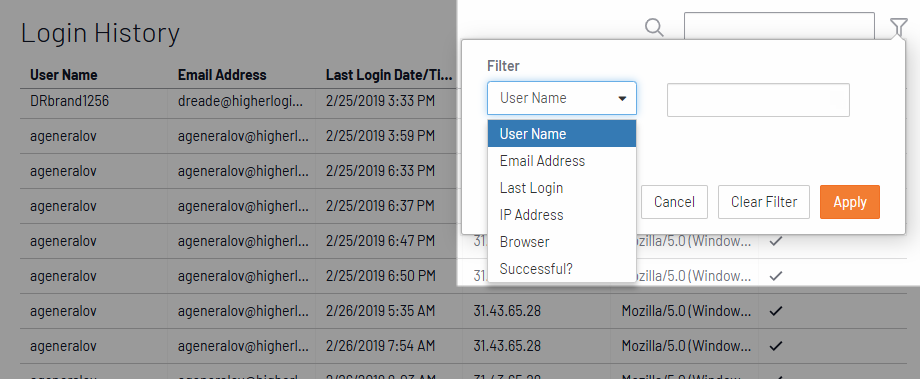 Click the magnifying glass icon to expand a search field, allowing you to find specific logins by User Name, Email Address, IP Address, and Browser. The list will automatically update with each typed character and display all records (visible and hidden) that contain a match. Click the X to clear the search field to restore the original list.
Click the filter icon to view various filters you can apply to make it easier to find specific logins. Filters include User Name, Email Address, Last Login, and IP Address, Browser, and Successful?. A check mark next to the filter icon indicates an active filter. Click the filter icon and click Clear Filter to restore the original list.