The recommended, and most efficient, way to create community Microsites is to first establish a model site. Models are established at the Community Type level, and this enables you to mass-produce Microsites that meet the needs of communities associated to each Community Type without needing to make time-consuming one-off changes to each site afterward. Taking the time and (minimal) upfront effort required to prepare a model will likely save you a lot of time in the long run.
On this page, we'll follow the step-by-step process outlined below to create community-based Microsites:
Step 1 - Install Higher Logic's best practices template
Higher Logic's best practice is to use our official Microsite model site as your Microsite template. To do so:
Reach out to your Project or Implementation Manager if you're still in the implementation phase,
or submit a ticket to our Support Team if you're already live.
Your representative will install the template on your site.
What's great about our Microsite model is most of its pages (e.g., profile pages, landing pages, Discussion pages, etc.) are configured to be syndicated from your Main site, allowing changes to be made to your Main site that automatically flow to ALL Microsites. For example, if you've created 20 Microsites and then Higher Logic rolls out an update to your Main site, that update will then automatically trickle down to all 20 Microsites, saving you time and effort. This same concept applies when you make changes to your Main site as well.
In addition, our template is set up to only show content associated to the specific community the Microsite is based on, ensuring community Microsites only show content relevant to their members (this can be changed, if desired, but generally you only want content specific to a community shown on its Microsite).
Step 2 - Update the template's navigation & content
Once our BP template is installed, you'll want to evaluate its overall navigation and content and make any necessary updates to meet the needs of the communities that will be using it.
For example, if your community Microsites won't be using Blogs, you'll want to hide the Blogs item from the Navigation Bar:
As another example, you may want to consider the template's Home page and see if there's any content you want to add or remove. Building on the previous example, you'd want to remove the Recent Blogs widget on the Home page so it doesn't appear on all of your community Microsites.
So, take a step back and evaluate the template's navigation and content and make any changes that make sense for the community Microsites you'll be creating with it. This way, all of your Microsites will feature the same navigation and content architecture.
NOTE: Refer to the Manage Site Navigation & Content section if you need help using the CMS to edit navigation and content.
WARNING: When modifying your model site, do not delete pages you don't want to use or show in the navigation. Instead, hide them so you don't accidentally break any hidden functionality these pages may provide.
Step 3 - Add/update syndicated content & advertisements to your main site
For Step 2, you made direct changes to the Model Microsite; now, you'll want to add and/or update syndicated content on your Main site. Why? Remember, because our Model Microsite is configured to syndicate most of its content from your Main site, making sure your Main site has all the relevant content you'll want all of your Microsites to have will save you a lot of time and effort down the road.
EXAMPLE: You plan to create 24 Microsites, and you want each of them to include important information about your organization, like its strategic goals, an important policy statement, a message from your president, etc. The best place to share this information is on each site's About Us page. Instead of editing the About Us page for each Microsite after you create them, though, you can simply update your Main site's syndicated About Us page.
You can begin this process right from the template using the following best practice work flow: In the template, click edit this page in the Webmaster Links.
Scroll down to the bottom of the resulting page, where you'll notice this page is being syndicated from your Main site. Included in this area is a link to the About Us page on your Main site. Go ahead and click that.
This will take you to the CMS on your Main site, right to the About Us page. Now, just click About, followed by Edit.
Next, add the information you want your community Microsites to have and Save the page.
Now, if you go back to your template, you'll notice the change you just made on your Main site is reflected there. The best part about syndication is, even if you forget to make an update before you create your 24 Microsites, you can still update a syndicated page on your Main site at any time to dynamically update each Microsite, even after they're created.
Lastly, you'll also want to set up any advertisements on your template you want displayed on your Microsites. See Advertisements for more information about setting up ads.
Step 4 - Create Theme(s)
Next, we recommend creating at least one Microsite-specific Theme you can apply to differentiate your community Microsites from your Main site. This will prevent confusion as your users navigate from your Main site to a Microsite.
Click the Admin (gear icon) in the Webmaster Links, followed by themes.
Click Create New Theme and use the available creation tools to create your desired Theme.
NOTE: For help creating Themes, see Create & Edit Themes.
Once you're finished, your new Microsite Theme will be available on the Theme Editor page, as you see below.
The last, and perhaps most important, step you need to take is to apply your new Theme to your template so your Microsites will inherit it. To do so, navigate to the Site Setup tab in your template, and head to the Theme tab. Lastly, select your new Theme. It should now indicate your template is using the Theme.
Step 5 - Configure Microsite Editing Permissions for Community Microsite Admins
Now, it's time to decide what editing permissions you want your Microsite admins to have.
Click the Admin (gear icon) in the Webmaster Links, followed by site setup.
Next, navigate to the Admin tab. This is where you can control which features/settings Site Admins (i.e., your Microsite admins) will be able to access/change on the Site Setup page for their Microsite:
Allow Layout Changes? - These options correlate to the settings on the Layout tab, and you can enable/disable each of them to control which Layout options Site Admins can manage.
Allow Local Design? - Here, you can decide whether Site Admins can create a local Theme specifically for their site or be restricted to choosing an existing Theme (i.e., the prefabricated Higher Logic Themes and those created on the Theme Editor page). If local Themes are allowed, you can further control which Theme-creation options are available. Refer to the Create & Edit Themes page to learn more about importing Theme CSS, using the Color Picker, and overriding Theme CSS.
Allow Images? - These options correlate to the settings on the Images tab, and you can enable/disable each of them to control the types of imagery Site Admins can upload.
As an example, let's say you have set a specific header logo you want all of your Microsites to use. In this case, you would toggle the Logo option to NO in the Allow Images area to restrict Site Admins from being able to update the logo for their Microsite. Or, let's say you don't want admins changing the Microsite Theme you created and applied earlier; simply toggle Enable Local Theme Options to NO in the Allow Local Design area.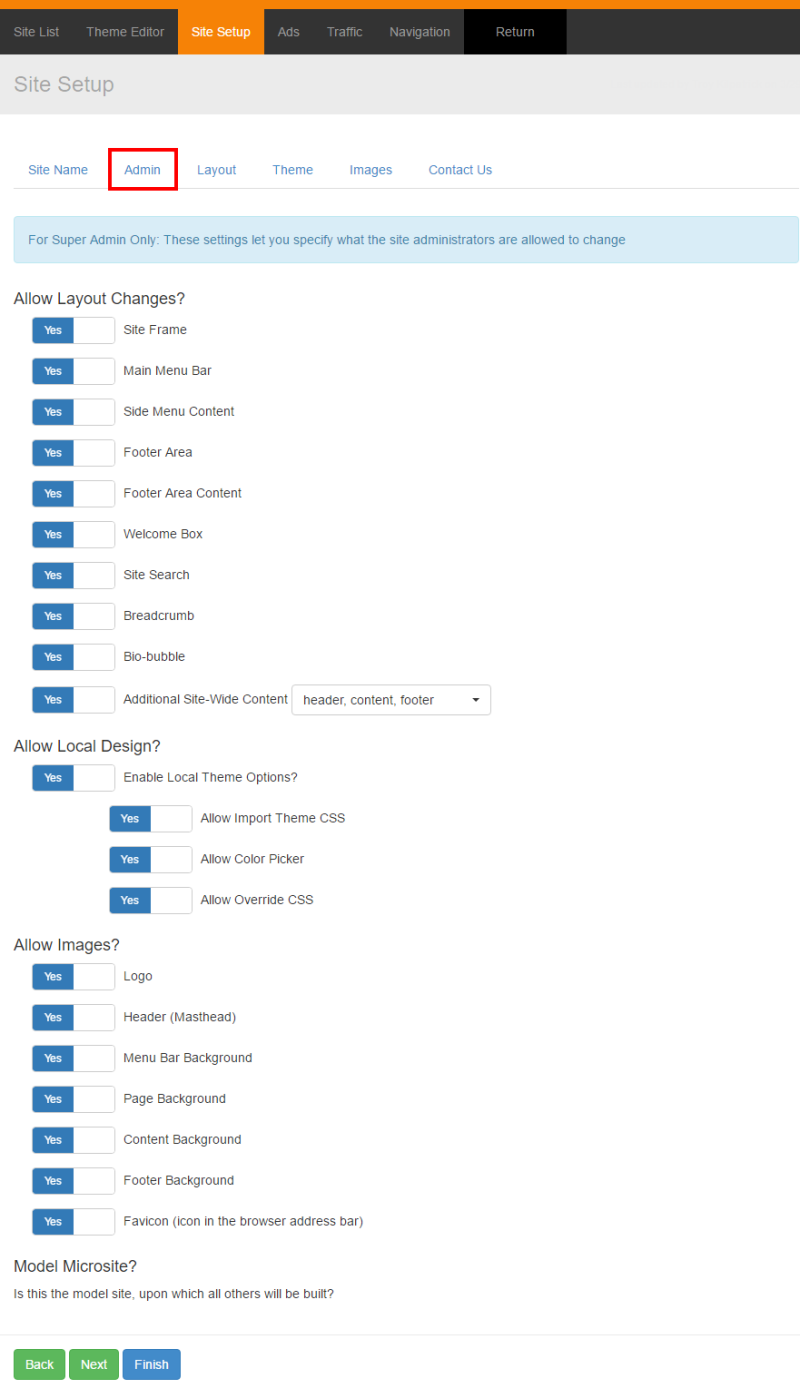 Step 6 - Apply Your Model for a Community Type
Once you're happy with your Microsite template, you then need to establish it as the model for each Community Type you want to use it:
Click Admin in the Webmaster Links menu.
Click Admin.
Select Community Types from the Communities menu.
Select the Community Type you want to apply your model to.
Scroll down to the Features area and toggle the Communities can have a Website option to ON. This enables communities belonging to this Community Type to have a Microsite. Then, select your model from the menu below, as shown below.
Scroll down and click Save.
Now, the ability to create a Microsite is added to the Community Features list when creating and editing communities of this Type. Newly created community Microsites will use a copy of the specified model site.
Step 7 - Create a Microsite
Now that you've established your model for a Community Type, let's take a look at how to create a Microsite. Because you did the legwork preparing a model, this step is quite simple, and mainly involves editing a community's settings and enabling the Website option in the community's Features list.
The best place to go to edit any of your communities and see which ones already have a Microsite is the List of Communities page, located in the Admin interface. To access it:
Click Admin in the Webmaster Links menu.
Click Admin.
Select List of Communities from the Communities menu.
From here, all of your communities are listed for easy reference and access. As illustrated in the image below, the Website Name column indicates which communities already have an associated Microsite and allows you to access or edit it.

Being that you want to create a Microsite, though, click the Edit button for the desired community to access its settings.
In the Features area at the bottom of the page, check the Website box and then click Save to transform the community into an independent Microsite.
That's all there is to it!
Step 8 - Hand over Microsite to Microsite Admin(s)
At this point, all that's left is to establish Site Admin(s) for each of your Microsites. Refer to the Granting/Removing Site Admin Access section of the Manage Site, Community, & Super Admins page to learn how to do this.
We also recommend having your new Microsite Admins go through the Site Setup wizard for their site to make any desired updates. Refer to the Set Up Your Site page for more information about all the available options there.