Polls are easy-to-create, one-question surveys that enable your organization to elicit quick feedback from your audience.
To access the Polls Dashboard to manage your polls:
In the Admin Toolbar, click Admin.

Navigate to Feedback > Polls.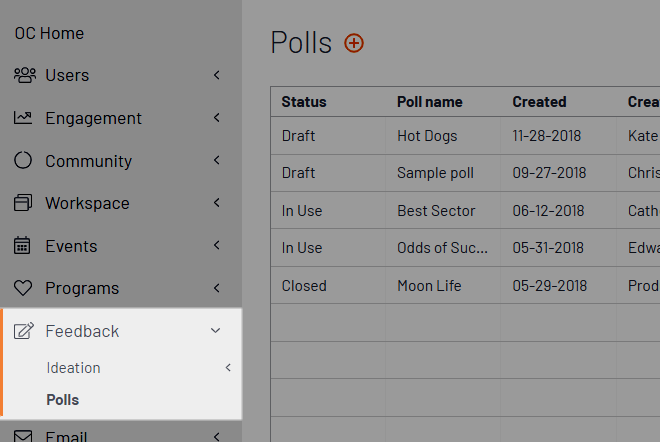 Types of polls
Three types of polls can be created:
Yes/No - A simple, two-choice poll. While Yes and No are the predefined answers for this poll, they are customizable (e.g., Sure/No Thanks, Thumbs Up/Thumbs Down).
Rating - A more granular, multi-choice poll providing more flexibility in answers. These polls can either have a numeric- or text-based rating scale that's fully customizable. The Numeric scale allows up to 10 customizable numerical ratings (e.g., 1, 2, 3; 1.0, 2.0, 3.0; 10, 20, 30), while the Text scale allows up to 5 customizable text ratings (e.g., I love it, Maybe, I don't like it).
Custom - A fully custom poll with no predefined answers. Use this poll type if you want to create a set of custom answers for your users to choose from that are typically more text-based in nature. A minimum of 2 answers are required, with up to 10 answers possible.
Create a poll
Click the plus sign to the right of the page title.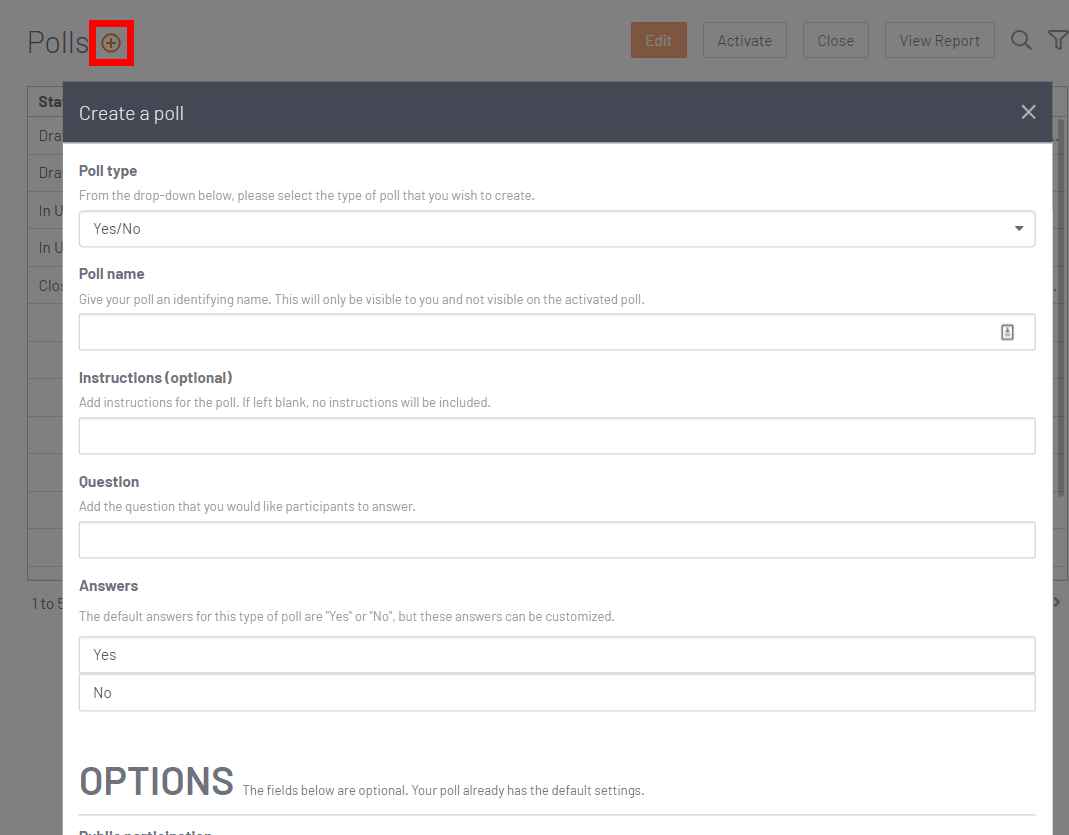 Complete the form to configure your poll. Descriptions of each option are provided below.
Field
Description
Poll Type
Select which type of poll to create:

Yes/No
Rating
Custom

NOTE: Refer to the Types of Polls section above for descriptions of each poll type.

Poll name
Give your poll an identifying name. This will only be visible to you and other admins, not visible to participants taking the poll.
Instructions (optional)
If desired, provide instructions for taking your poll; this can include details like the poll's purpose and goal. If left blank, no default instructions are given.
Question
Enter the question you'd like participants to answer.
Answers
Enter or edit the various answers you'd like available to participants. The number and flexibility of answers you can provide are determined by your poll type. Refer to the Types of Polls section above for more information about their associated answers.
Options

These optional settings are the same for each poll type.
Public participation
Select one:

Public - All users, whether they're logged in or not, can participate.
Private - Only users who are logged in can participate.

What occurs after the poll response is submitted?
Select one:

Display results - Current poll results are shown to users as soon as they submit their answer.
Show thank you message - A default thank you message is shown to users after they submit their answer. Use this option in cases where you don't want results shown until after the poll closes.

Set maximum participation limit
This option enables you to automatically close the poll after a specific number of answers are received. To set a limit, check the box and enter the desired number in the resulting text box.
Send an email notification when the poll closes
Check this box to have an email notification sent to you when your poll closes.
Close Date
While you can manually close a poll at any time, this is where you can schedule a specific date and time to close the poll.

NOTE: If left blank, the poll will remain open until it's manually closed or the maximum participation limit is reached (if set).

Display results until
Here, you can schedule when to show the poll's results until. Often, a poll is scheduled to close on a specific day but poll results are made available for about a week after, giving participants plenty of time to see how everyone responded.

NOTE: If left blank, results are only available until the poll closes.
After configuring your poll, you have three options:
Click Preview to view a preview of your poll, including its question, instructions, and available answers. You can even submit an answer to see dummy poll results. In the Preview pop-up, you can click Edit to make any necessary changes or Activate to make your poll available for use.
Click Save to save your poll as a Draft, meaning it's available in the Poll Dashboard to be updated or activated at a later date.
Click Activate to make your poll available for use.
NOTE: Only activated polls can be added to your site. See Add a Poll to a Page to learn more.