Once a poll has been created and activated, it can then be inserted on any page across your site, though there are limitations depending on whether your organization licenses the optional Group Manager product.
Notes
NOTE: This article assumes a poll has already been created and is ready to be added to a page; if this is not the case, see Create Polls to learn how.
NOTE: There are two versions of polls.

The "core" version of polls, included with ALL Higher Logic Communities, is limited to Super Admins creating and adding polls to their Home page and other interior pages; this version of polls does not allow you to have unique polls on a community-by-community basis.

Licensing the optional product, Group Manager, however, enables Community Admins (and Super Admins) to do just that; it gives Community Admins the ability to add polls Super Admins have created to their specific community. In addition, Community Admins can remove polls from their community and view poll results. Remember, even with Group Manager, only Super Admins can create polls.
Inserting a poll involves two primary steps:
Step 1 - Add the Poll widget to a page
NOTE: Only Super Admins can perform this step.
Polls are added/removed via the Polls widget, which must first be added to the page where you want the poll displayed.
Navigate to the page on which you'd like to insert the poll.
In the Admin Toolbar, click (or right click for a new tab) Edit Page.

You're now editing the page in the Page Designer. In the Widget area, select Polls from the Category dropdown. Click and drag the Polls widget to the desired location on the page (add a new row, if needed).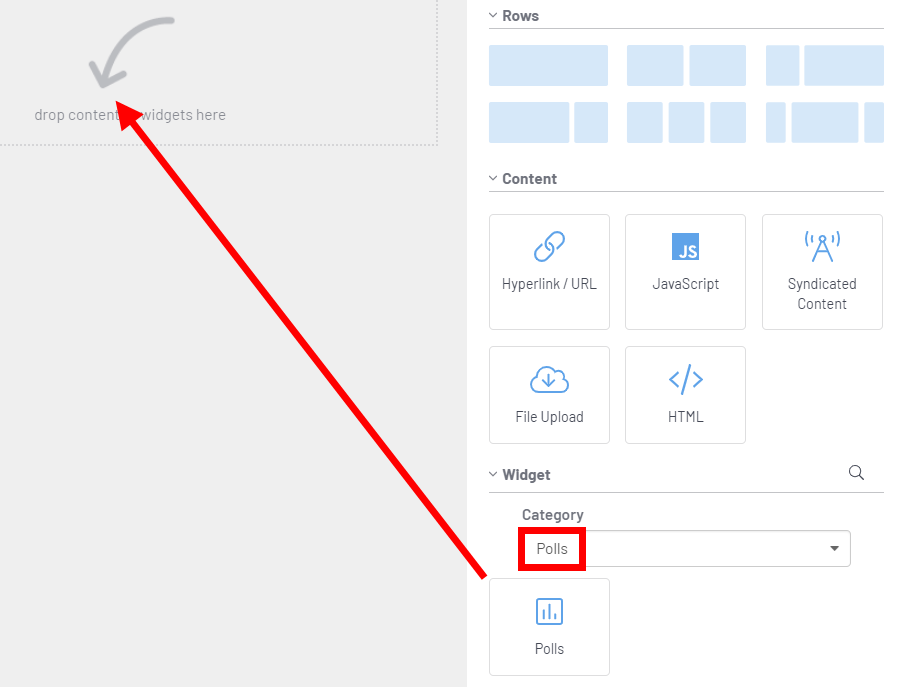 There are no parameters to configure for this widget; however, you can click the widget to access and configure its Properties, if needed.

Click Publish to add the widget and return to the page.
Step 2 - Select your poll in the widget
Now that the widget is in place, you can add your poll.
On the page where you added the widget, click its Add Poll button.
In the dialog, all activated polls are listed. Click your poll's Insert button to display it in the widget. Now, users can select their desired answer and click Save to submit it.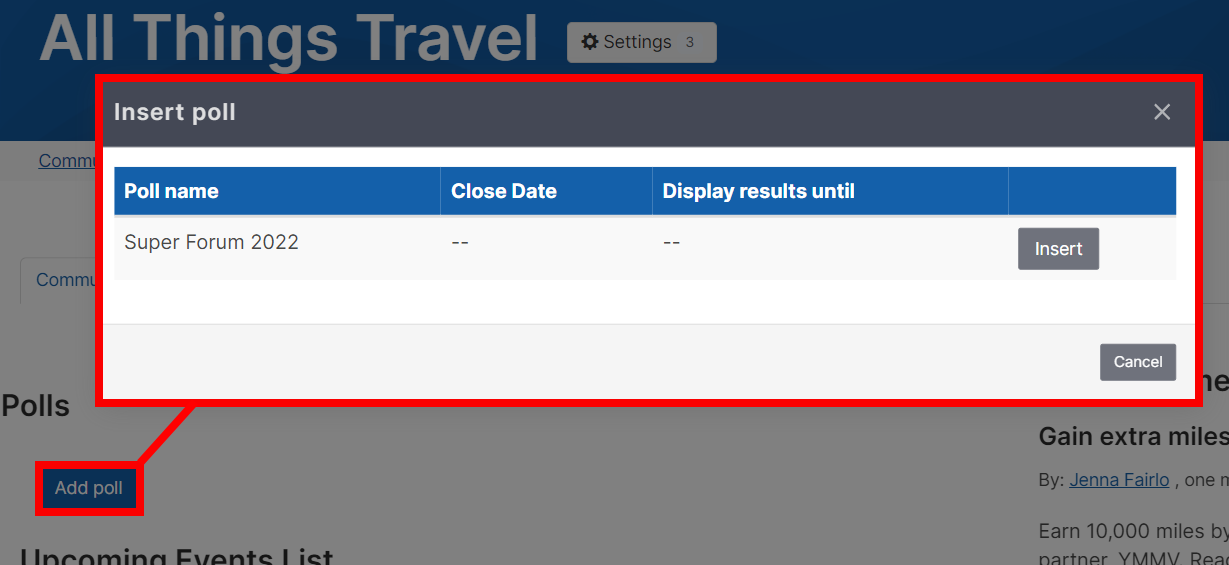 NOTE: Once inserted, a poll's status changes from Available to In Use on the Polls Dashboard.
NOTE: Once a poll is selected, two buttons are available in the widget control: Remove Poll and View Report (view poll results).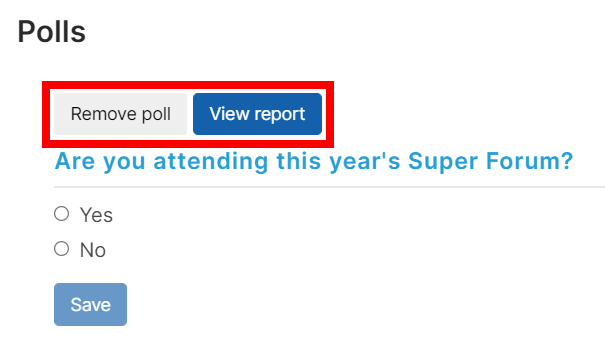 Community Admins - Adding a poll
Assuming a Super Admin has created a poll(s) and added the appropriate widget to your community Home page, adding a poll for your community is simple.
NOTE: Remember, Community Admins can only insert a poll if your organization licenses the optional Group Manager product.
On your community Home page, click the ADD POLL button.
Any available polls are listed in the resulting dialog. Click the Insert button associated to the poll you want to add.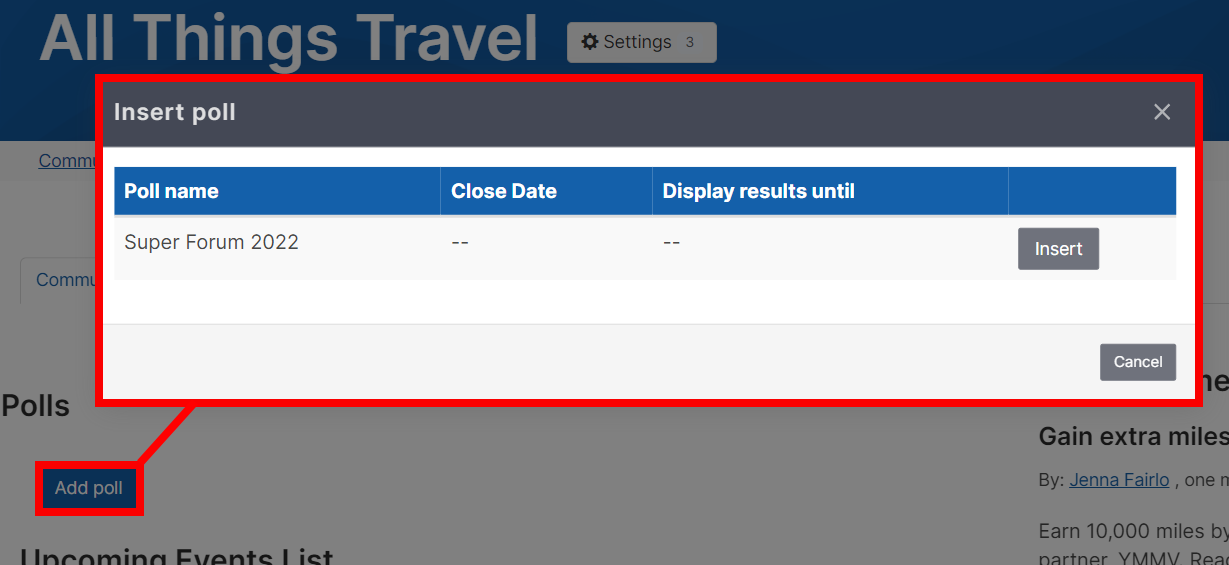 Now, users can select their desired answer and click Save to submit it.
Removing an active poll & viewing results
If a poll is currently active in your community (typically on the Home page), it is displayed in the widget. Above the poll are two buttons:
Click Remove Poll to remove it, allowing you to add another one, if desired. Note that this action is immediate; no confirmation is prompted.
Click View Report to see the current results right on the page.