After a poll has been activated, it can then be inserted on any page of your community site, though polls are most often added to specific communities to solicit feedback from their members.
Inserting a poll involves two steps:
Step 1 - Add the Poll widget to the desired page
Polls are added/removed via the Polls widget, which must first be added to the page where you want the poll displayed.
On the page you'd like to insert the poll , click edit this page in the Webmaster Links menu.
You're now editing the page in the Page Designer. In the Widget area, select Polls from the Category menu. Click-and-drag the Polls widget to the desired location on your page (add a new row, if needed).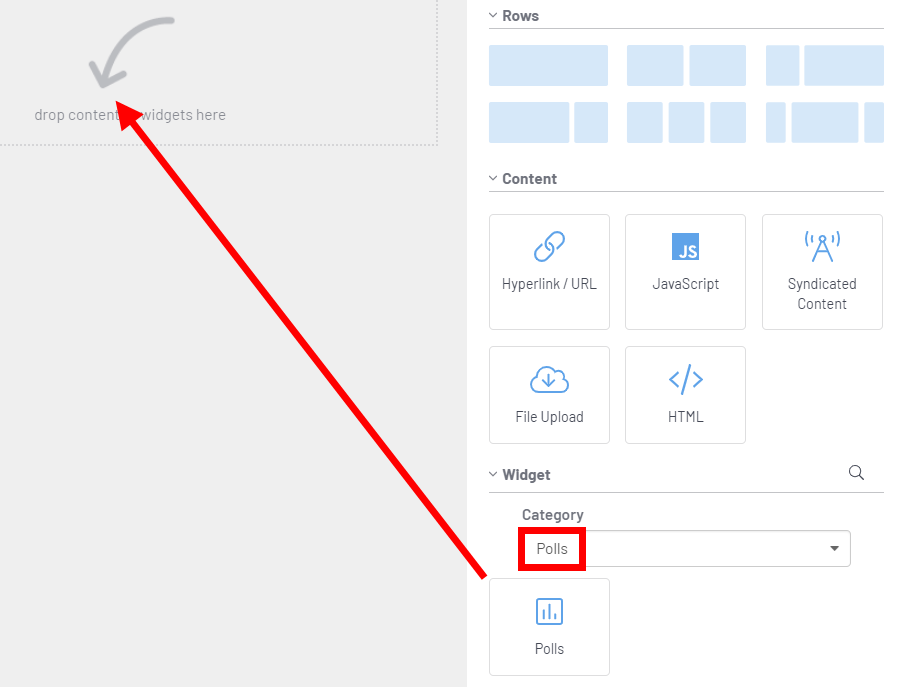 There are no parameters to configure for this widget; however, you can click the widget to access and configure its Properties, if needed.

When ready, click Publish to add the widget and return to the page.
Step 2 - Select your Poll in the widget
Now that the widget is in place, you can add your poll.
On the page where you added the widget, click its Add Poll button.
In the dialog, all activated polls are listed. Click your poll's Insert button to display it in the widget. Now, users can select their desired answer and click Save to submit it.
NOTE: Once inserted, a poll's status changes from Available to In Use on the Polls Dashboard.
NOTE: Once a poll is selected, two buttons are available in the widget control: Remove Poll and View Report (view poll results).