You can grant Volunteer Admin access to users you want to help manage your Volunteer Program.
Volunteer Admin access
Volunteer Admins can create opportunities and manage the volunteers for those opportunities. Specifically, users granted Volunteer Admin privileges can access the following four pages:
The Admin > Dashboard (via the Admin option in the Admin Toolbar) so they can access Admin
Programs > Volunteer > Dashboard to get a visual overview of the volunteer program and access a few reports
Programs > Volunteer > List to view, create, edit, and manage volunteer opportunities and their applicants
Programs > Volunteer > Reports to access and run all volunteer reports
NOTE: Volunteer Admins cannot manage Volunteer Settings or Opportunity Types.
To manage your Volunteer Admins:
In the Admin Toolbar, click Admin.

Navigate to Programs > Volunteer > Volunteer Admins.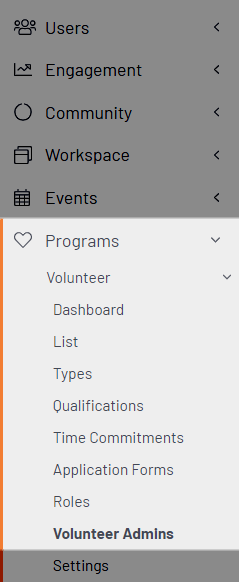 Grant Volunteer Admin access
Enter the desired search criteria to find the user(s) you want to give access to.
Click Search.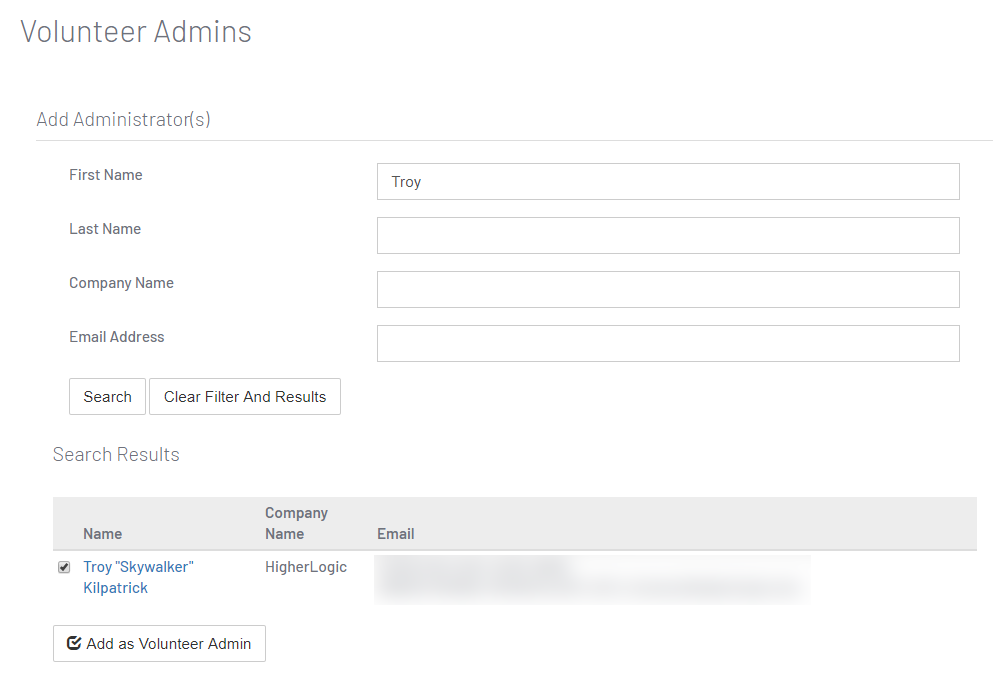 One or more users are listed in the Search Results area below. Check the box(es) associated to the user(s) you want to give access and click Add as Volunteer Admin. Each Volunteer Admin is listed in the Volunteer Admins section below.
Remove Volunteer Admin access
To remove a Volunteer Admin's access, just click their associated Revoke Privileges button.