Your Volunteer profile is accessible from your main profile; just navigate to My Profile > My Volunteer Profile. This is where you can provide information relevant to their volunteer experience and history, indicate how far you're willing to travel to participate in an Opportunity, select your years of experience, and view your current and past volunteer participation.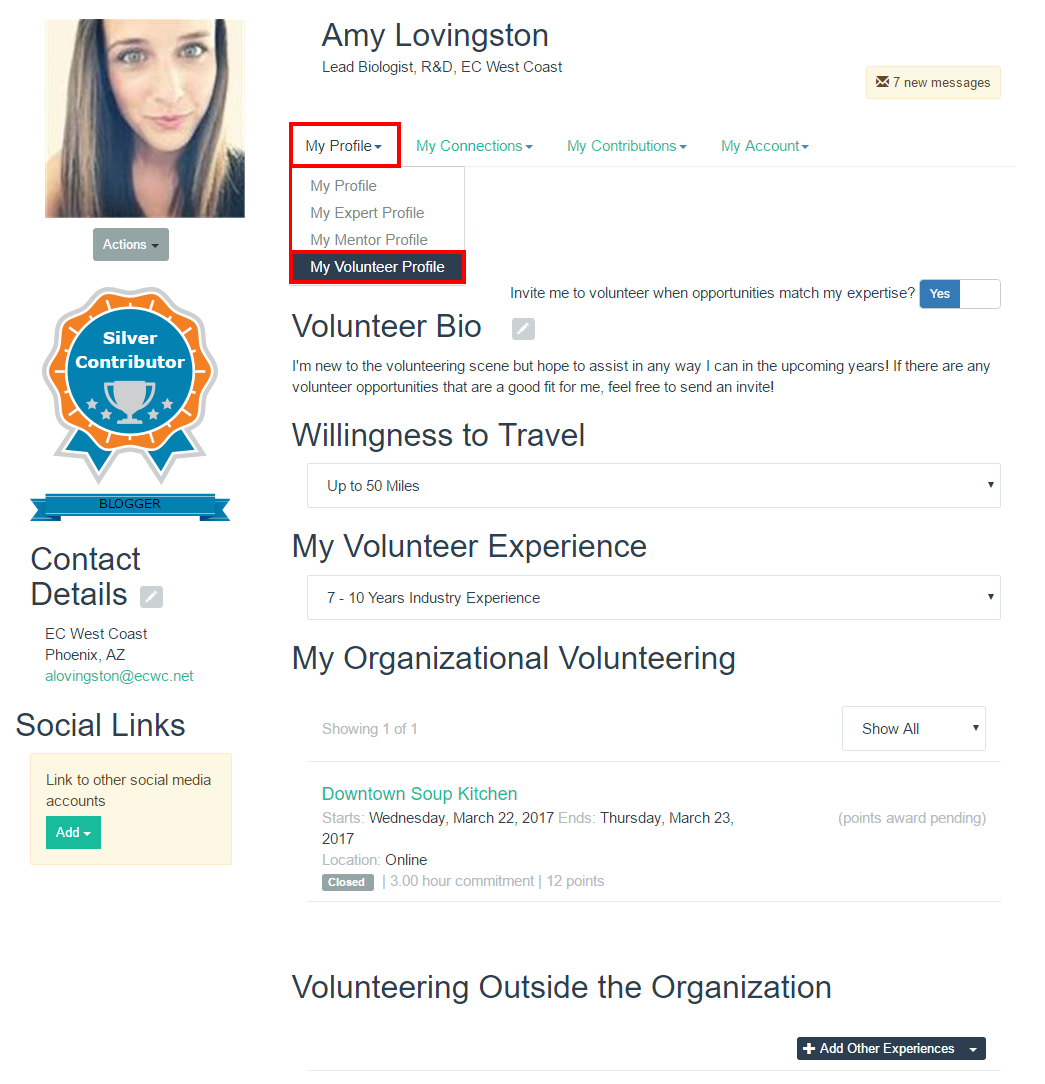 If opted-in to the Volunteer Pool, there are three main demographics that tie into how a volunteer is matched with an Opportunity:
Willingness to Travel
My Volunteer Experience
Volunteering Outside the Organization
NOTE: These are their default names so they might have different names in your community.
You can update the names of these three demographics (and the others) in the CMS.
Access the CMS.
Expand Main Button Bar > Directory > Member Directory > Profile.
Click the ellipsis menu for Volunteer Profile and select Edit.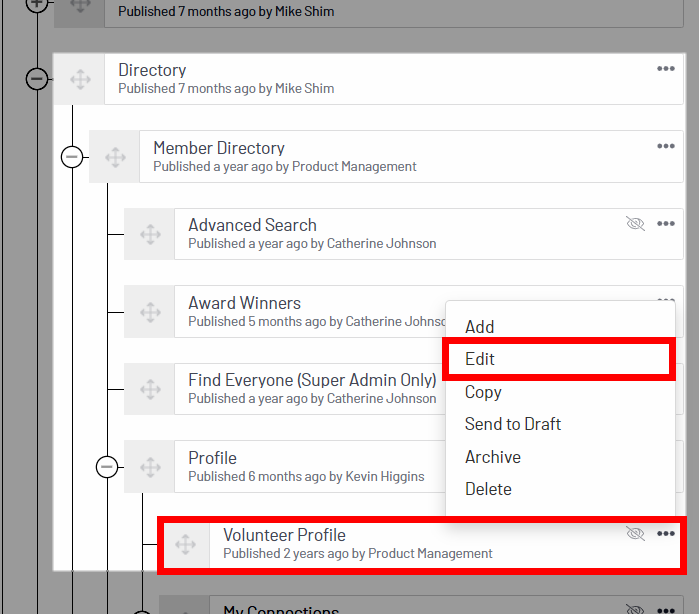 On the resulting page, select one of these options and edit their name in the Properties panel.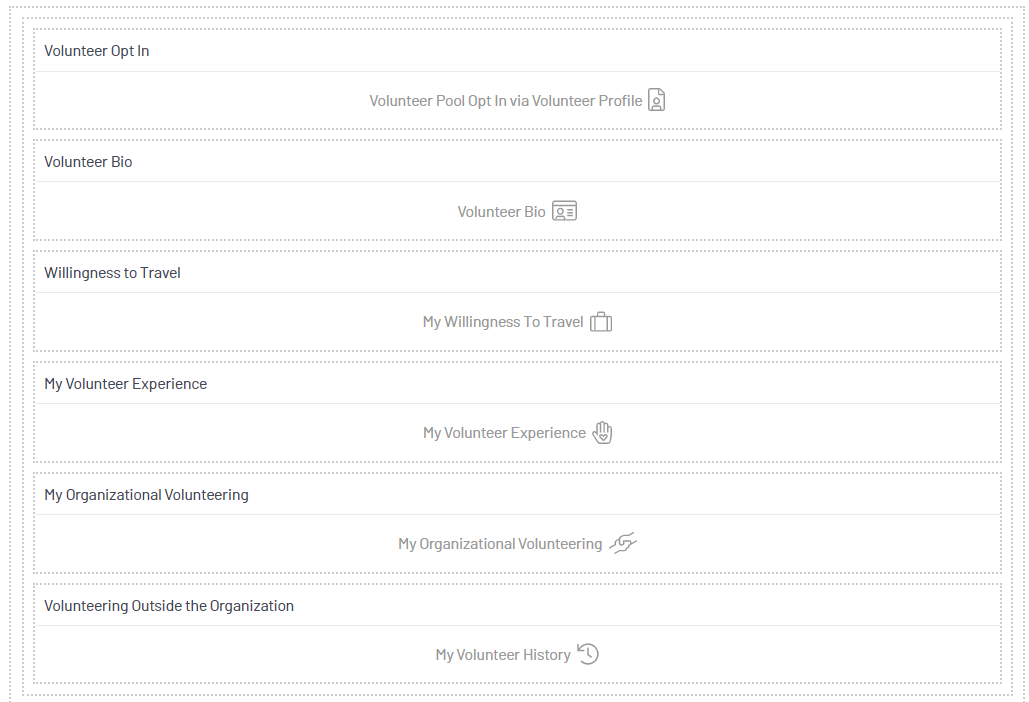 In addition, you can manage their options (i.e., drop-down menu choices) in the Volunteer section of the Admin interface. These are the options volunteers select when filling out their Volunteer profile, and are what are used to match them with Opportunities.
Experience level and travel preferences are managed on the Admin > Programs > Volunteer > Qualifications page.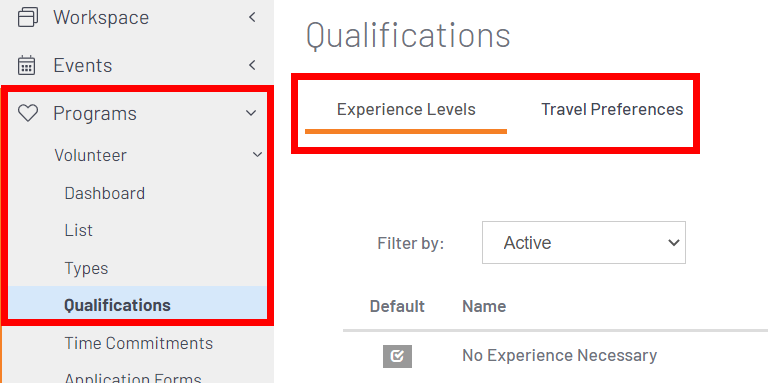 Self-reporting types are managed on the Admin > Programs > Volunteer > Types page, on the Self-Reporting Types tab.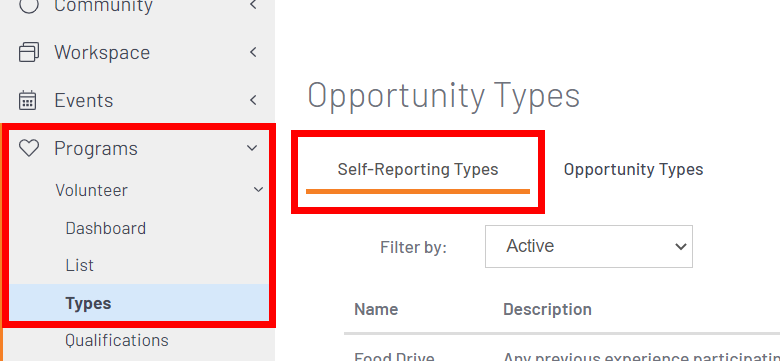 Experience Levels
Experience Levels corresponds directly to the My Volunteer Experience demographic on the Volunteer profile, and is also associated to an Opportunity when it's created. Volunteer Manager matches the experience level chosen by the volunteer with the desired experience level for an Opportunity, and populates that Opportunity on matching volunteer profiles for easy sign-up.
When setting up your Experience Levels, you can also define a skills multiplier and hourly rate for each. This allows you to increase the points and money volunteers earn as the experience requirements increase.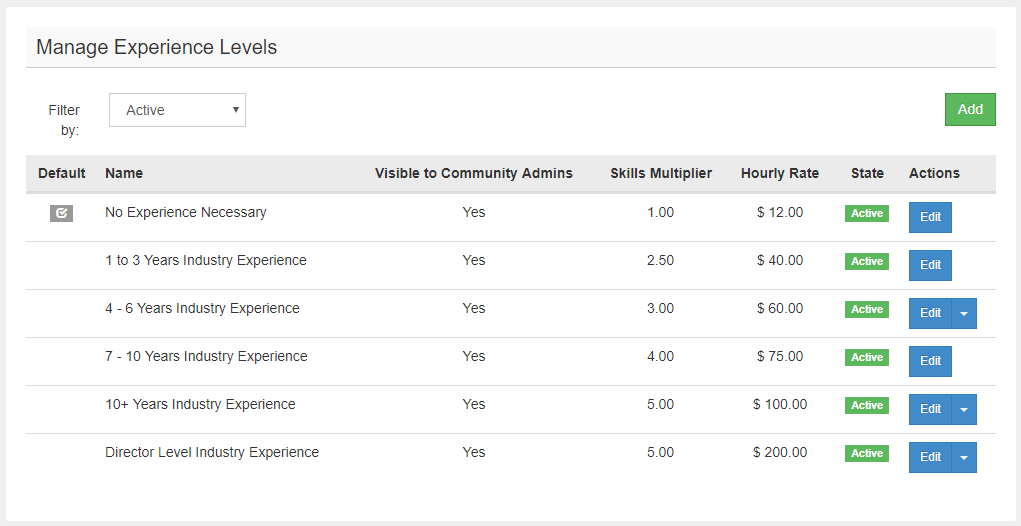 Best practice
Customize your Experience Levels so they makes sense to volunteers and are accurate in terms of calculating ROI. As Opportunities are created, Volunteer Manager begins calculating their ROI. For this to be a useful statistic, make sure to update the hourly rate for your industry according to the experience levels.
Self-Reporting Types
Self-Reporting Types correspond directly to the Volunteering Outside the Organization demographic on the Volunteer profile. Setting up self-reporting options allows volunteers to list their volunteer and leadership experience in charities and organizations not affiliated with your organization, and ensures their Volunteer profile provides the most up-to-date past and present volunteering information.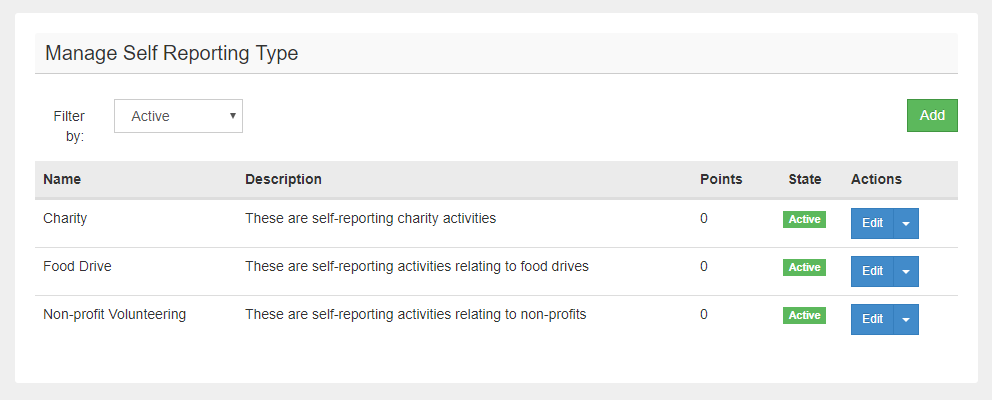 Best practice
It's important to have some self-reporting options available for volunteers to add to their profiles, but because these are 'self-reported,' there's no way to verify that they've actually been completed. Because of this, awarding points for past volunteering outside of Higher Logic's Volunteer Manager is not recommended.
Travel Preferences
Travel Preferences correspond directly to the Willingness to Travel demographic on the Volunteer profile, and are also associated to an Opportunity when it's created. Volunteer manager matches the willingness to travel option selected by the volunteer with an Opportunity's location, and populates that Opportunity on the volunteer profile for easy sign-up if they are within the same range.
NOTE: Only the name of a Travel Preferences Type is shown on the Volunteer profile, and the distance is also listed in kilometers for international Opportunities.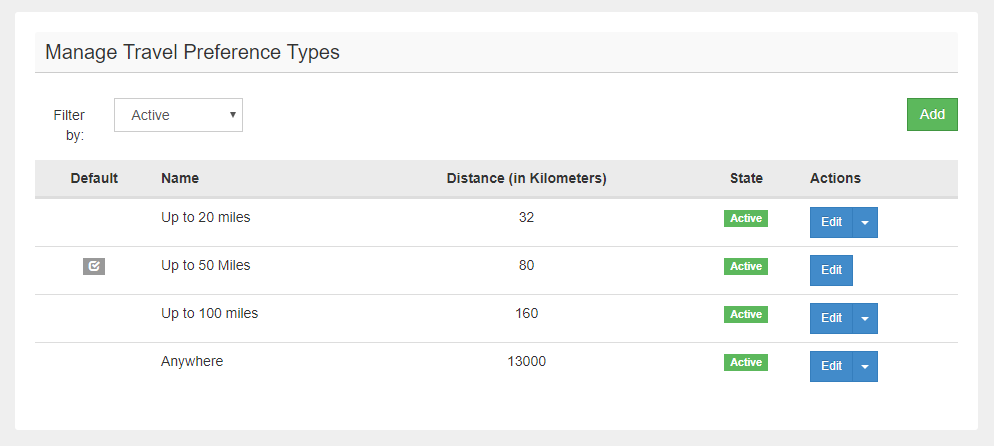 Best practice
Make sure to cover all possible distances with your options, from "no travel required" to "anywhere."