To manage a number of general Automation Rule settings and configure their default run-time schedule/frequency:
In the Admin Toolbar, click Admin.

Navigate to Automation > Settings.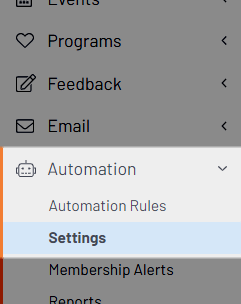 Configure general settings
At the top is the General area, where you can set important information that will be used in various Automation Rule emails. If you make any changes, click Save at the bottom of the page.
IMPORTANT: The Community Name and Community Manager's Email Address must be specified before working with Automation Rules. If either of these values is missing, you'll get an error prompt on the Automation Rules page.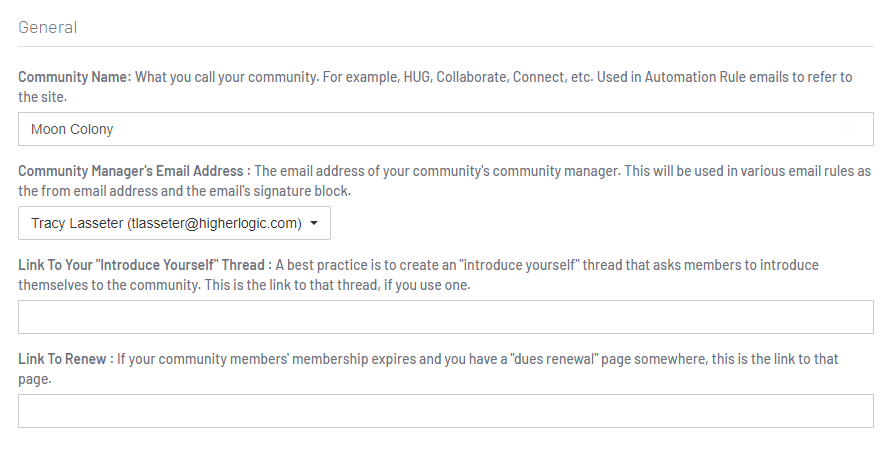 Field
Description
Community Name
This should be the name of your community, organization, etc. The Community Name will be applied to the

[Tenant.CommunityName]

variable in any Automation Rule email templates that use it.
Community Manager's Email Address

Select your community's Community Manager from the menu. Their email address will be used as the From Address and email signature block in various email rules.

NOTE: Only users with Super Admin rights are selectable in the menu.

Link To Your "Introduce Yourself" Thread
A community best-practice is to create an "Introduce Yourself" thread in one of your site's Discussions where members can introduce themselves to the community. If you have such a thread, link to it here.
Link To Renew
For many integrated customers, Higher Logic pulls over users' membership-renewal information from their external database. If you have a dues-renewal page you want to make available, link to it here.
Configure your default Run-time Schedule
At the bottom is the Rule Schedule area, where you can configure/schedule the timing/frequency rules. If you make any changes, click Save at the bottom of the page.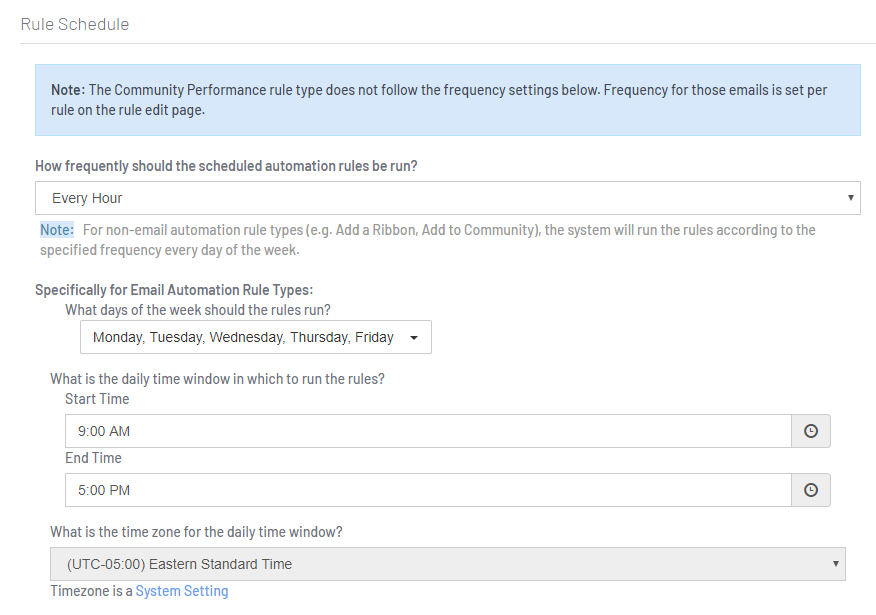 Field
Description
Default Schedule for All Automation Rules
How frequently should the scheduled Automation Rules be run?

Set how frequently all scheduled rules should run (regardless of rule type) OR don't run them.

Every Hour
Every 2 Hours
Every 3 Hours
Every 4 Hours
Twice a Day
Once a Day
Do not run automation rules

NOTE: The system will run all Automation Rules, except email-based rules (e.g., Ribbon, Community Member), every day of the week according to the specified frequency. You can manage the run schedule for email-based rules as described below.

Additional configurations specifically for Email Automation Rules:
What days of the week should the rules be run?
Select the desired days from the menu; selected days are indicated by a check mark and listed in the menu.
What is the daily time window in which to run the rules?
Select the desired start and end time.
What is the time zone for the daily time window?
This menu simply lists the time zone established for your site.

You can update your site's time zone on the Admin > Settings > General page (click the provided System Setting link to access it).