Users can earn Ribbons/Badges in two ways:
1 - Super Admins can give users a Ribbon/Badge
This method is useful when you need to retroactively award a Ribbon/Badge or give someone a Ribbon based on their position, like being on the Board of Directors, etc.
On a user's profile:
Click the Admin tab.

At the bottom of the page, select the Ribbon/Badge from the Assignable Ribbons and Badges dropdown.
Click Assign.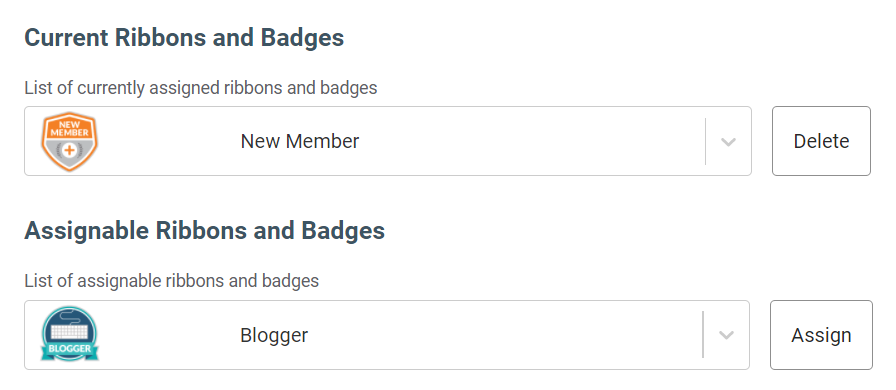 TIP: You can also remove a Ribbon/Badge via the first dropdown: to do so, select the Ribbon/Badge and click Delete.
2 - Users can earn them via Automation Rules
There are two ways to earn Ribbons/Badges via Automation Rules:
Meeting a rule's criteria, like writing more than X blog articles, belonging to X community, etc.
Earning the specified number of engagement points by performing activities on your site, like posting messages to your Discussions, uploading files to your Libraries, commenting on and Recommending content.
On the Admin > Automation > Automation Rules page, select Ribbon from the Show menu to view your Ribbon Automation Rules. As shown in the image below, the criteria for each rule is displayed, and you can view the Ribbon/Badge associated to a rule via its Edit button.

From here, you can also edit any of your existing Ribbon Rules and create new ones. When creating a new Ribbon Rule, select the Add a Ribbon to category and define your desired criteria.
See Manage Automation Rules to learn more about configuring Automation Rules.