NOTE: View the New Admin Experience version of this article.
You can manage the templates for your Real-Time and Daily/Consolidated digest emails on the Discussion Template page, located in the Admin interface.
How to access the Discussion Template page
Click Admin in the Webmaster Links menu.
Click Admin.
Select Discussion Template from the Communities > Digest Configuration menu.
Discussion Template page overview
This is where you can manage the templates for the Real-time and Daily/Consolidated digest emails sent out from your Discussions. This page comprises three main areas (refer to image below):
In the Common area, you can configure a logo, header, and custom links to use for both digests
In the Digest Specific and Real Time Specific areas below, you can configure specific settings for these two templates, including:
Where the email logo is displayed
Where advertisements are displayed
Whether links are included in the emails allowing users to post a message online (i.e., in the actual Discussion) or via the email
Whether navigation buttons are included allowing users to navigate through the digest's messages
Whether message buttons are included allowing users to reply to the sender/group online and/or via email
The thread history to include for each message
The digest email's Footer
Disable Reply to Sender
Many clients want email digest recipients to reply to the entire discussion, NOT just to the sender, to ensure knowledge is shared with everyone. If you want to prevent email recipients from mistakenly doing this, you can disable the Reply to Sender option in the digest and real time templates.
In the Daily Digest area, in both the Message Buttons AND Message Links sections, uncheck the Reply to Sender via Email box.
Repeat step 1 in the Real Time area below.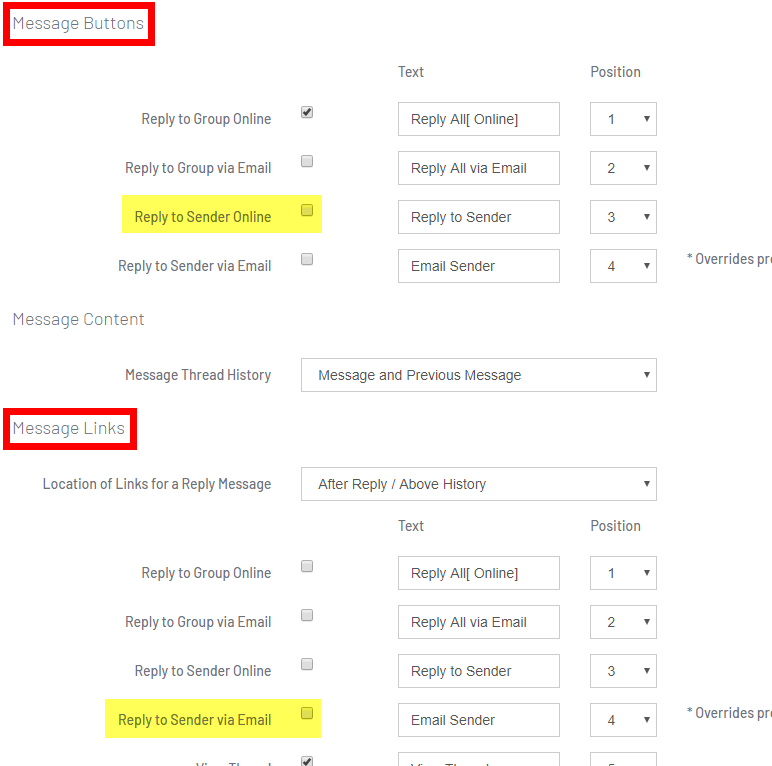 Test a template
To make it easy to see one of these templates, you can also enter your email address in the Test field at the bottom to send a sample digest email to yourself (or someone else, if needed).
Daily Digest Announcements
Do you want another vehicle to get the word out about upcoming organizational news, events, webinars, etc.? In addition to all the other community tools at your disposal, you can include announcements in daily digest emails.
NOTE: This feature is disabled, by default.
How to enable
To enable this feature, check the Include Announcements box in the Daily Digest area. You can even set a title and text maximum character limit if you need to ensure announcements are concise.
How does it work?
Once enabled, announcements are pulled from the Announcement List widget for each community.
Announcements posted the previous day will be included in the Daily Digest the next day for that community.
If you only post one new announcement, it will be the only one included in the Daily Digest.
If you post multiple announcements in a single day, they'll be displayed in the digest in the order they were posted.