Personalizations are a great way to engage your subscribers because you can customize your mailings with fields that will populate with subscriber-specific data, such as first name and birth date.
When personalization cache is enabled, Informz displays Association Anywhere personalization fields as table columns in your Informz accounts.
Personalization
The Informz for Association Anywhere integration supports many different personalization fields, so you'll have plenty of options when you want to add subscriber data to your mailings. Listed below are the fields that are available with the integration; these are the same for all target groups.
| | | |
| --- | --- | --- |
| Birth Date | First Name | State |
| City | Informal Name | Status Code |
| Class CD | Join Date | Street 1 |
| Company ID | Last Name | Street 2 |
| Country Code | Member ID | Street 3 |
| Country Desc | Middle Name | Subclass CD |
| County | Postal Code | Subgroup ID |
| Direct or Inherited | Prefix Name | Subgroup Name |
| Display Name | Province | Suffix Name |
| Expire Date | Renewal Date | Terminate Date |
NOTE: When the integration provides more than one record for membership queries, Informz automatically selects the most recent active membership (personalizations currently have a one-to-one relationship). If there is no active record, Informz uses the most recent record.
Add Personalizations
Mailing Designer 1
To select an Association Anywhere personalization field in the Informz editor, click the Personalization toolbar tool.

Navigate to the Informz for Association Anywhere type to see these fields.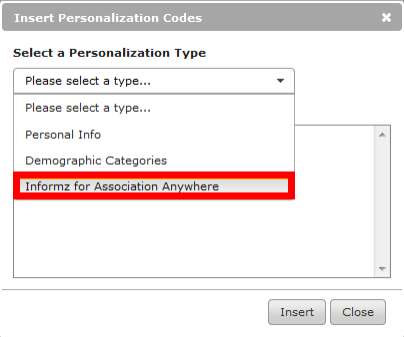 Mailing Designer 2
In the Rich Text Editor, click the Personalization icon.
Click the Personalization Type dropdown and select Integrated Personal Info.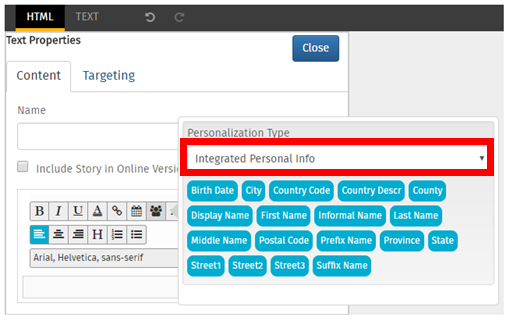 Click a personalization to add it to the mailing's content.
Edit Personalizations
There are two things that can be edited in Informz for Association Anywhere personalization fields: the display name and the personalization default. The Informz admin can also choose to hide fields from Association Anywhere so they aren't used for personalization in Informz.
Navigate to Admin > Setup > Bridge Configuration.
Click List of Attributes (also leads to edit).
Click Edit for the corresponding personalization.
You'll see the following attributes:
Attribute Use - Allows an Association Anywhere field to display, or not, in the personalization field list in the editor.
Internal Name - The Association Anywhere field name as found in Association Anywhere. This does not need to be changed.
Comment - Used for internal documentation about the use of a personalization fields.
Data Element - The Association Anywhere name of the field. This cannot be changed.
Is Valid - Determines if the field is valid for personalizations.
Display Name - Editable to provide a more descriptive name for Informz users.
Personalization Default - Used when no value is provided from Association Anywhere. The field populated in the mailing is used as the default.
Send Mailings with Personalization Codes
The data to populate personalization code fields are retrieved from Association Anywhere when you send a mailing. Personalization data are not stored locally in Informz unless you use cached personalizations (which ultimately need to be refreshed). Non-cached data are gathered from Association Anywhere just before the mailing sends.
Personalization codes use the following format:
%%WSI||FIELDNAME%%
Cached Personalizations
Informz allows remote personalization fields to display in your Informz accounts as table columns. These personalizations are ultimately cached in Informz, and they refresh once a week (through a weekly behind-the-scenes process) or manually. When enabled, these personalization fields appear as selectable columns in any subscriber listing, and you can preview data in those fields.
Enable Cached Personalizations
You must select the fields you wish to cache from the List of Attributes page (Admin > Setup > Bridge Configuration).
You can select up to 20 fields (you'll receive an error if you attempt to select additional fields).
As above, selected personalization fields sync weekly. You can also sync on an ad hoc basis by clicking Refresh Personalization Cache on the Bridge Configuration page.
Test Personalizations
To test your integrated personalizations:
Open the Target Group information pop-up window and click the Subscribers tab.
Click Columns and add the personalized field that you wish to preview – simply click the Plus Sign (+) that corresponds to the personalization you wish to view.
Click OK to save your changes.
Now, when you view the columns, you'll see all the personalization fields with the appropriate previews.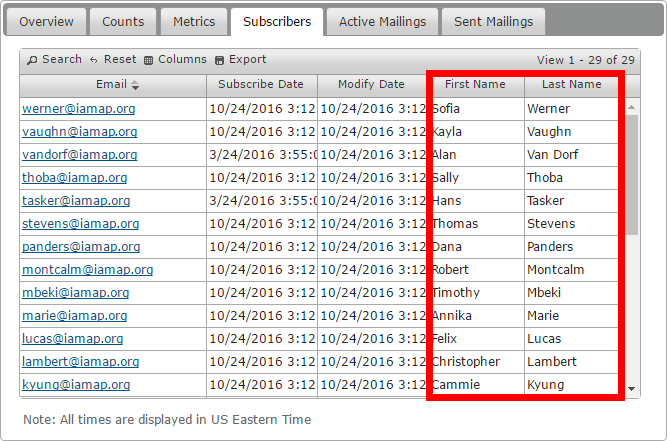 NOTE: When you publish a mailing to a remote subscriber, Informz uses the personalization values that have been cached.