Personalizing your Higher Logic Thrive Marketing Professional (Thrive Marketing Professional) messages goes beyond simply inserting a recipient's first name into your story. You can get creative with personalization and insert data into a mailing story, subject line, and reply-to email address.
Data from iMIS, for use in personalization, can be obtained from any table or view that includes the iMIS ID field. Personalization from iMIS can only be drawn from a "one-to-one" relationship with the iMIS member. For example, a member can only have a single value for first name or age.
Profile Fields and Personalization
In Subscribers > Profile Fields, Thrive Marketing Professional profile fields and iMIS profile fields are identified by distinctive icons; the iMIS profile fields are represented by the database image.

NOTE: Thrive Marketing Professional profile (personalization) fields can't be used with iMIS target groups and vice versa.
For the personalization from iMIS profile fields to work in a mailing, the mailing must also be published to an iMIS target group. The iMIS profile fields below can have default values, which are beneficial if you suspect that some First Name fields are blank and the user would like to use "Friend" or "Valued Member" instead of a true first name.
Set default values for Profile Fields
To set default values for personalizations:
Navigate to Subscribers > Profile Fields.
Locate the iMIS profile field you wish to set a default value for and click to the right of Default.

Specify the default value.
Standard personalization sources
iMIS personalization data fields (found in dropdowns in Thrive Marketing Professional) are sourced from the Name (and related) tables as well as any User-Defined tables. These sources are options in the dropdown list when inserting personalization in the HTML editor. To use personalization fields that aren't in Thrive Marketing Professional dropdowns (i.e., from other tables or views), use the syntax:
%%IMIS||UD||tablename.fieldname%%
The tablename is the table or view that contains the personalization field.
The table name being referenced must have the iMIS Name ID as a value in it, with only one record per iMIS ID. Multiple records will result in the personalization returning the first value only.
The fieldname is the field that you want to use.
The script to create INFORMZ_VIEW_DATE_FORMAT is attached in the Additional resources section of this article. Download it and then refer to Add a date personalization, below.
For date formats, Thrive Marketing Professional has a custom view that can be created in iMIS to control the format of personalization values in the following way.
There is a 1,000-character limit (approximately) for these user-defined fields.
Personalization in a mailing
In the story editor, place the cursor at the insertion point of the personalization code.
Click on the Personalization icon in the toolbar. A window opens with a dropdown list with the available options for Personalization Type.

Select either iMIS Profile Info or iMIS User Defined to identify the data source.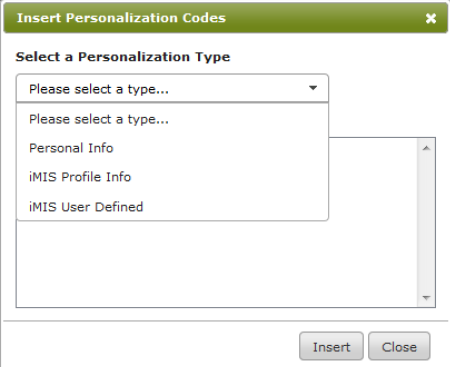 The fields that are associated with the Personalization Type are available in the Select a Personalization Code field.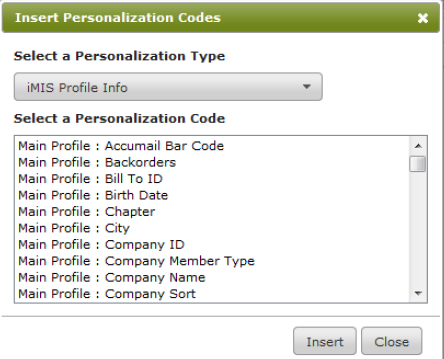 Select a field and click Insert to insert the data field code (placeholder) into the story.
Note that iMIS appears in the code indicating that this is an iMIS personalization code.

Cached personalization
Create a case and submit a request to enable the Integration Personalization extension in your account to see cached iMIS data within Thrive Marketing Professional. When enabled, iMIS fields appear as selectable columns in any subscriber listing, and you can preview data in those fields.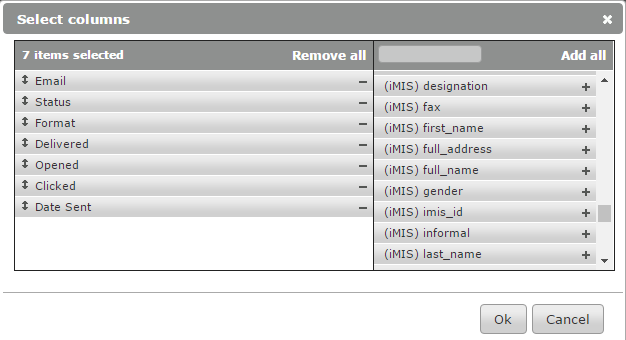 Benefits
When cached personalization is enabled, you'll be able to:
See which iMIS fields are available to use in Thrive Marketing Professional
See if a subscriber is missing data in their iMIS profile from within Thrive Marketing Professional
Verify that an iMIS field has the correct data before using it for a personalization
Export a spreadsheet of subscriber information with Thrive Marketing Professional and iMIS data included
Research and troubleshoot without having to switch between Thrive Marketing Professional and iMIS
Formatting in iMIS personalization date fields
When you add a date personalization from iMIS, you should always consider formatting. iMIS stores information with a timestamp, so you might end up with formatting in the personalization that you're not happy with. To solve this, Thrive Marketing Professional provides a SQL view that gives you the ability to customize a set of standard iMIS date fields. Below is a list of the available iMIS dates.
NAME.PAID_THRU
NAME.JOIN_DATE
NAME.MEMBER_STATUS_DATE
NAME_FIN.RENEWED_THRU
Below are the available date formats:
US date: MM/DD/YYYY
European date: DD/MM/YYYY
Time Only
Month Number
Month Name
Month Name Abbreviated
Day of Week Number
Day of Week Name
Day of Week Name Abbreviated
4 Digit Year Number
2 Digit Year Number
The personalization might look like the following:
%%IMIS||UD||INFORMZ_VIEW_DATE_FORMAT.JOIN_DATE_US%%
Add a date personalization
First, create a view in iMIS from INFORMZ_VIEW_DATE_FORMAT. This is a technical task that requires you to create or modify the SQL, so someone from your IT team should assist you. Higher Logic is happy to work with your technical resources to ensure that everything works as expected.
Type or copy the desired personalization from the table below. These personalizations will not appear in the Personalization dropdown list.
JOIN_DATE

US Date Format

%%IMIS||UD||INFORMZ_VIEW_DATE_FORMAT.JOIN_DATE_US%%

EU Date Format

%%IMIS||UD||INFORMZ_VIEW_DATE_FORMAT.JOIN_DATE_EU%%

Time Only

%%IMIS||UD||INFORMZ_VIEW_DATE_FORMAT.JOIN_DATE_T24%%

Month Number

%%IMIS||UD||INFORMZ_VIEW_DATE_FORMAT.JOIN_DATE_MM%%

Month Name

%%IMIS||UD||INFORMZ_VIEW_DATE_FORMAT.JOIN_DATE_MN%%

Month Name Abbrev.

%%IMIS||UD||INFORMZ_VIEW_DATE_FORMAT.JOIN_DATE_MN_ABR%%

Day of Week Number

%%IMIS||UD||INFORMZ_VIEW_DATE_FORMAT.JOIN_DATE_DD%%

Day of Week Name

%%IMIS||UD||INFORMZ_VIEW_DATE_FORMAT.JOIN_DATE_DOW%%

Day of Week Abbrev.

%%IMIS||UD||INFORMZ_VIEW_DATE_FORMAT.JOIN_DATE_DOW_ABR%%

4-Digit Year

%%IMIS||UD||INFORMZ_VIEW_DATE_FORMAT.JOIN_DATE_YYYY%%

2-Digit Year

%%IMIS||UD||INFORMZ_VIEW_DATE_FORMAT.JOIN_DATE_YY%%

PAID_THRU

US Date Format

%%IMIS||UD||INFORMZ_VIEW_DATE_FORMAT.PAID_THRU_US%%

EU Date Format

%%IMIS||UD||INFORMZ_VIEW_DATE_FORMAT.PAID_THRU_EU%%

Time Only

%%IMIS||UD||INFORMZ_VIEW_DATE_FORMAT.PAID_THRU_T24%%

Month Number

%%IMIS||UD||INFORMZ_VIEW_DATE_FORMAT.PAID_THRU_MM%%

Month Name

%%IMIS||UD||INFORMZ_VIEW_DATE_FORMAT.PAID_THRU_MN%%

Month Name Abbrev.

%%IMIS||UD||INFORMZ_VIEW_DATE_FORMAT.PAID_THRU_MN_ABR%%

Day of Week Number

%%IMIS||UD||INFORMZ_VIEW_DATE_FORMAT.PAID_THRU_DD%%

Day of Week Name

%%IMIS||UD||INFORMZ_VIEW_DATE_FORMAT.PAID_THRU_DOW%%

Day of Week Abbrev.

%%IMIS||UD||INFORMZ_VIEW_DATE_FORMAT.PAID_THRU_DOW_ABR%%

4-Digit Year

%%IMIS||UD||INFORMZ_VIEW_DATE_FORMAT.PAID_THRU_YYYY%%

2-Digit Year

%%IMIS||UD||INFORMZ_VIEW_DATE_FORMAT.PAID_THRU_YY%%

RENEWED_THRU

US Date Format

%%IMIS||UD||INFORMZ_VIEW_DATE_FORMAT.RENEWED_THRU_US%%

EU Date Format

%%IMIS||UD||INFORMZ_VIEW_DATE_FORMAT.RENEWED_THRU_EU%%

Time Only

%%IMIS||UD||INFORMZ_VIEW_DATE_FORMAT.RENEWED_THRU_T24%%

Month Number

%%IMIS||UD||INFORMZ_VIEW_DATE_FORMAT.RENEWED_THRU_MM%%

Month Name

%%IMIS||UD||INFORMZ_VIEW_DATE_FORMAT.RENEWED_THRU_MN%%

Month Name Abbrev.

%%IMIS||UD||INFORMZ_VIEW_DATE_FORMAT.RENEWED_THRU_MN_ABR%%

Day of Week Number

%%IMIS||UD||INFORMZ_VIEW_DATE_FORMAT.RENEWED_THRU_DD%%

Day of Week Name

%%IMIS||UD||INFORMZ_VIEW_DATE_FORMAT.RENEWED_THRU_DOW%%

Day of Week Abbrev.

%%IMIS||UD||INFORMZ_VIEW_DATE_FORMAT.RENEWED_THRU_DOW_ABR%%

4-Digit Year

%%IMIS||UD||INFORMZ_VIEW_DATE_FORMAT.RENEWED_THRU_YYYY%%

2-Digit Year

%%IMIS||UD||INFORMZ_VIEW_DATE_FORMAT.RENEWED_THRU_YY%%

MEMBER_STATUS_DATE

US Date Format

%%IMIS||UD||INFORMZ_VIEW_DATE_FORMAT.MEMBER_STATUS_DATE_US%%

EU Date Format

%%IMIS||UD||INFORMZ_VIEW_DATE_FORMAT.MEMBER_STATUS_DATE_EU%%

Time Only

%%IMIS||UD||INFORMZ_VIEW_DATE_FORMAT.MEMBER_STATUS_DATE_T24%%

Month Number

%%IMIS||UD||INFORMZ_VIEW_DATE_FORMAT.MEMBER_STATUS_DATE_MM%%

Month Name

%%IMIS||UD||INFORMZ_VIEW_DATE_FORMAT.MEMBER_STATUS_DATE_MN%%

Month Name Abbrev.

%%IMIS||UD||INFORMZ_VIEW_DATE_FORMAT.MEMBER_STATUS_DATE_MN_ABR%%

Day of Week Number

%%IMIS||UD||INFORMZ_VIEW_DATE_FORMAT.MEMBER_STATUS_DATE_DD%%

Day of Week Name

%%IMIS||UD||INFORMZ_VIEW_DATE_FORMAT.MEMBER_STATUS_DATE_DOW%%

Day of Week Abbrev.

%%IMIS||UD||INFORMZ_VIEW_DATE_FORMAT.MEMBER_STATUS_DATE_DOW_ABR%%

4-Digit Year

%%IMIS||UD||INFORMZ_VIEW_DATE_FORMAT.MEMBER_STATUS_DATE_YYYY%%

2-Digit Year

%%IMIS||UD||INFORMZ_VIEW_DATE_FORMAT.MEMBER_STATUS_DATE_YY%%
EXAMPLE: If you want to use a different format, you can combine the date pieces shown above.

Example for PAID_THRU: Tuesday, September 30, 2014 would be achieved using this syntax in your mailing:

%%IMIS||UD||INFORMZ_VIEW_DATE_FORMAT.PAID_THRU_DOW%%,
%%IMIS||UD||INFORMZ_VIEW_DATE_FORMAT.PAID_THRU_MN%%, %%IMIS||UD||INFORMZ_VIEW_DATE_FORMAT.PAID_THRU_DD%%,
%%IMIS||UD||INFORMZ_VIEW_DATE_FORMAT.PAID_THRU_YYYY%%
Additional resources