The iResub writeback lets you know when an unsubscribed client has chosen to resubscribe. The iResub writeback only happens if Informz has previously written back an iUnsub to iMIS for that particular iMIS ID. The results are viewable through the upload history in Informz under Previous Unsubscribers.
NOTE: If an invalid email address is changed in Informz, this does not trigger a resubscribe writeback.
View Resubscribers
Navigate to Subscribers > Upload > Upload History.
View the Previous Unsubscribers column (click Columns and select Previous Unsubscribers if it's not in the current view).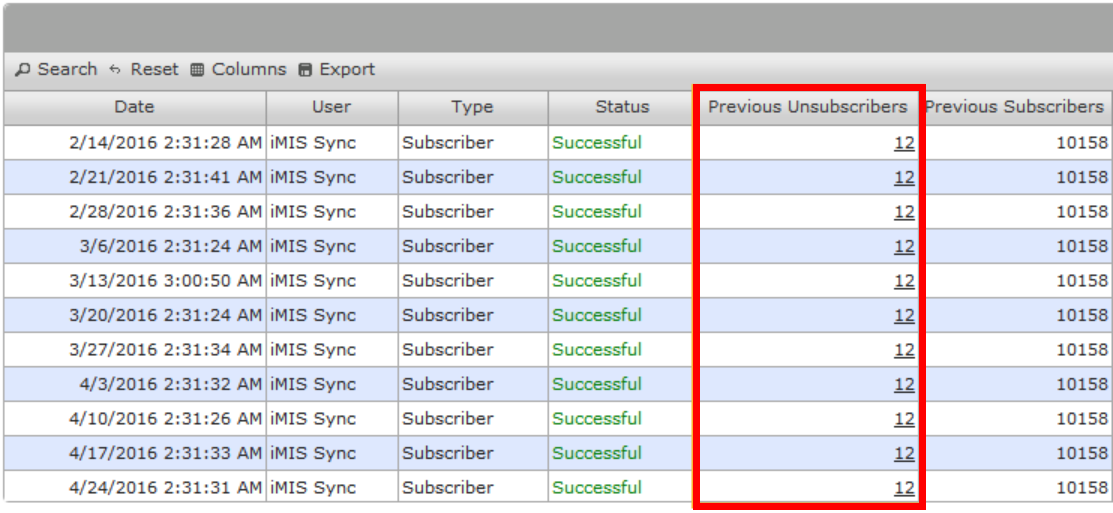 Click the previous unsubscribers count to open a window with additional details.
The iResubwriteback occurs when three conditions are met:
A previous iUnsub has been written back to iMIS.
The user is showing as Active in Informz.
The user has an iMIS ID on his or her record in Informz that matches the ID in iMIS.
Important Note
The iResub is only for subscribers who have explicitly unsubscribed (i.e., they clicked a link in an email, were part of an unsubscribe upload, or were unsubscribed by an Informz admin user directly in Informz). Because those unsubscribes are tied to an iMIS ID and an explicit request, they will NOT be automatically resubscribed in Informz, even if their email address changes.