netFORUM Pro receives writeback information from Higher Logic Thrive Marketing Professional (Thrive Marketing Professional). Every ten minutes, Thrive Marketing Professional looks for new data to send to netFORUM Pro.
Writeback Types
There are three types of writebacks:
Unsubscribe - Causes the Do Not Email flag in netFORUM Pro to be set to True. (Thrive Marketing Professional sends Customer Key, Date and Time, and Reason (optional) data with the unsubscribe writeback.)
Resubscribe - Occurs any time a Thrive Marketing Professional administrator manually resubscribes a previously unsubscribed user. The Do Not Email flag in netFORUM Pro is set to False.
Bad Email - Bad Email writebacks are supported by netFORUM Pro, but they are only displayed in the System Admin Writeback List page in Thrive Marketing Professional. These are written back as unsubscribes to netFORUM Pro.
View Writebacks
To view writebacks:
Navigate to Admin > Setup > Bridge Configuration.
Click Writeback List in the Writebacks area.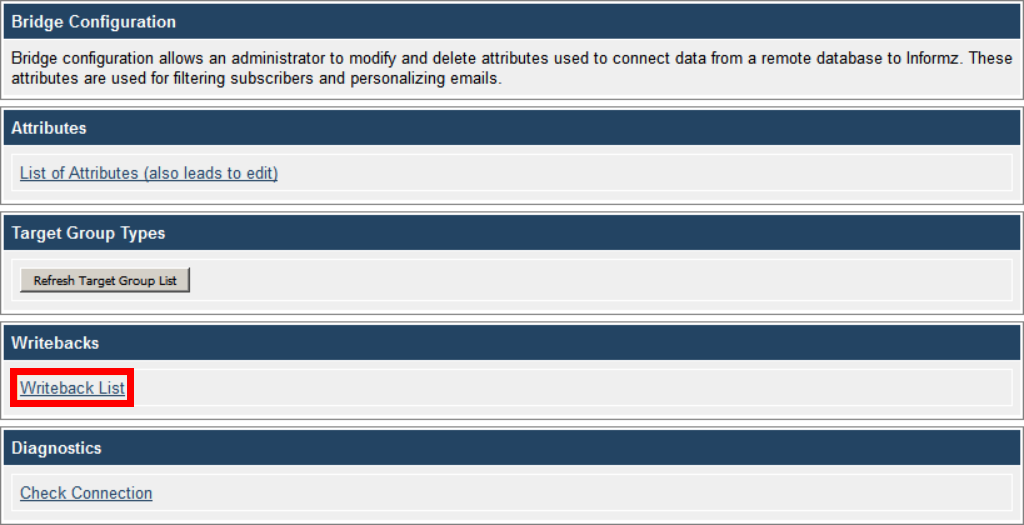 You can view writebacks in the following statuses: Ready, Processing, Sent, and Failed.