NOTE: By default, only Super Admins can export Directory search results, but you can create a case and request that export privileges be extended to others (even non-members).
Super Admins, and authorized users, can export and download Directory search results in either an Excel (.xls) or CSV (.csv) file format. The export file includes all of a user's profile information, as well as other important details, such as their:
Higher Logic Key,
Legacy Key, and
Security Group affiliation(s).
Export search results
To export the results:
Click the Export button above the filter options.
Choose a file format and click Download.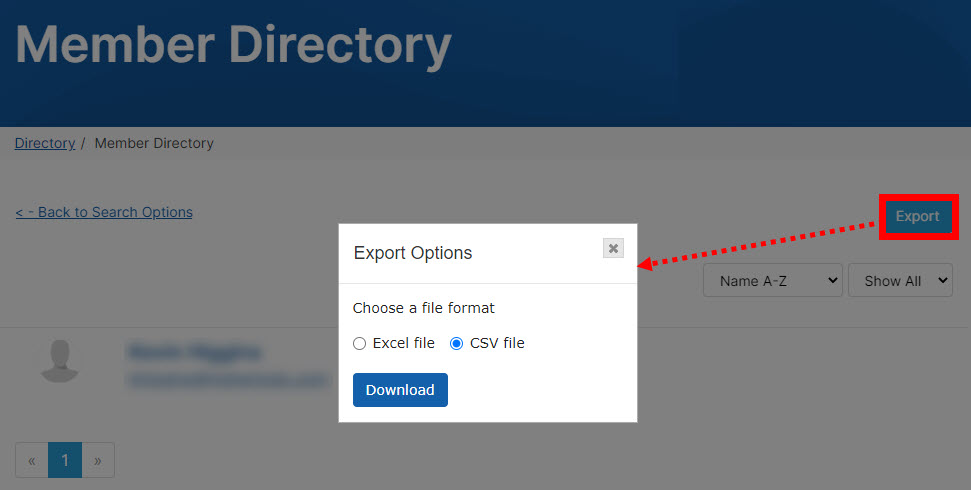 Navigate to where you want to store the export file, give it a memorable name, and click Save.
TIP: Open and review the saved file before navigating away from the results page.
NOTE: The exported file will respect any sorting (such as reverse alphabetical order) that has been applied to the results list.
Directory exports
Before you export the list of search results, keep in mind that Directory exports:
Do not respect the user privacy settings on the profile My Account > Privacy Settings page.
Include additional information that is not shown in the search results.
Directory export file fields
The following fields are included in the default version of the Directory export files.
Fields
Address1
FirstName
Phone2
PrimaryGroupName *
Address2
HigherLogicKey
Phone2Type
Region
Address3
IsCompany
Phone3
StateProvince
City
IsMember
Phone3Type
SuffixCode
CompanyName
LastName
Phone4
WebsiteURL
CompanyTitle
LegacyKey
Phone4Type
CountryCode
MaidenName
PostalCode
Designation
Phone1
PrefixCode
EmailAddress
Phone1Type
PrimaryGroupKey *
* The PrimaryGroupKey and PrimaryGroupName columns reference Security Groups (Contact.PrimarySecurityGroupKey and SecurityGroupRef.SecurityGroupName, respectively). If PrimaryGroupKey is populated but PrimaryGroupName is not, the Security Group does not exist.
Additional fields and changes
If you'd like to include additional fields or make changes to these defaults, create a case.
Up to four unique export configurations are possible and can be attributed specifically to exports by Super Admins, Community Admins, members, and non-members.