Often, those who have been in an industry for a long time or are experts about a specific topic tend to forget that not everyone has that same level of knowledge. The Wiki Glossary is where you can store definitions for words, phrases, and terms that are used within your organization. Doing so ensures your members are never confused by technical or other jargon they're likely to come across during their interactions on your Higher Logic community site.
One of the Wiki Glossary's best features, and why "Wiki" is included in the name, is that all members of your Higher Logic site can add glossary entries and even request definitions for words and phrases they don't know. In addition, they can add tags and comments to entries, and even links to related resources, if information about a particular glossary entry already exists elsewhere. This creates a more social experience and collaborative environment.
Access the Wiki Glossary
With a default Higher Logic site configuration, you can access your Wiki Glossary by selecting Glossary from the Browse menu on your site's navigation bar.
How to use the Wiki Glossary
By default, the Glossary page lists all of your organization's current entries in alphabetical order, but you can use the menu at the top to list them by:
Most Popular, to list entries by their number of views, from most to least,
Top Rated, to list entries by their number of Recommends, from most to least,
Recently Updated, to list entries by their Last Updated by date, from most to least recent,
And Status, to list entries by their status (more on Status below). When listing by Status, each Status option is displayed, and you can check the desired options to only include those entry types.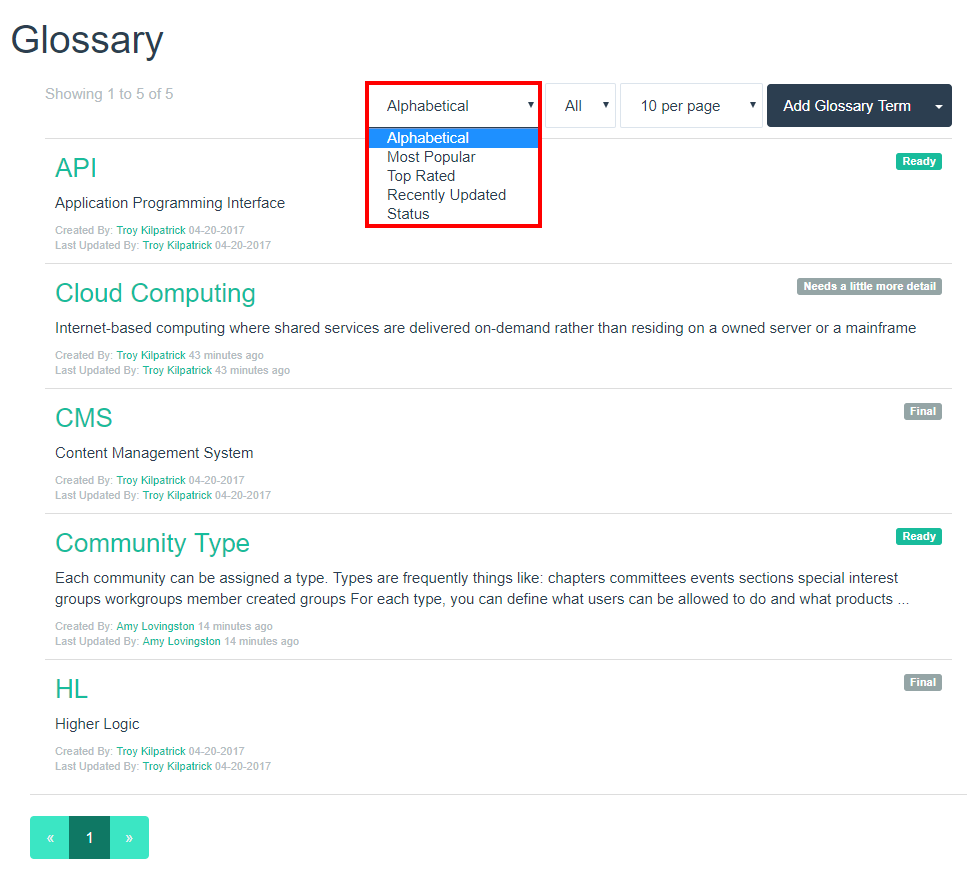 Entry status
In addition to the other social aspects of the Wiki Glossary mentioned above, perhaps the most important is the ability to flag entries with a Status. When creating or editing an entry, all users can tag it with one of the following statuses to indicate its level of accuracy and completeness:
Final (Admin only)
Needs definition
Needs a little more detail
Ready
Someone confirm this is accurate
NOTE: Only Super Admins can tag an entry as Final. When marked as Final, entries:

1. Can only be edited or deleted by Super Admins (these buttons are hidden to everyone else).
2. Can still be accessed by everyone, just not modified.

This status gives complete and total ownership of the glossary to your staff, when needed. While "edit wars" are rare, they are easily controlled by tagging entries as Final.
Statuses are displayed to the right of each entry, as shown below.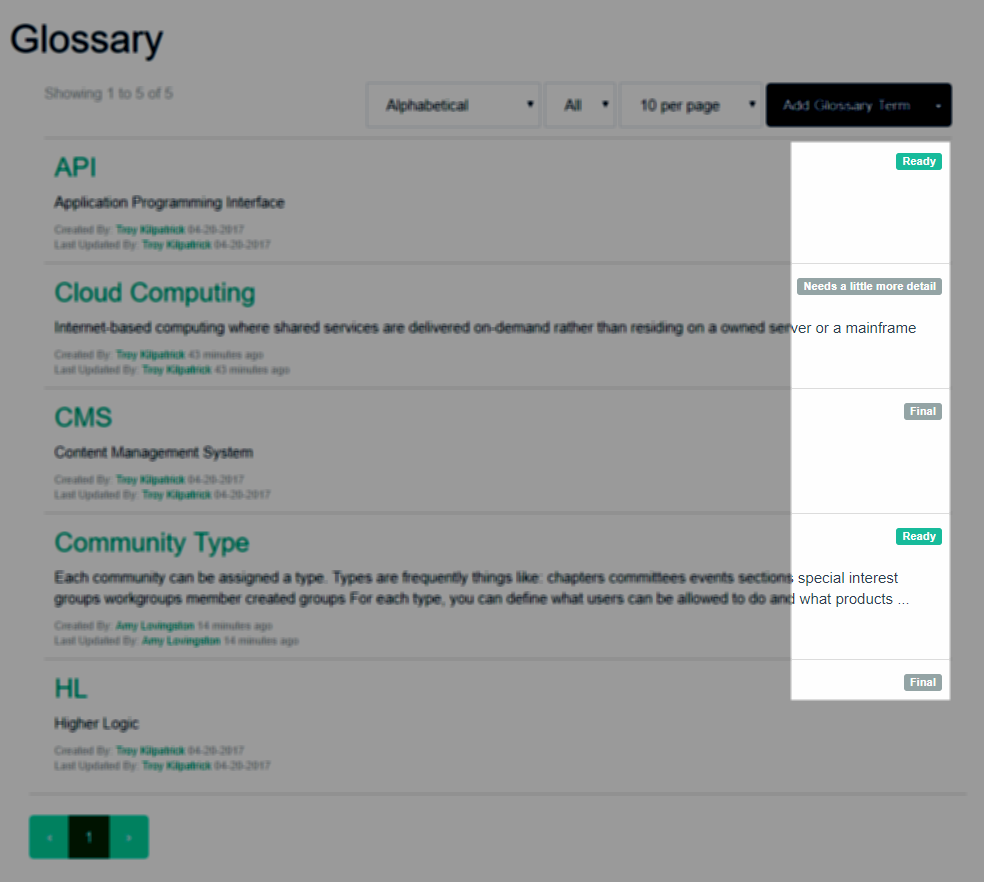 Create a Glossary Entry
To create an entry, click Add Glossary Term on the main Glossary page.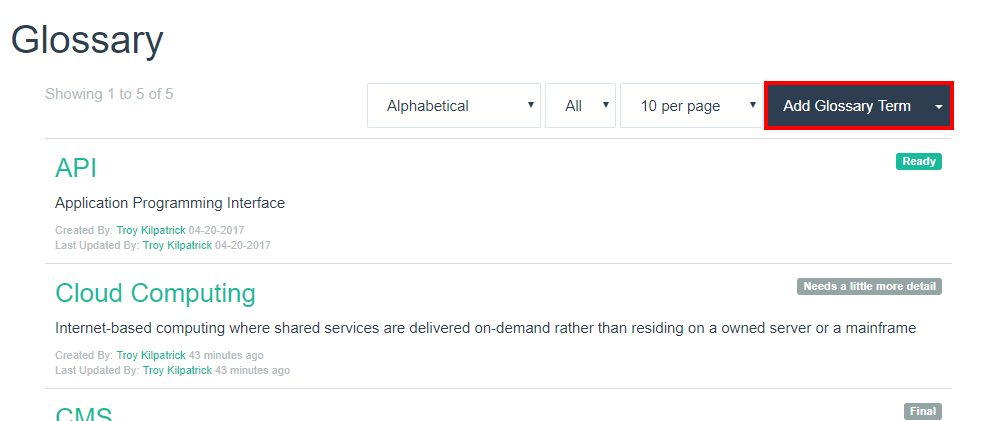 Then:
Add an appropriate title for your word, acronym, term, phrase, etc.
Your title will automatically be appended to the entry's permalink, making it easy to share across your site (you can update the URL, if desired).
Use the TinyMCE Editor to define your entry.
Assign a Status to indicate its level of accuracy and completeness.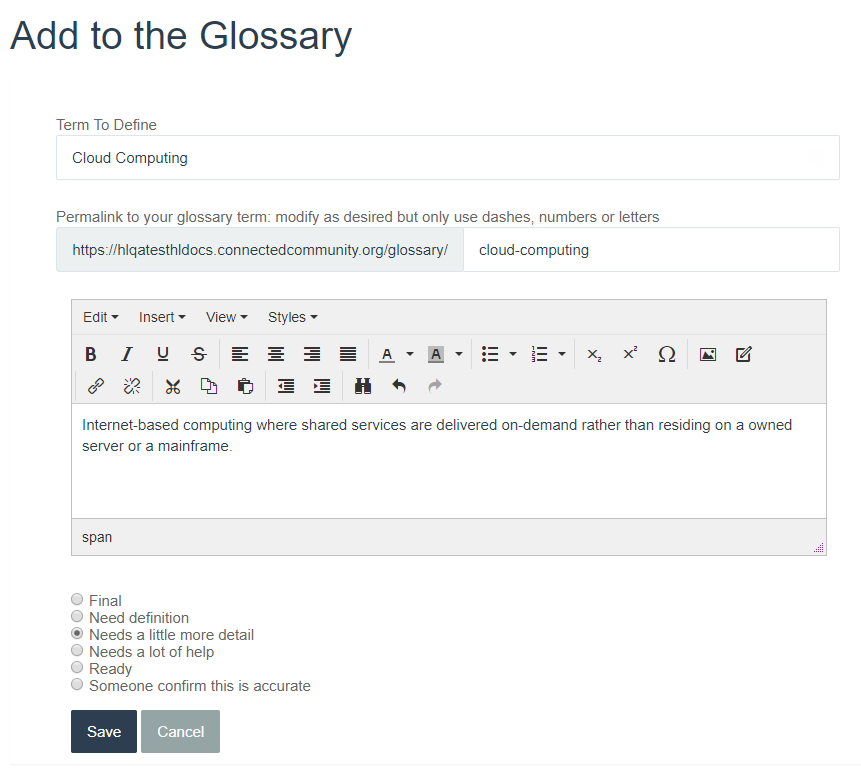 Glossary page features
When viewing a glossary entry, all users can:
Click Edit to update the entry or select Delete from the drop-down to remove it (these options are not available to non-Super Admins if the entry has a Final status).
Click this to Recommend the entry, elevating its overall popularity and increasing its visibility when sorting entries by Top Rated. You can also click the number to the left to view all users who have Recommended it.
View and copy the entry's URL, making it easy to share with others.
Access any links other users have provided and add your own by clicking Add.
Read any comments other users have posted and add your own by clicking Add.
View the entry's tags and add your own (Super Admins can control whether non-admins can tag content, so this option may not be available to all users).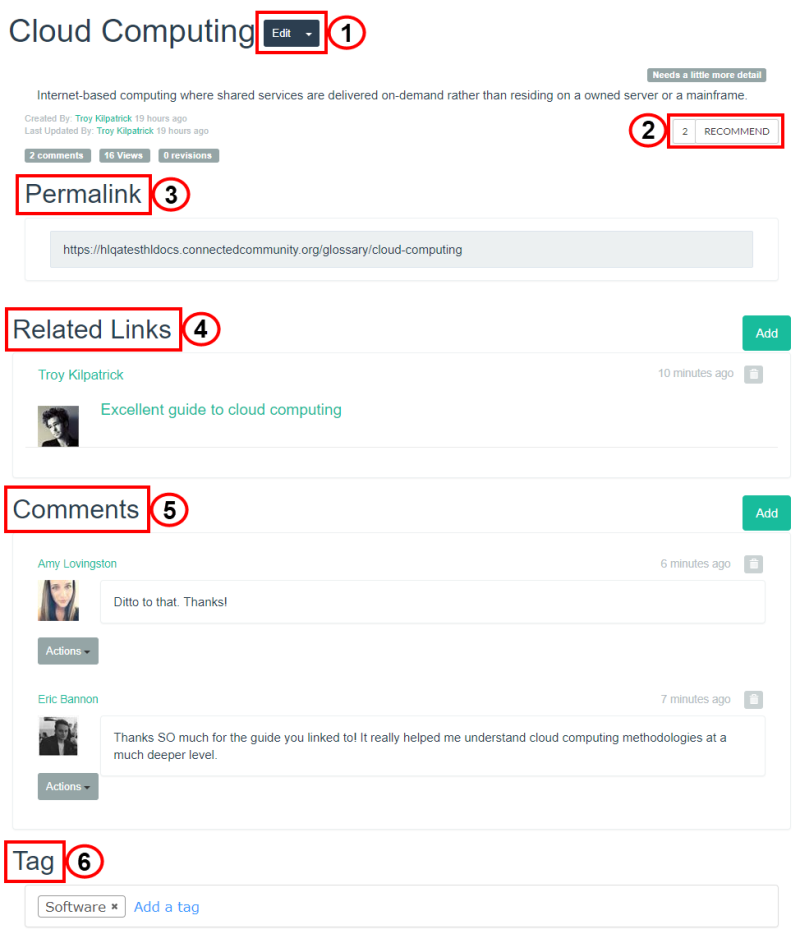 Configure your Wiki Glossary
You can configure two Wiki Glossary module settings in the Admin interface:
Click Admin in the Webmaster Links menu.
Click Admin.
Select Glossary from the Communities menu.
On the resulting page, you can:
Control whether users must be logged in to view the Wiki Glossary,
And set the glossary's paging style to alphabetical or numeric.
NOTE: Unless you have a specific reason not to, we recommend not requiring users to have a log in because it enables user-generated glossary content to be indexed by external search engines (e.g., Google and Yahoo!, etc.), which can help drive new traffic to your website.