Large events generally have various types of additional registration options, and Event Manager classifies those as:
Registration Choices - These are things like meals, drink tickets, golf green fees, and souvenirs.
Session Categories - These are the elements of an event that are free to attend with a registration. These categories also allow you to group specific types of sessions together.
Several default Registration Choices and Session Categories are pre-built for you, but before creating new events you should evaluate them and decide if any additional ones are needed for the types of events your organization will be hosting.
View your Registration Options
Click Admin in the Webmaster Links menu.
Click Admin.
Navigate to Events > Registration Choices/Session Categories.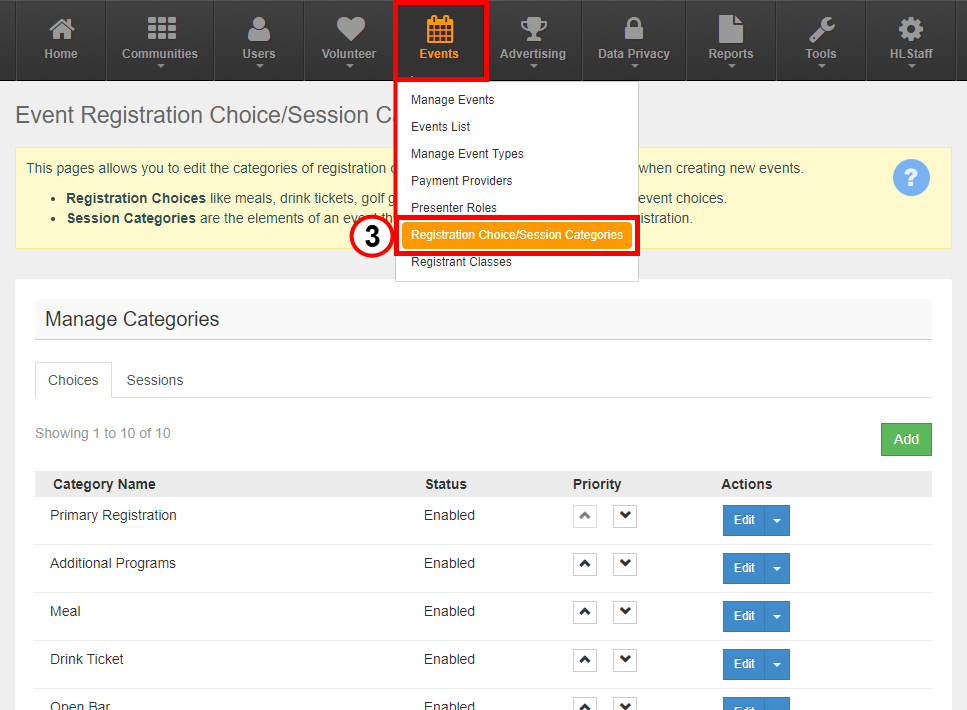 Choices and Categories are listed on their associated tab at the top-left of the page. All of the default options are listed on the resulting page, along with any that have been created.
Click their associated Edit buttons to update any settings.
NOTE: Refer to the table in the Create a Registration Choice or Session Category section below for descriptions of each setting.
Select Disable from the Actions menu to temporarily prevent registrants from being able to add or purchase an option.
If you want to permanently remove an option, select Delete from its Actions menu.
Create a Registration Choice or Session Category
On the Manage Categories page:
Select the appropriate tab for the option you want to create.
Click Add.
Configure the settings.
NOTE: With the exception of one, the configuration options for Registration Choices and Session Categories are the same.
Available options
Field
Description
Category Name
Give your option an appropriate name.
Description
This description displays to users when registering, so describe your option with as much detail as possible so its purpose and scope is understood.
Is a selection from this category required to complete registration?
This option allows you to control whether registrants must add or purchase a selection from this category to complete their registration.
Are multiple selections from this category allowed?
If the category contains more than one option, can registrants select more than one?
Registration Choice Only
Is pricing displayed on the Event Description page for registration choices in this category?
Controls whether pricing information is shown on the Event Description page for Registration Choices in this category.
Click Save.