The Contact History page has several tabs that provide details about the contact's activity. You can see information about the contact's participation in surveys, which events they've attended, and their subscriptions.
To manage a contact's history:
Access the Admin interface.
Navigate to Contacts > List.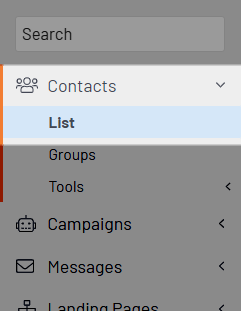 Select a contact and click History above the list to the right.

Review contact activity
Use the tabs across the upper part of the page to access information about this contact's involvement and participation in your organization's activities. The contact's participation in various activities is tracked, and you can use this information to ensure that contacts are properly engaged and meeting any requirements that your organization might have established as conditions of "active" membership. If a member has been disengaged, you can use this data to encourage him or her to take a more active role.
Contact activities
Activity
Description
Messages
The messages that have been sent to the contact and when. You can also see if the message delivery was successful and whether the contact opened it. Link Details shows which links the recipient clicked.
Surveys
The surveys that the contact has submitted and the submission date.
Faxes
The unique name that was assigned to the fax for tracking, as well as the date on which it was sent, whether the transmission was successful (status), and the duration of the connection.
RSS
This feature is no longer available.
Subscription
The subscription that the contact has submitted via their Subscription Management Page (SMP) and when their subscription was updated.
Unsubscribe
The messages that were sent to the contact and which contained Unsubscribe links which the contact clicked, as well as the date of the unsubscribes.
Suppression
The status of the contact's suppression, including the suppression type (see Suppression) and date of suppression.
Spam
The message that was the source of the spam complaint and the date that the complaint was reported.
Events
The events that the contact has registered in the Events module and the registration fee.
Social
This feature is in development review and currently unavailable.
Automation
The campaigns in which the contact is currently enrolled, the status, and when they joined the campaign. Click Show Engagement Details for additional information.

NOTE: If the Campaigns module is enabled, the information will be recorded to the Messages tab.
Export contact history data
The history page has a static Export button in the upper right. You can use it to export a .csv file of the contact's activities for the active tab.
NOTE: The Export button will not generate files for the Automation and Social tabs.
To export activity data:
Click the Export button.
Click Get File.
Select a location and save the file.
Click the X to close the dialog.
To view the export file:
Navigate to where you saved the file and open it.