A contact tag is an attribute that is assigned to a contact (recipient) from a campaign, based on a set of conditions having been met (e.g., they've clicked a link, submitted a Landing Page, accumulated over 100 points). Some examples of contact tags are "Engaged," "Prospect," and "Member."
NOTE: You can create as many contact tags as needed for your account. These tags can be used with Campaigns, Engagement Campaigns, and Landing Page Campaigns, and they can be managed on the respective Admin-interface pages.
Benefits of tagging
After a contact has been tagged, you can:
Search for contacts who have been tagged. For example, in your Contacts > List, you can quickly find all contacts who share a tag.
Use tags as criteria for campaign enrollment. For example, you can target all contacts with a specific tag to be invited to an upcoming webinar. This is easily achieved by using this tag as the enrollment option for your webinar campaign.
Manage tags
To manage your tags:
Access the Admin interface.
Navigate to Campaigns > List (Landing Pages > List or Engagement).
In the upper right, click the gear icon and select Recipient Tags.
Use the Manage Contact Tags dialog to add, edit, and delete your account's tags and the contacts with those tags, as described in the sections that follow.

To create a tag:
Click Add new.
In the next panel, give the tag a name and, optionally, a description, and click Save.
Review the list of tags to verify the new tag has been added.
To edit a tag:
Select a tag and click Edit.
In the next panel, update the name and/or description, and click Save.
Review the list of tags to verify that your changes have been saved.
To delete a tag:
WARNING: This action is immediate and irreversible. You are not presented a confirmation and you cannot "un-delete" a tag.
Select a tag and click Delete.
Review the list of tags to verify that the tag no longer displays.
Manage a tag's contacts
Select a tag and click Show Contacts to access the list of all contacts who have been assigned that tag.
View details
Select a contact and click Details to view the contact's details.
View history
Select a contact and click History to view information about when this contact was tagged.
Add to a group
Click Add All to Group to simultaneously add of these tagged contacts to a group.
Choose a group (or create one) in the new dialog and click Select.
Export the list
Click Export to download a .csv file of the current list.
Navigate to where you want to store the file, give it a memorable name, and click Save.
Navigate to the saved file and review it before closing the dialog.
When you have finished managing your tags and their contacts, click Close.
Tag contacts via a campaign
Tags can be assigned to contacts through a variety of campaigns. One of the most valuable use-cases is a Segmentation campaign, which allows you to tag users who perform a specified action. In the following example, all contacts who are in the NYC Members group and who open the Hello 1 message will be assigned the 3 - Member tag.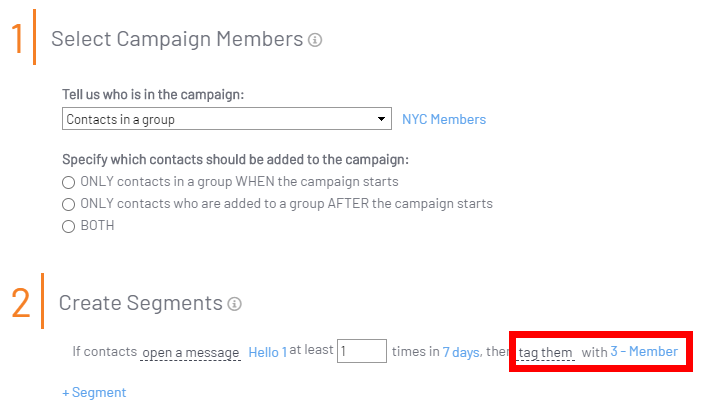 These contacts will be added to the list of contacts for the 3 - Member tag and can be managed as described in the previous section.
Enroll contacts based on tags
Contacts who have been assigned a tag can easily be enrolled in a campaign based on their having that tag.
When creating or editing a campaign, select Contacts who receive a tag from the "who is in the campaign" dropdown.
Click the Select Tag(s) link to open the selection dialog.
Use the check boxes to select one or more tags; click Select.
NOTE: If you select one tag, its name will display. If you select multiple tags, "at least one of and the number of tags you selected" will display.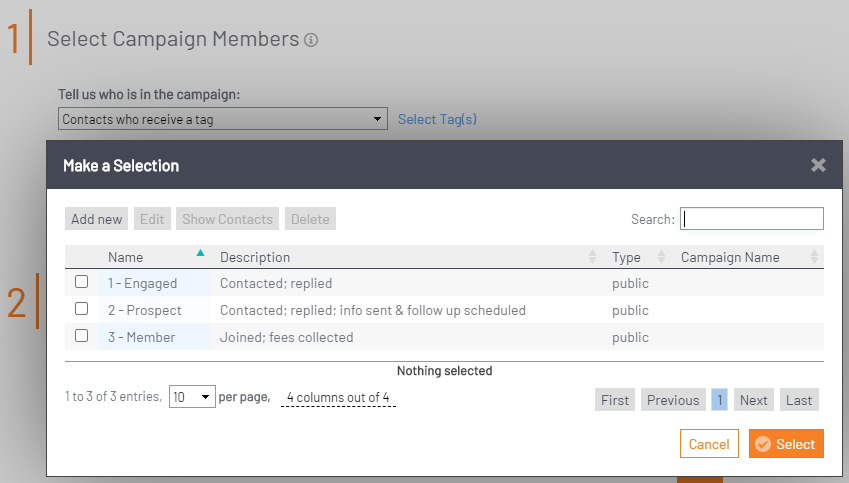 Continue setting up the campaign.