Color Themes enable your organization to streamline the use of colors throughout its email marketing outreach. Whether your organization has one or many divisions/subsidiaries, or one or many Higher Logic Thrive Marketing Enterprise (Thrive Marketing Enterprise) accounts/sub-accounts, themes help ensure only approved colors are used for the emails sent out.
Permissions
Color Themes are a permission-based feature that must be enabled at the account level and at the individual user (login) level. Themes can be limited to one or more of your organizations Administrators, or enabled for one or more users based on permissions set up by an Administrator.
Additionally, Color Themes can be enabled or disabled at the email template level:
Some templates may have permissions enabled so that Color Themes can be used, added, or edited.
Others may be locked with no access to Color Themes or lack the ability to add or edit Color Themes.
These settings are dependent on options set up in your Thrive Marketing Enterprise account.
Access color themes
In the Design tab (only available in the Email Designer view), you can quickly change the various background colors of your message using various pre-built Color Themes. You also have the flexibility and control to create your own Color Themes to match the branding of your organization or any other look you may want.
As you can see by comparing the two images below, you can quickly change the overall look of a message with the click of a button.

Apply a theme
The main thing to understand about themes is you can apply design options for your message and for individual Zones, and the options available change depending on whether a Zone is or isn't selected.
Zone not selected
When a Zone isn't selected, you can apply options that affect your message. You can:
Select a pre-built theme or create your own to control the color of your content, columns, borders, and background.
Set a body background color using any color from your current theme. The body background color fills the entire area surrounding your message (it's the light blue color in the image above), and helps offset your main email message.
Choose a default font for your message. Keep in mind this doesn't affect any text already in place, only text you subsequently add.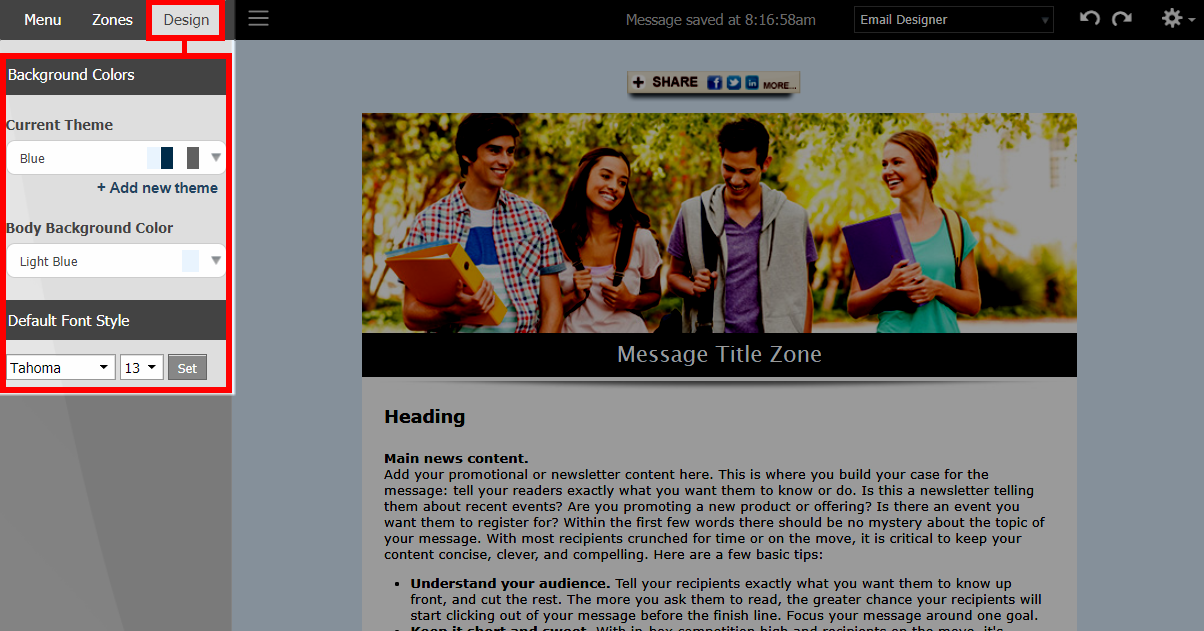 Zone selected
When a Zone is selected, additional options become available allowing you to modify that individual Zone.
From the Section Background Color menu, you can set a specific background color for your Zone using any color from your current theme.
In the Zone Styles area, you can:
Apply a border around the Zone, controlling both its width (in pixels) and color. For even more flexibility, check the Apply side-specific borders box to set a unique border for the top, bottom, left, and right border.
Apply padding (in pixels) within the Zone. For even more flexibility, check the Apply side-specific padding box to set unique padding for the top, bottom, left, and right edges of the Zone.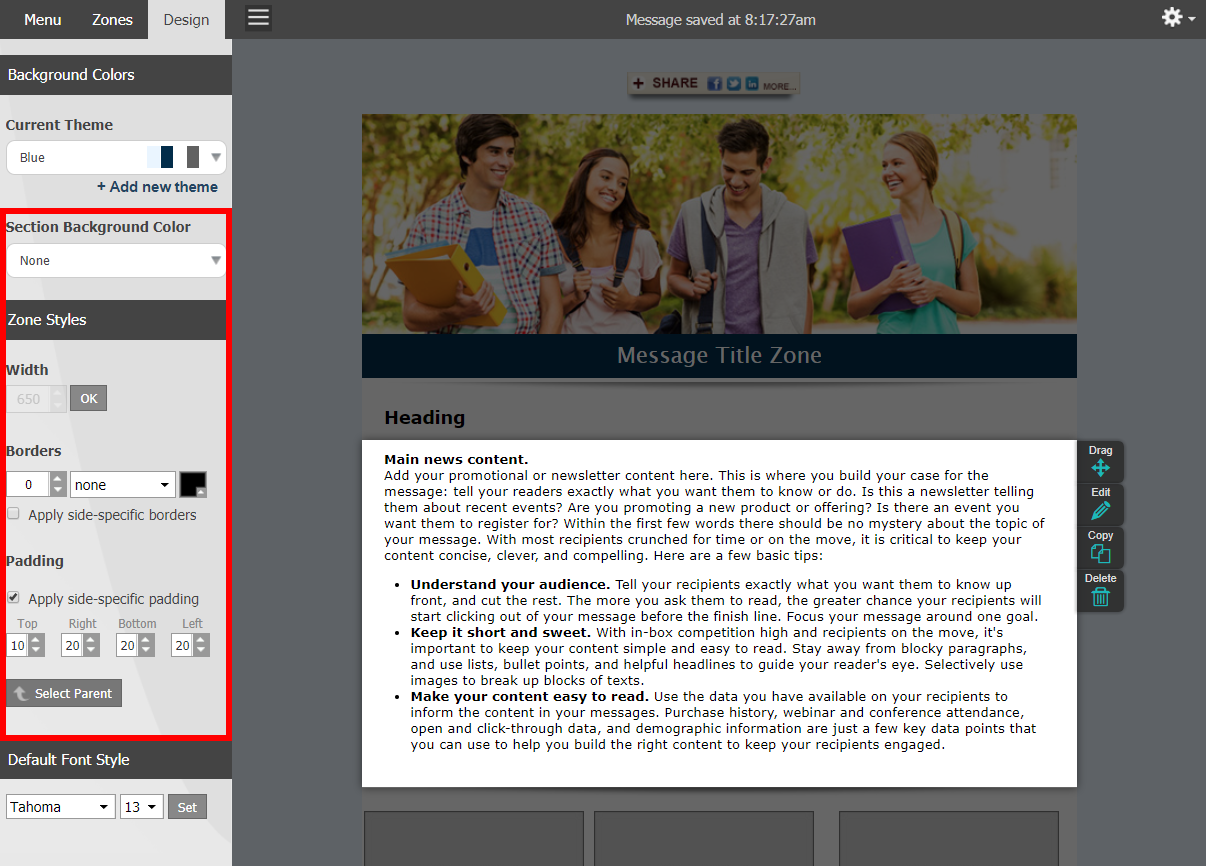 Create a custom theme
Creating a custom theme is simple:
Click the + Add new theme button.
Give the theme a name in the field at the bottom.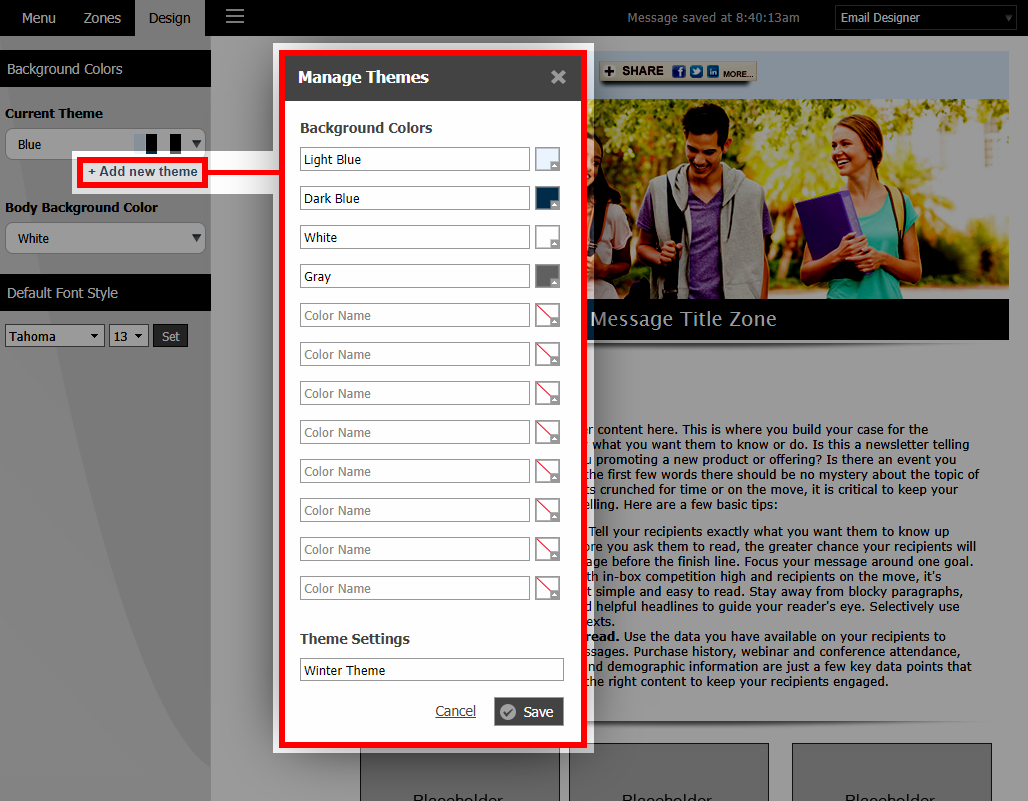 Click the boxes to the right of each field to display the color picker, where you can set a color by:
Clicking-and-dragging in the color spectrum area and associated slider column to the right,
Specifying RGB values, or
Specifying a color's specific six-digit hexadecimal number (this is the best way to get an exact color).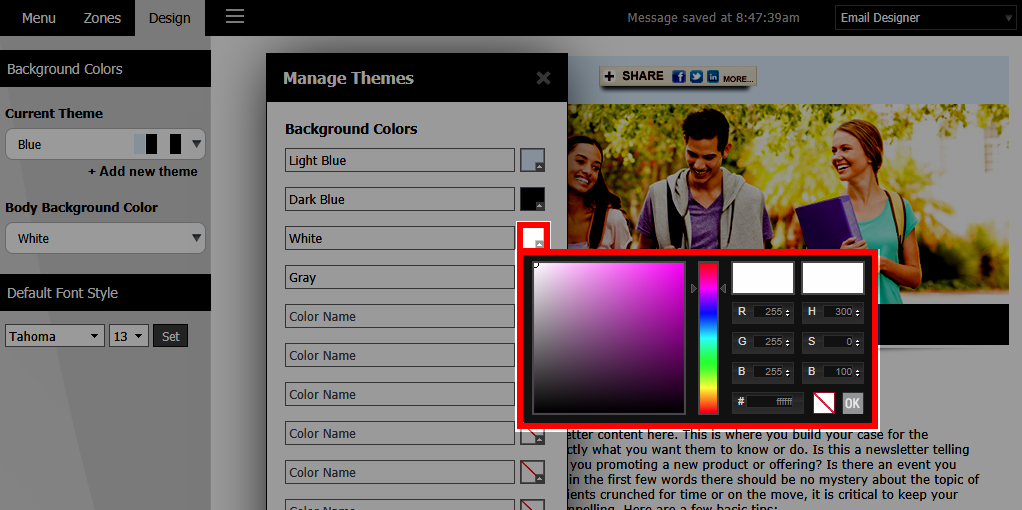 Select a custom theme
All of your custom themes are available in the Current Theme menu.
Custom themes are listed at the bottom.