Data input forms give your subscribers a way to tell you about themselves (demographics, profile information, etc.) and their communication preferences. However, without a way to share these forms with your subscribers, you'll be in the dark. Let's take a look at how you can insert a data input form link into a mailing template.
NOTE: Always set up your data input form links in your mailing templates. By doing so, you'll save work by adding the form on a higher level. Furthermore, you'll ensure that mailings that use that template contain a way for your subscribers to quickly and easily manage their preferences.
NOTE: You can also use Landing Pages for preference management. See Create a Landing Page to learn more.
Navigate to Mailings > Templates > View.
To access an existing template, hover over the corresponding template's Menu icon and click HTML. To create a new template, click Create.
In the HTML Editor, create or identify the text you would like to use for your data input form.

Highlight the text and click the Insert/Edit Hyperlink toolbar icon.
Click the Hyperlink Type dropdown list and select Data Input Form/Modify Profile Link.
This expands additional options.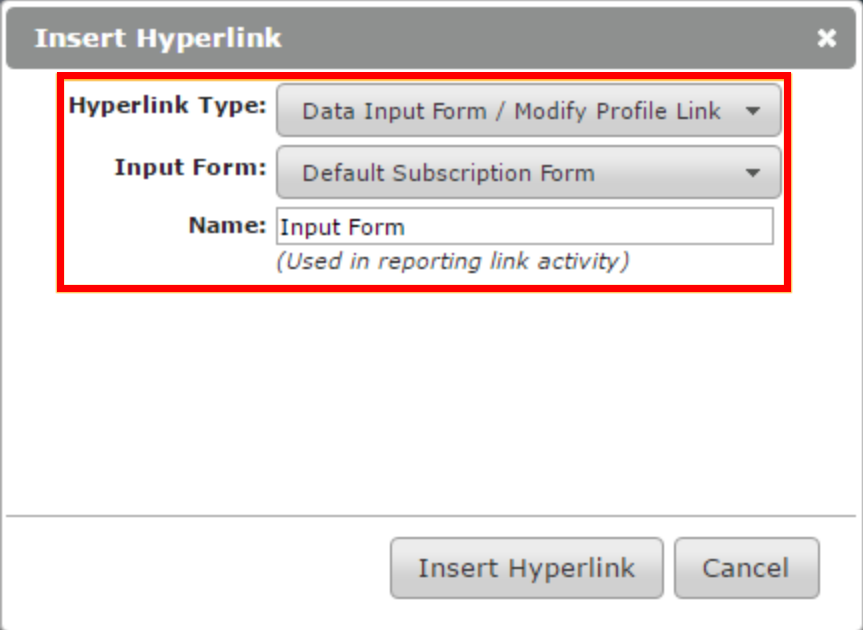 Click the Input Form dropdown list and select your desired data input form.
Enter an easily-recognizable name in the Name field.
This is the link name that appears in your reports.
Click Insert Hyperlink at the bottom of the pop-up.
The text now appears as a link that connects to your data input form.