While you'll likely primarily create mailings using the available designer tools, there may also be times when you need to access a mailing's underlying HTML (e.g., to perform a larger find-and-replace exercise or add some specialized tracking code provided to you as an HTML snippet). No matter the reason, you can easily work directly with a mailing's HTML code using the Save as HTML feature.
To save an HTML version of a mailing:
Navigate to Mailing Designer 2.0 > View to see the list of MD2 mailings.
Hover over the mailing and select Save as HTML.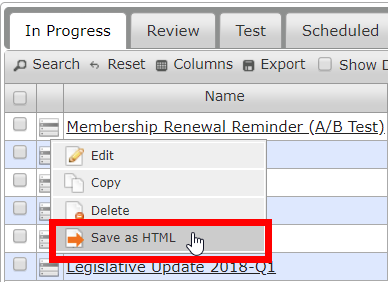 NOTE: The Save as HTML option can be executed multiple times, each time creating a mailing with the same name. Edit the mailing and rename it to ensure that you have uniquely named mailings to work with going forward.
In the resulting warning pop-up, click OK.
NOTE: Once a mailing has been saved as HTML, it cannot be subsequently edited with the drag-and-drop designer tools (because this action creates a copy, the original version is still preserved, however).
A copy of the mailing, with - HTML added, is created in the current folder - the type is From HTML to indicate that subsequent editing occurs in the HTML editor and not in the drag-and-drop design tools.