Creating a transactional mailing is as easy as a few keystrokes and selections. Let's look at how to create a transactional mailing.
Navigate to Mailings > Transactional > Create.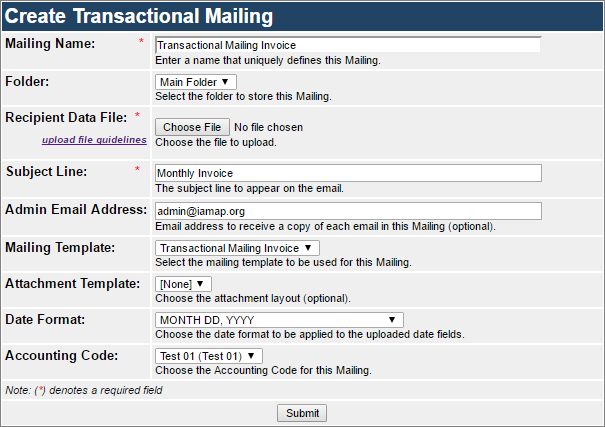 The Create Transactional Mailing page opens.
Enter the following information in the corresponding fields:
Mailing Name - Enter a name to identify your transactional mailing.
Folder - Click the dropdown list to select a folder for your transactional mailing. Note that transactional mailings are stored within the Transactional module; they are separate from the standard mailing folder.
Recipient Data File - Click Choose File to select a recipient data file to upload. If you have an integrated account, you can select to upload from a SQL View. You must have a recipient data file or SQL View available before you send a transactional mailing.
Subject Line - Enter a subject line for your transactional mailing.
Admin Email Address - If someone at your organization receives copies of each mailing sent, enter that person's email address.
Mailing Template - Click the dropdown list to select a mailing template from your available transactional template options.
Attachment Template (optional) - Click the dropdown list to select an attachment template.
Date Format - Click the dropdown list to select a date format to use within the mailing, attachments, and other fields within the transactional mailing.
Accounting Code - If your organization uses account codes, click the dropdown list to select a code to bill the mailings to.
Click Submit to create your transactional mailing (this does not send the mailing).
Simple and Effective
Because transactional mailings are considered standard communications, creating them is simple. All you need to do is fill in a few fields and make a few selections. Ultimately, this helps you effectively manage your workflow and invoices.
Next Steps
Now that you've created a transactional mailing, check out how to test it and then send it. You can also review opens, clicks, and forwards statistics in the mailing's report.