Today, leading associations often leverage the internet and web-based solutions to achieve solid election results and to strengthen their brand and organization. The Voting module allows you to directly conduct elections and other votes with members to help drive and determine the direction of your organization. This saves overhead by eliminating the need for expensive paper ballots and consultants to drive the process.
Creating a voting folder
Before you dive in and create your ballots, you'll need to create a place for them to reside within Higher Logic Thrive Marketing Professional (Thrive Marketing Professional). This is achieved with folders.
Navigate to Modules > Voting > Folders.
Click Add Voting Folder and enter a name.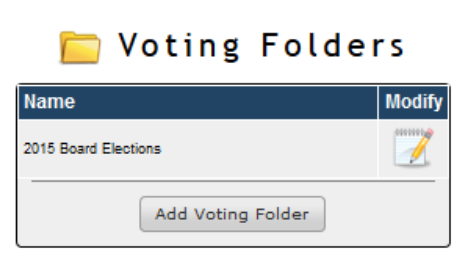 When ready, click Save and Continue.
Voting flexibility
Each voter can only cast one vote, and the voting administrator defines the minimum and maximum responses allowed for each question on the ballot. Thrive Marketing Professional ensures that the responses are within the specified range before accepting a voter's ballot. Similarly, all votes are automatically counted as they are received by the ballot management system. Administrators can even view the ballot results in real-time.
NOTE: You can simultaneously run as many ballots as needed. Just make sure you have the logistics in place ahead of time to properly manage all active ballots.
Vote-submit-confirm process
It's important to understand that a vote does NOT count unless your subscribers have confirmed their submission. Subscribers initially receive an invitation mailing with a link to the ballot. Once they've entered their selection(s) on the ballot, they'll submit their vote for confirmation. This triggers an automatic confirmation mailing where they can review and confirm their votes.
ONLY votes that have been confirmed are counted. See Create & Publish Voting Mailings to learn more about creating and sending a mailing with your voting ballots.