The Mailing Summary Report includes several important reports that can help ensure you're adhering to marketing best practices when sending your messages.
NOTE: References to Message Summary Reports reflect a current rebranding initiative. Message Summary Reports and Mailing Summary Reports refer to the same set of reports with the same options and functionality.
These reports are best used with specific filters; when you set your filters, always consider finding a way to create results that give you an "apples to apples" style comparison; look for ways to base different reporting results on the same criteria. Whenever you have several reports and find that the selected criteria provide some variation, you'll also find valuable insights.
Access the Message Summary Report
Classic admin interface
Navigate to Mailings > Reports > Mailing Summary Report.
New Admin Experience
Navigate to Messages > Reports > Message Summary Reports.
After filtering the messages for which you're interesting in viewing data on the Select Messages tab, click View Reports. The reports discussed in this article can be found in the Answer Marketing Questions folder.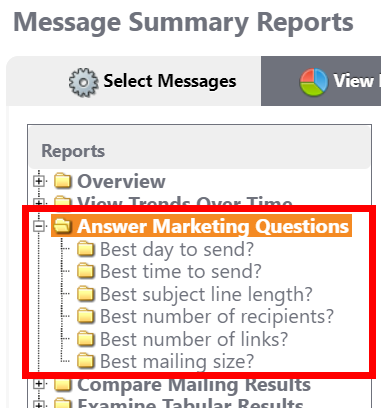 Best day to send?
To view this report, click Best day to send?.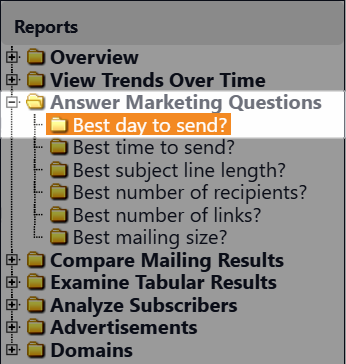 Use this report to help determine the best day of the week to send your messages. By reviewing the report, it becomes clear which day or days have the peak performance with regards to click rate and open rate.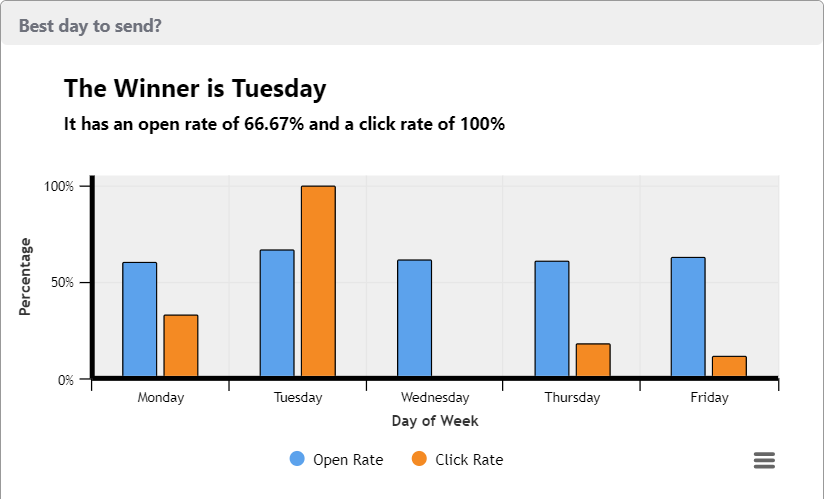 Best time to send?
To view this report, click Best time to send?.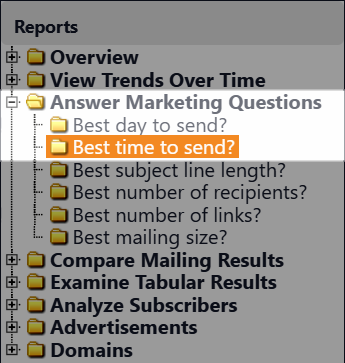 Use this report to understand the best time of the day to send your messages. With this report, you'll be able to infer which times of the day bring peak performance with regards to click rate and open rate.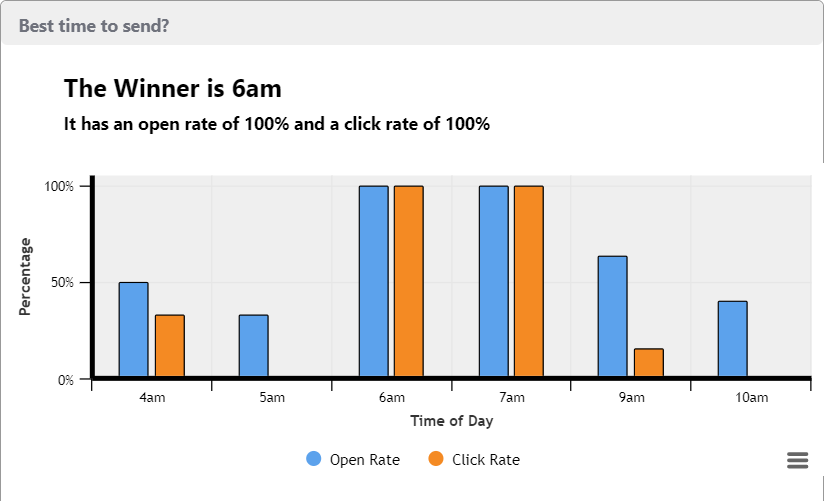 TIP: Now that you've seen the trend for the best send time, you can have your messages delivered accordingly to maximize their effectiveness. Test this by running this report and noting the stats. Then, send more messages and run this report again to see if they hold true. Is your original "best time to send" still accurate or is it time to revisit the send times?
Best subject line length?
To view this report, click Best subject line length?.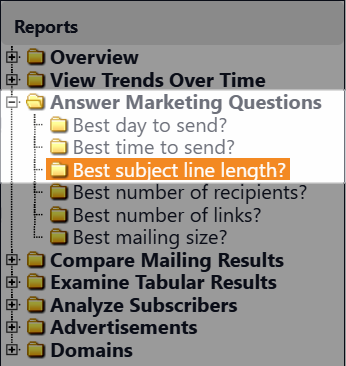 The most optimal subject line length can be difficult to pin down. However, this report can provide the insight you need to gauge whether a longer or shorter subject line resonates better with your specific audience.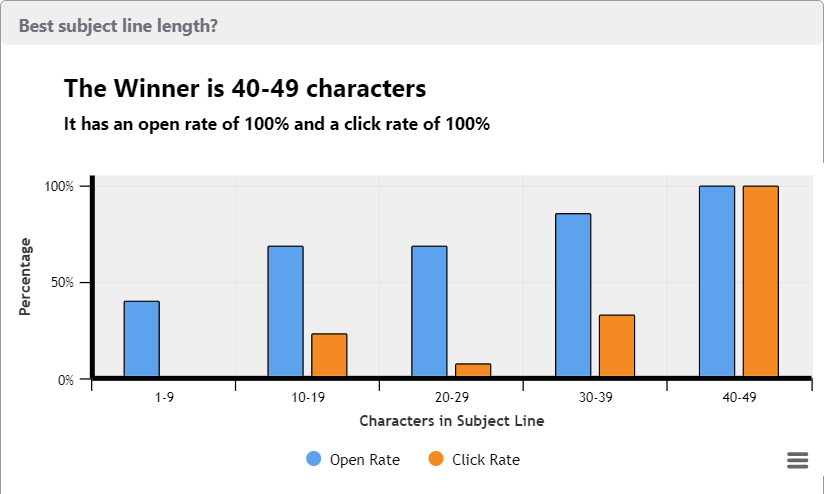 NOTE: You'll see your winning character lengths for subject lines with regards to open and click rates.
The subject line is one of the first impressions that dictates whether an email is opened or not. Aside from the content of that subject line, an important aspect is how long it is. Take this into consideration as you work to achieve peak performance for your messages.
Best number of recipients?
To view this report, click Best number of recipients?.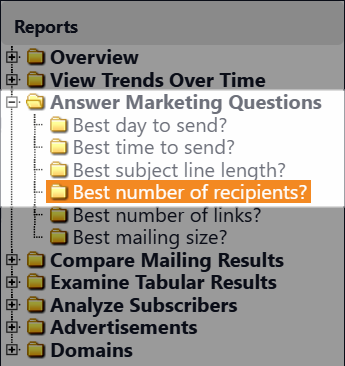 If you're noticing that audiences of a certain size are achieving the highest opens and click rates, then it might be a good opportunity to narrow (or broaden) your message recipient numbers. For this insight, view the Best Number of Recipients report. This report adds value when you examine cross sections of your Target Groups: wide variations in recipients helps determine whether larger Target Groups or smaller Target Groups are ideal.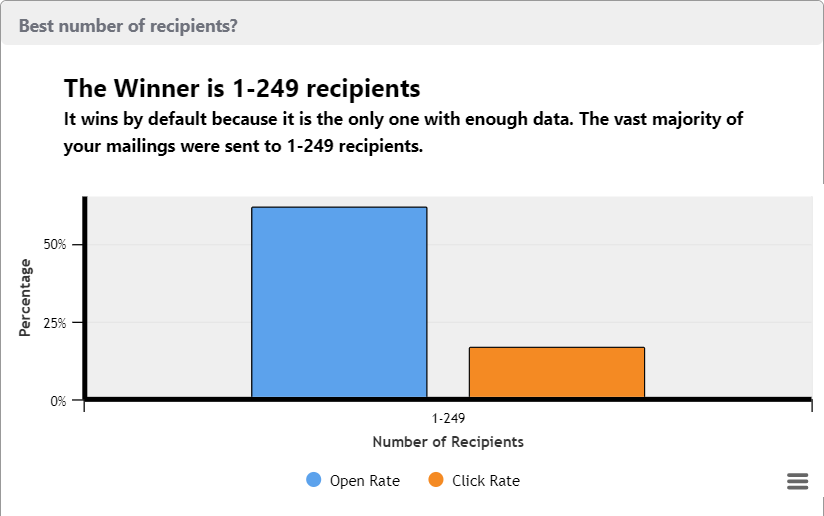 NOTE: You'll see some level of correlation between how many recipients of your messages relate to how well the message performed, with regards to clicks and opens.
Knowing the various audience sizes, and which tend to work better for your organization, can be a game changer. This information allows you to optimize the size of your Target Groups based on the demonstrated actions from your subscribers.
Best number of links?
To view this report, click Best number of links?.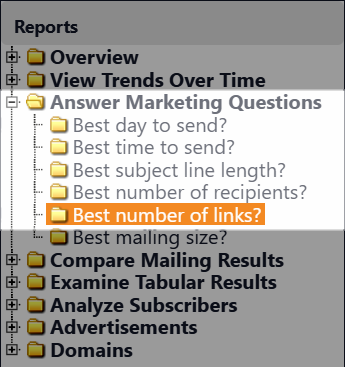 The effective use of hyperlinks is often a critical factor in the ability of a message to engage a reader. How many hyperlinks work best for your audience? How can you figure that out? Correlating the number of links in a message to an open rate and a click rate is a great analytical tool. If subscribers are expecting plenty of opportunities to click, you'll definitely want to know. This information is available to you in the Best Number of Links report.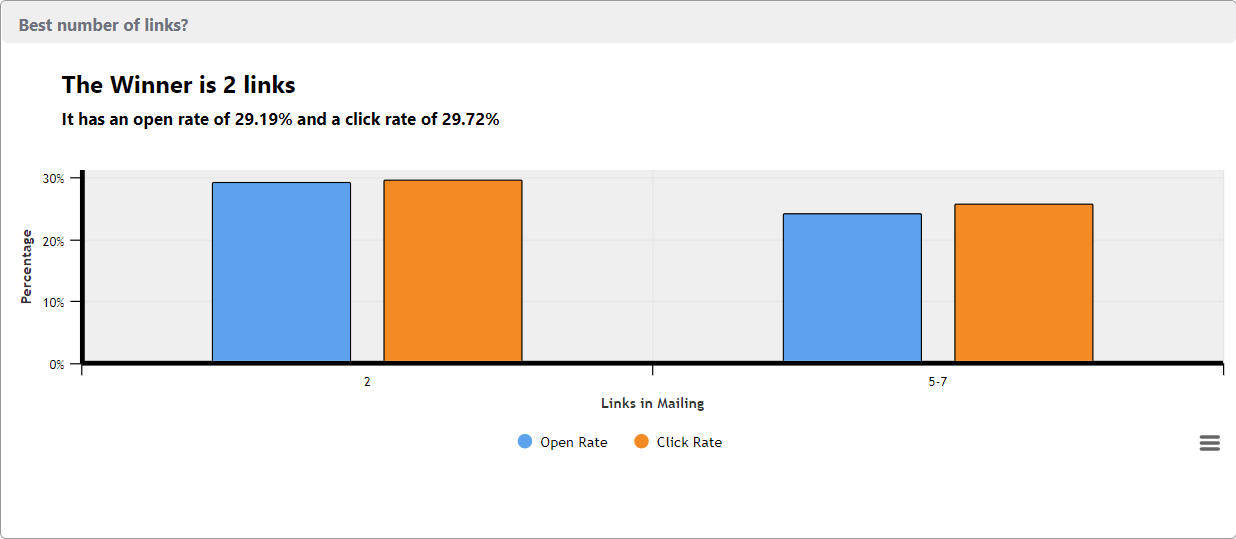 NOTE: You'll see an open rate and a click rate attached to a number or a range of numbers of links in the messages you include in this report.
Having a variety of links for your subscribers to click may help or harm how you are communicating with your audience. The opportunity to understand your subscribers' behavior around links dramatically increases when you use this report.
Best mailing size?
To view this report, click Best mailing size?.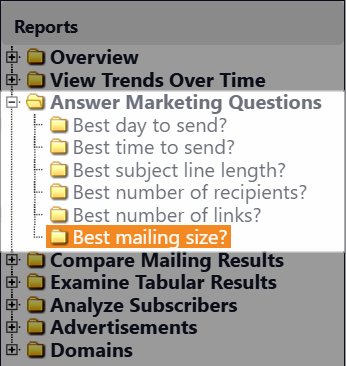 It may take some time to understand if you have a correlation between email size (in thousands of characters) and your open and click rates. Do your subscribers respond better to your message if they know they can expect more content? Or do they lose interest because there's too much content to get through? Regardless of the reason, you can get the insights you need from the Best Mailing Size report.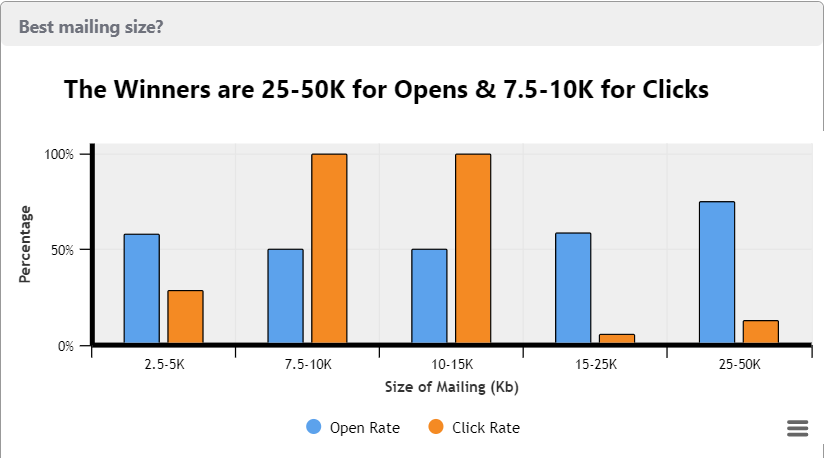 This report is especially useful when you want to see a "text density" view. If you send the same number of words each time, you probably won't get much value from this report. However, if you vary your stories, then you'll find this report provides great data about how your subscribers interact based on the number of words.
NOTE: You'll see an open rate and a click rate attached to a value of the size of your email (in thousands of characters).
It may be best to run this report based on one message at a time so that you can analyze how your subscribers react to message with more content compared to message with less. If you manage to send out a lot of content and still get a lot of click-throughs on your message, then you know what you're doing is working. Otherwise, you may want to trim down your messages so the most important content shines.
Download & print the results
After you've reviewed a report, you can download it as an image file or a document, or print it on the spot. Click the Menu icon in the lower right of the report and select one of the options.